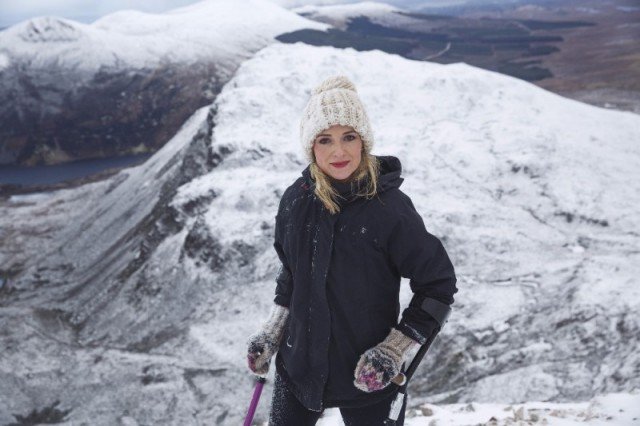 Nikki Bradley needs your help as she attempts to climb an Icelandic glacier as part of her latest challenge.
Earlier this month, Nikki climbed snowy Errigal Mountain on crutches – her amazing feat gained national recognition and she recently appeared on TV3.
She has undergone multiple challenges as part of her campaign to raise awareness regarding her condition Ewing's Sarcoma.
Fighting Fit for Ewing's has been a huge success – and Nikki is trying to participate in as many challenges as possible as she may lose her leg.
Nikki told The Journal, "I had bad news from my consultant in Birmingham last year – I have a suspected infection in my hip and my options for further surgery are as limited as can be.
"I'll find out soon whether I get to keep my leg or not."
However, that hasn't deterred Nikki – aptly nicknamed 'The Fighter' to attempt to scale a glacier in Iceland.
Nikki wants to climb the Skaftafell glacier in Iceland – and recent scale of Errigal was in preparation for the Icelandic adventure.
However, Nikki needs funding for the trip and has set-up a Go-Fund-Me page and is appealing to businesses and organisations to assist in any way to ensure she can take on the challenge.
Nikki said, "Due to the situation with my hip along with rising temperatures in Iceland we have decided to attempt to organise the entire trip in one month!
"That's a lot of pressure on my wee shoulders! I am asking for help from businesses/organisations who could assist in any way to make this idea a reality.
"I am determined to do as many physical challenges as I can while I still have my leg.
"This is set to be my toughest challenge to date but I am hoping this once in a life time opportunity can happen with your help.
"Due to the nature of this challenge it will require a team of professionals to assist me including, a medical professional, a rope access technician and an experienced guide. Funds raised will contribute to these costs.
I appreciate everything everyone has done for me so far and I would ask that we keep the momentum going for a little longer!"
Tags: