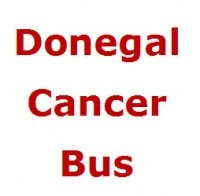 Cancer Bus Fund Raiser:
As you are no doubt aware we are a long, long way from any 'Centre of Excellence' for cancer treatment, and we all have a family member, friend or neighbour who has been affected by this illness. In addition to the emotional turmoil associated with a cancer diagnosis, there is the additional expense of long-distance travel when people may be unable to work; the Cancer Bus aims to meet that expense.
We are happy to report that last Saturday's fundraising events in the Dunkineely, Killaghtee and Bruckless area were a great success (20th January).
Despite the horrible weather conditions, a great crowd of hardy souls, led by Peter Duddy, turned up for the 5K Walk/Stroll/Run; an event which raised just over a thousand euro.
The evening's entertainment, in McIntyre's Bar Dunkineely, provided Kevin O'Donnell and Friends; was followed by a draw and spot prizes; another fruitful fundraising event.
We would like to thank all who, in any way, helped or participated in these very worthwhile events. We would especially like to thank Loraine McIntyre for putting on a delicious spread for all the hypothermic runners; Pat McIntyre for hosting the evening's events and for his generous donation. We would like to thank the Cancer Bus Committee, Ross Carr, Adrian Armstrong, Margaret and Peter Duddy, Amanda Jervis, Nicola Cassidy, for helping to organise the events and for contacting local businesses for support, and finally, we would like to thank Kevin O'Donnell and friends for providing the music and entertainment. In all, well over €3,000 was raised for the Cancer Bus by the day's events; the full amount will be known after the committee meeting later this week.
Drama
The talented people of Ardara will be putting on a play called, 'My Maiden Aunt' in the Methodist Hall, Ardara, on the 11th, 12th and 13th February at 8:00pm. Admission €10.
Naomh Ultan
There will be a Child Protection Course held in the Clubhouse on Saturday 20th February at 9:30am. This course is essential for anyone coaching or managing under-aged teams.
There was no winner of last week's Royal Flush Jackpot.  The numbers drawn were: 4, 10, 15, and 17. Consolation prizes went to: Charles McGowan, St John's Point; Terrence McGinley, Ballymcgowan and Conal McGinley, Calhame. Next week's Jackpot will be €1,100. Thank you for your support.
The Club 25 Card Drive continues every Wednesday in Mary Murrin's at 9:00pm.
Youth Events in Methodist Hall Dunkineely
Anchor Boys Fri nights 6:45 – 8:00pm (4 – 8yr olds)
Boys Brigade Fri nights 8:00 – 9:30pm
Badminton Mondays nights
3rd – 5th Class 6:30 – 7:30
6th Class – teens 7:30 – 8:30
Adults 8:30 – till finish
Pony Club Information Evening
South Donegal branch invites you to find all about us on 5 February 7.30pm. Pony Club offers a fun but safe place to explore dressage, show jumping, cross country, games and learn to care for your pony. We also have test programmes that will take you through to a professional level, plus friends, competitions and camps. Children and their parents and carers are welcome to join us at Park Farm, Munterneese, Mountcharles. Ring Ann Conaghan 086 0522834 or Janet Deane 087 6123214 for more information.
Traditional/Folk Concert
There will be a very special one of a kind Traditional/Folk Concert in McIntyre's Bar Dunkineely this Valentines night, Sun 14th Feb featuring some of folk and traditional music's biggest names. Scotland's Chris Stout (fiddle), Catriona McKay (Harp and Piano) and Irish Supergroup BEOGA (Niamh Dunne, Sean Og Graham, Eamon Murray, Damian McKee and Liam Bradley) have teamed up for a very special performance which features some newly composed pieces commissioned as part of the 'Valhalla' project, while also collaborating on some of their already classic recordings such as 'Seavaigers' and 'How to tune a fish'. THIS WILL BE ONE OF THE BEST CONCERTS EVER SEEN IN SOUTH DONEGAL. DO NOT MISS IT and SPREAD THE WORD!! Tickets will be on the door on the night, Admission ONLY 10 EURO. First come first served, getting there early is advised.
O'Donnell School of Music
We are fortunate to have some excellent musicians living in our community, and we are also fortunate that we can learn from these talented individuals. Music Lessons are held in the Dunkineely Community Ltd Office building on Tuesday, Wednesday and Thursday each week from 3:30 to 9:00pm. For further information contact 087 9644019.
Recovery from Emotional Distress
GROW – Gradually, Regaining, Our, Wellbeing! Support and a program for recovery. Weekly Meetings at Niall Mor Centre, Killybegs on Thursday evenings at 7:30pm. Also in the Day Hospital, adjacent to Donegal Hospital on Tuesday evenings at 8:00pm. For further information contact Marian on (086)7856912. All are welcome.
Dunkineely Community Ltd Office Hours
Please note that DCL Office Hours are Monday, Wednesday and Friday, from 9:30am to 12:30pm. Tuesdays and Thursdays are dedicated to projects outside the office. If someone is in the office on these days, please come in. feel free to pop into the office for a chat, use the Internet (20c per half hour),  print or photocopy documents (20c per page) or borrow a book (20c per book).
Going on a Sun Holiday?
Print your Boarding Pass with us in the DCL office.
Library
One of the greatest gifts you can give a child is to teach him of her to read; it is something that will help them throughout their lives, and will bring them a lot of pleasure. It is sad to see so many libraries closing, through lack of funding, but we are happy to report that Dunkineely Community Ltd (DCL) has a small library of over 1000 books. We have books ranging from Children's Literature to Teenage Fiction (The Fault in our stars), Biographies to Classics (Jane Austen – Pride and Prejudice), from Horror to Comedy, Booker-Prize to Thrillers, Health to Hobbies, etc. etc.  Borrowing costs 20c per book.
Bookshelf Appeal
You may recall that Dunkineely Community Ltd recently issued an appeal for bookshelves. Well, Jean Blaine, of Laverty Design Workshops, answered that call and has donated two excellent bookshop shelves to the community. Needless to say we are delighted… thank you Laverty Design Workshops!
Bluestack Ramblers for February
7th February Walk. Brian Boyle and Kathleen Friel will lead a 5 hour moderate walk on Aghla. Meeting at the GAA Football Pitch, Fintown at 10.00 a.m.
For more information phone 087 9777554
14th February Walk. Danny Mc Namee will lead a 4 hour easy walk along the Creevy Coastal Walk. Meeting at the Abbey Centre, Ballyshannon at 11.00  a.m.
For more information phone 087 2562706
21st February Walk. Danny Mc Namee and Anne Leonard will lead a 4 hour moderate walk on Silver Hill. Meeting at the Tourist Office, Donegal Town at 10.00 a.m. For more information phone 087 2562706
28th February Walk. Paddy Meehan will lead a 4 hour moderate to strenuous walk on the Banagher Loop. Meeting at the Tourist Office, Donegal Town at 10.00 a.m. For more information phone 086 6014386
Dance Classes
Learn to Jive, Waltz, Foxtrot, Quickstep and Two-hand Dances.
Bayview Hotel, Killybegs on Wednesday evenings at 8:00pm
All are welcome to these evenings of Fun and Exercise. Only €8.
Tags: