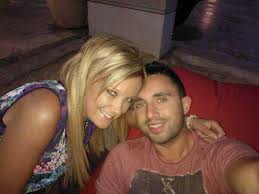 DJ Nikki Hayes has broken her silence on an incredible bout of depression and spoken about how husband, Donegal man Frank Black has been a rock for her in recent weeks.
The couple married last year and have a daughter Farrah.
The Spin 1038 DJ (36) has spoken before about her battles with depression and anorexia – but says she has finally found out what's wrong with her after a recent breakdown.
Hayes, who wed army officer Frank Black in May of last year "everything just stopped working" one evening and she was placed in a psychiatric unit before Christmas.
"I couldn't leave the house one minute or thought everything was wonderful the next, but on the day it happened, I was brought to hospital when everything just stopped working," she told the Irish Daily Mail.
"Frank was at a rugby match and I was in the kitchen on my own, after having put Farrah to bed. I went to the fridge to get milk for tea and couldn't figure out how to open it. I started roaring crying, I was distraught and rang Frank to come home.
"The ambulance came then and I was there in the psychiatric ward for the five weeks."
"I have EUPD, which is emotionally unstable personality disorder and that basically means your hormones are unregulated," she explained. "You go to extremes on everything and give yourself anxiety because you're overthinking everything. It's in the same family as bipolar.
"In a weird way, it's been a good thing for me because I've suffered over the years from depression, anxiety, eating disorders and I never really had a diagnosis. When I was an in-patient for the five weeks, there was a lot of monitoring and I got my first proper diagnosis ever."
Hayes added that her husband was "really worried" about the initial diagnosis, saying: "Frank was really worried because he couldn't understand why they couldn't do something to help and I'd be okay again. Before, I'd be getting back on an even keel and then something would happen that would set me back. This is the first time everything is working."