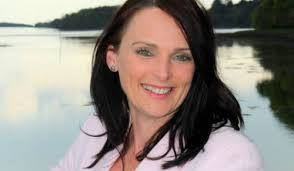 Cllr Niamh Kennedy visited the Finn Valley again this weekend to see for herself the extent of the area to be affected by the Carrickaduff wind farm.
The application, currently under adjudication by An Bord Pleanala (ABP), proposes to erect forty nine turbines each 156.5 metres high in an area scattered over twenty kilometres and some thirty townlands.
Since Cllr Kennedy put wind farms as one of the key policies of her GE16 campaign much attention has been focussed on the Carrickaduff proposal.
After visiting the site she told Donegal Daily, "It is easy to see why the local people are absolutely frightened of this project.
"The scale is massive, these would be among the highest turbines ever erected in the country and this so called Strategic Infrastructure Development would impose 49 of them on Donegal. It is simply unbelievable.
"This is a wild area of rolling hills, farmland, forests and scattered houses and entirely unsuitable for this massive industrial complex of turbines and access roads.
"How can it be seen to be green energy when over a half million cubic metres of bog is to be excavated for roads and 2000 tons of concrete poured for each turbine base? What's green about the destruction of over 300 acres of forest for a wind farm?
The essential character of this beautiful, undeveloped landscape will be changed forever. We need to be mindful that nowadays people are drawn to wild and beautiful landscapes as a soothing remedy to everyday life.
"The very contact with nature and the physical challenges it offers is in itself a healing process at a same time when we are learning more and more of the dangers to health with long term exposure to wind turbines".
The primary reason for Niamh's visit was to speak to Maeve Moss, a mother of three young children with autism and aspergers syndrome who is extremely concerned at the prospect of this massive development going ahead.
Maeve explained to Niamh that all recent  research into the infrasound emitted by turbines, the audible sound, the shadow flicker and most of all the continual spinning of the huge rotors has devastating impacts on children suffering from autism.
Commenting on her visit Niamh added, "All of us as mothers are aware that even high levels of ordinary household noise affect a child's concentration and learning ability.
However, the World Health Organisation's recent NNGE (Night Noise Guidelines for Europe) stated that environmental and industrial noise is one of the major public health concerns of the 21st century.
"Maeve's children are particularly vulnerable and I simply found it heartbreaking to listen to this young mother so distraught over what is plainly an unwanted wind farm in this area.
"Certainly the planning process does not take her concerns on board.
"The 2006 Guidelines on wind energy were condemned at the Straboy (Glenties) An Bord Pleanala Oral Hearing with the Inspector saying: 'The dearth of information about public health impacts from the proposed development has added to the fears and concerns of residents.
"The extent of confusion, lack of clarity and, most importantly, lack of appropriate guidance on the assessment of public health impact makes the Board's task of adequately assessing this issue improbable.'
"It is shameful that this government has reneged on a promise to update those guidelines. It is families like Maeve's that will suffer most.
"I understand that over 200 objections have been lodged with ABP with the vast majority coming from the local Finn Valley area.
"After my meeting a couple of weeks ago with members of the Finn Valley Wind Action Group and now with Maeve I am acutely aware that communities fighting wind farms need direct, fully committed representation."
Tags: