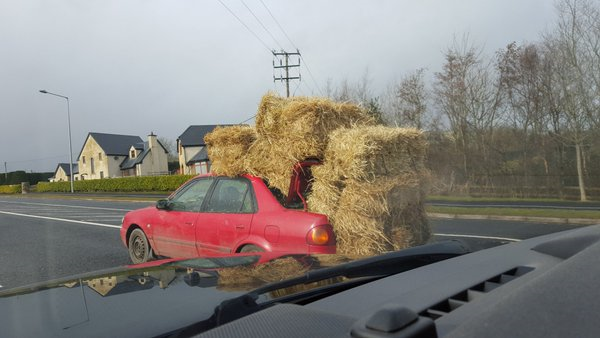 An infamous Donegal driver who has a unique and unusual way of transporting hay, is now risking the wrath of other motorists who claim his irrational driving is going to cause an accident.
The photo above, shows the mysterious driver transporting hay as he has done several times in the past few months.
He was pulled over by Gardaí a few months ago, but that brush with the law has not deterred the motorist from proceeding to transport hay in this way.
However, one motorist believes it's only a matter of time before he causes an accident – and has pleaded for the driver to get a trailer to transport his hay safely.
The motorists has asked to remain anonymous but told Donegal Daily, "I got my son who was in the front seat of my car to take this photo of this irresponsible driver.
"I had seen the photos doing the rounds on social media before, and to be honest I got a good laugh at them.
"But today he was swerving all over the road, and I was worried he was going to cause an accident.
"It's really dangerous, he can't see his blind spot – and he can't see out the back windows, it's actually ridiculous.
"I know some people will say sure it's only a laugh, but it's dangerous and it's only a matter of time in my opinion before he causes an accident.
"He should buy a trailer and transport the hay properly!"
Tags: