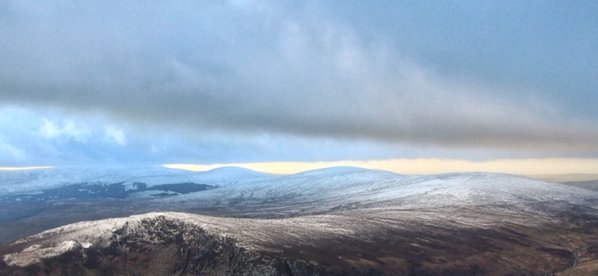 Plunging temperatures could bring hail, sleet and snow across Donegal tonight.
Met Eireann has warned that heavy showers will move in as temperatures dip to -1 degree.
There will be an accumulation of snow on hills but snow could also fall on lower ground.
Many parts of the county were caught unawares on Monday to wake up to a blanket of snow.
Again drivers are asked to slow down and to take extra care with hail, sleet and snow likely to fall.
Donegal has had two weather warnings issued – for 3cm of snow tonight – and for winds touching 110km/hr.
Met Eireann forecast
Today
While it will be mostly cloudy this morning with some scattered showers, there will be a few bright spells. Mostly cloudy for the afternoon , with a band of showers, some heavy, spreading from the west, but clearing to isolated showers during the evening. Highest temperatures of around 9 degrees, but turning much cooler by evening as the band of showers clears through. Breezy with fresh to strong and gusty westerly winds.
Tonight
Very cold tonight with widespread heavy showers, some of hail and some will be of sleet and snow over higher. There's also a risk of some sleet at lower levels and a risk of thunder too. Rather windy at first, with fresh to strong and gusty southwest winds, easing for a time, but become northwesterly by morning and increasing strong and gusty. Lowest temperatures of -1 to 2 degrees, with some frost and icy patches forming when winds ease for a time overnight.
Tomorrow
Tomorrow, Wednesday, will be windy and cold with heavy showers which will be widespread for a good part of the day. Some will be of hail, with a risk of thunder and there'll be some further wintry showers over higher ground for a time. The showers will become less widespread later in the day, with the wintry element to the showers dying away. Highest temperatures of 5 to 7 degrees in mostly strong and gusty northwesterly winds, gale force and gusty in exposed parts.
Tags: