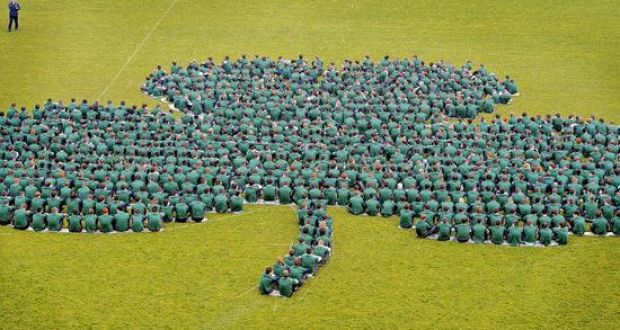 WORLD RECORD: It's green for go for the world record attempt at forming a giant human shamrock which is to be staged in Letterkenny this Saturday.
After months of planning organisers are putting the finishing touches to the fund-raising event – and now it's up to the people of Donegal, and indeed those residing further afield, to play their part.
The world record currently stands at 850 – set by students from Blackrock College and Willow Park in Dublin three years ago – but if it is to be broken, a minimum of 1,000 people will be required in the grounds of the Letterkenny Institute of Technology under Guinness World Record rules.
The event is set for 2.p.m. on Saturday but those taking part should be there an hour beforehand to be numbered going through the gate.
"We will need the support of every community in the county to make it happen," says committee representative, Paddy Delap.
"We have gone around a large number of schools and other organisations to promote it and we're hopeful that the required total will turn out and a lot more besides."
The event is billed as family friendly and a fun day but the serious element to it is the raising of funds for three respective charities.
These include 'Let's Get Talking Donegal', a community based counselling service offered at the Donegal Women's Centre and through outreach centres, providing support for men and women over the age of 17; the Donegal Youth Services, a county-wide organisation supporting young people aged between 5-25 to engage in activities and personal development programmes; and the Letterkenny Youth Club which provides support to school-going children while participating in group events and forming positive peer friendships.
The world record attempt is being staged under the banner of 'Let's Unite for Mental Health' and there'll be entertainment on the day including music and face-painting and an appearance by the Blue Ribbon arts group.
"We have sponsorship cards available and donations will also be accepted on the day and all the money raised ultimately will be divided between the three charities," Paddy points out.
Businesses and community organisations have also been invited to lend their support to the event.
Sponsorship cards are available from the organisers including Paddy Delap (086-3859696); Lorraine Thompson (074-9129630); and Paul Maguire (085-7401605).
All that is needed now is for the required turnout to break that world record and put Donegal on the map as the county that provided the most humanised shamrock in history!
Tags: