Philadelphia Congressman Brendan Boyle, whose father comes from Glencolmcille, has hit out at the White House over the security treatment of members of Sinn Féin including party President Gerry Adams.
Mr Adams was forced to miss a reception hosted by President Barack Obama at the White House after secret service security staff held him up for more than an hour – forcing him to miss the event.
Boyle is the Representative for Pennsylvania's 13th Congressional District.
His father Francis Boyle was born in Glencolmcille, but he emigrated to the USA in the 1970's when he was a teenager.
Mr Adams said he had been happy to accept the invitation to attend the Shamrock ceremony in the White House but was informed upon arrival there was a "security issue" and was asked to wait.
Speaking after the Secret Service apology, Mr Adams alleged his party members "were on a list of some sort" that forced them to face more searches than others.
Mr Adams said: "It took me an hour and 15 minutes to get my boarding pass.
"That is normal. We then get two or three extra searches.
"Younger members of Sinn Féin who are no way associated with the conflict are subjected to the same extra scrutiny. That is not a coincidence that is an administrative practice."
Mr Adams said it was an "unacceptable development" after two decades of travelling to the US and many meetings with US presidents.
"Sinn Féin will not sit at the back of the bus for anyone. We are elected to represent citizens and we will do this," he said, in a reference to how black civil rights leaders were made to sit separately from white people in 60s America.
Mr Adams, Martin McGuinness and Mary Lou McDonald met the Congressional Friends of Ireland on yesterday over the White House security. The caucus of congressmen agreed at the meeting to write to the White House to seek clarification on what happened.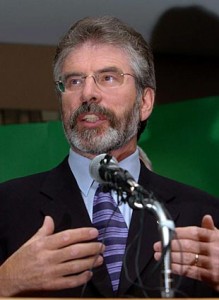 Irish-American Democratic congressman Brendan Boyle said he was unhappy and deeply angry about what had unfolded. He questioned whether the incident was a bureaucratic mix-up "or is there something more sinister going on".
"It's embarrassing," said Mr Boyle.
The US Secret Service apologised to Mr Adams last night.
"The Secret Service would like to express our regret that the issue involving Mr Gerry Adams' entry into the St Patrick's Day reception could not be resolved in a more timely manner," it said in a statement on Wednesday night. "Unfortunately, an administrative input error received by the Secret Service was not able to be rectified promptly."
Tags: