The Donegal Road Safety Working Group is appealing to all road users to stay safe on the roads during the Easter holidays.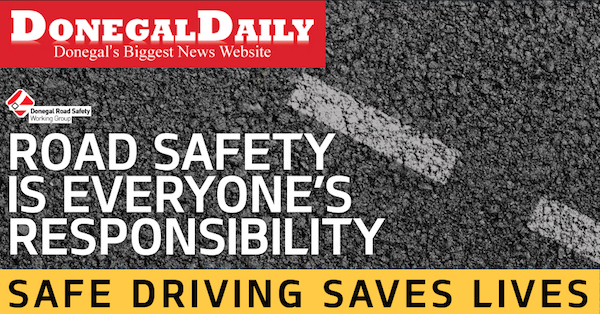 For the upcoming Easter weekend Garda resources will be deployed with the aim of increasing compliance amongst road users and improving road safety.
Brian O'Donnell, Road Safety Officer states that inappropriate speed is the single greatest contributory factor to road deaths and serious injuries.
He said "Drivers are urged to slow down and to remember that a speed limit is a legal maximum not a target and that it may not be appropriate when road conditions are taken into account, such as weather conditions, traffic volumes etc.
"We all know that driving too fast has serious consequences and increases your risk of being involved in a serious or fatal collision, yet every year, far too many road deaths are caused by excessive speed. We are asking all road users to slow down and don't make this Easter one to remember for all the wrong reasons".
"Over the Easter holiday period many people will set out to visit family and friends, some undertaking long journeys. We are urging motorists who are travelling long distances to be particularly aware of driver fatigue. Recognise the signs that you are too tired to continue driving, and then Stop, Sip, Sleep – Stop the car in a safe place, Sip a caffeine drink, and Sleep for 15-20 minutes. This should enable you to continue driving for another hour or so".
As the schools around the country begin to enjoy the Easter Holidays and with brighter evenings and better weather hopefully on the horizon the Road Safety Authority has launched a series of videos focusing on child safety on or near driveways and in housing estates.
These videos will provide parents and guardians with practical advice on how to help keep children safe when playing in these areas and tips on how we can all be safe on the road.
"Children are not aware of the dangers that are on our roads and even the safe areas around their own home. It's up to parents and guardians to make road safety part of their everyday routine and teach them about road safety. Children do not have the same understanding or awareness of dangers that adults have, so we need to drive safely in areas where children might be at play. Talk to your children about road safety. Show them where the dangers are and what they can do to keep safe on the roads. Children learn from what we as parents do so if you're in the car, drive in a responsible and safe manner, always wear your seatbelt and never use a mobile phone while driving. Slow down, be aware of the environment you are driving in and always expect the unexpected". The videos are available to view on the RSA's YouTube page, www.youtube.com/RSAIreland and the accompanying booklet Child Safety in Cars, is available to download from the RSA website.
"All road users are responsible for their own safety. Cyclists and Pedestrians are asked to wear appropriate high viz clothing during the hours of darkness and cyclists should ensure they have the correct lights, that they are in working order and at all times they are obliged to adhere to the Rules of the Road".
"Using your mobile phone while driving makes you four times more likely to crash. When you consider that driver distraction plays a role in 20-30% of all road collisions, phone use and driving is an issue that we all need to take seriously. Do not use a mobile phone while driving, whether it's making or taking a call or sending a text message. Leave your phone out of sight and on silent mode to reduce the potential for distraction. If you need to make a call or answer a text message, pull over to a safe place and then make your call. Driving requires 100% concentration – it's as simple as that".
Perhaps the most frightening figure from the statistics in 2015 is that 29% of drivers and passengers killed were not wearing a seatbelt.
Brian added "It seems incredible that after years of public education, including the use of graphic television advertisements that people will still travel in a car and not put on their seatbelt. Always wear your seatbelt".
"Over the past number of years there has been a sea change in the attitude of the public towards drinking and driving, and for most people it is no longer socially acceptable to drink and drive. Drink Driving campaigns must continue and be intensified to send a message to those people who still persist in drinking and driving or think that drinking and driving is not a serious offence, that this is clearly not a sustainable or justifiable position".
He said the tragedy that unfolded in Buncrana on Sunday was truly horrific and that their thoughts and prayers are with the family and relatives of those involved.
"We as a community have had far too many tragedies, particularly road traffic collisions. A tragic accident, totally unexpected, has changed countless lives forever.
"We should never say or think "it won't happen to me". The sad reality is that it does. Road traffic collisions happen in seconds and we would ask that all road users listen to the road safety messages. Each one of us who use the roads can make a difference and we all should take a moment to reflect on how we could improve our driving. One second, one wrong decision and it can change yours and everyone's lives around you forever".
Tags: