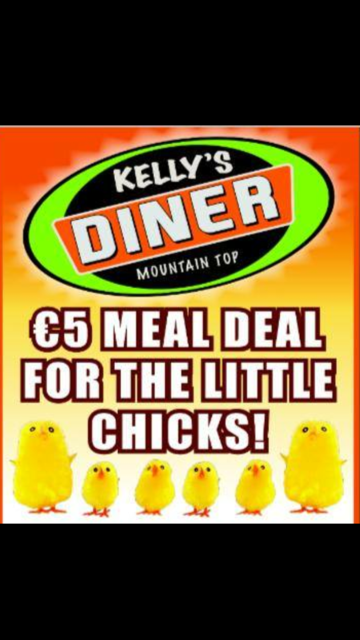 FEATURES: Kelly's Diner has established itself as one of the finest restaurants in Donegal over the years, and its desire to uphold high standards in customer service and excellence has ensured its amazing popularity.
Management at the award-winning diner are always striving to provide their loyal customer base, that is growing all the time – with quality food at quality prices.
This Easter, it's no different – and there's cracking deals on for all the little 'chicks' out there over the Easter holidays.
All children's meal deals are just €5, and that amazing deals lasts ALL weekend!
On top of that sensational deal, they've got the ever popular Steak Night, a juicy sirloin steak with all the trimmings is still just a mouth-watering €10 – now that's value!
Remember, today is Good Friday, so there will be plenty of us depending on your religious creed that won't be able to eat red meat, but don't worry we've got that covered too.
Why not treat yourself to fresh battered Fish and Chips for just €9 as part of our Good Friday special.
Then on Easter Sunday, why not treat the family to a delicious lunch at Kelly's Diner – with a three-course meal costing you just €13.95!
The food is amazing, the staff are lovely, and the prices can't be beat, so make sure and drop into Kelly's Diner this weekend.
ALSO: With all kids meals for just €5, that includes juice and ice-cream!
Tags: