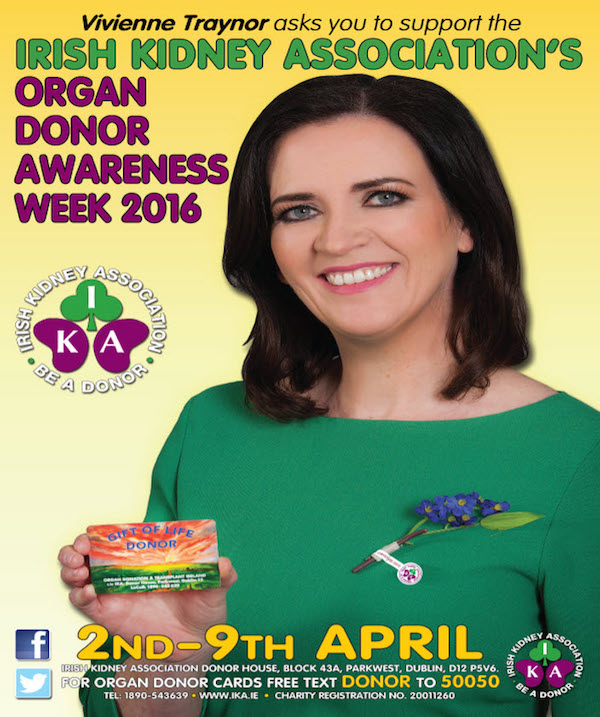 The Minister for Health Leo Varadkar has officially launched the Irish Kidney Association's Organ Donor Awareness Week 2016 (2-9 April) at the Mansion House in Dublin.
The minister met members of the organ donation and transplant community including medical staff, patient advocate groups and patients.
The Irish Kidney Association, while applauding the transplant programmes for Kidney, Heart, Lung and Liver, claimed there is an urgent need for a second kidney transplanting hospital to meet the spiralling demand for kidney transplants and combat massive future strain on the exchequer.
Predicting that the 2,000 number of people on dialysis now will be 3,000 in ten years' time there will be an estimated additional cost of €50 million per year.
Speaking at the launch IKA CEO Mark Murphy said, "The vast majority of the Irish public is willing to donate organs and we now have the infrastructure to lift organ donation to the next level, like the Spanish model of organ donation whose rates are twice ours.
"With all the recent changes in our organ procurement structure including the establishment of Organ Donation and Transplant Ireland, led by Prof. Jim Egan and six personnel are now working inside our Intensive Care Units championing organ donation, we are hopeful that many more opportunities for organ donation and consequently transplantation will be realised."
Mr Murphy said, "We now have the medical expertise to convert our increasing organ donation rates to more transplantation. I commend the dedicated transplant teams at all three of ourtransplanting hospitals, Beaumont, St. Vincents and the Mater, for achieving high levels of transplantation."
"St. Vincent's carried out 61 liver transplants last year, 17 more than in the previous year. While no pancreas transplants took place in 2015 we remain optimistic that the new Pancreas and kidney transplant programme established at St. Vincent's will commence transplantation this year."
"The Mater Hospital has shown outstanding growth in the past three years by tripling the number of heart and lung transplants it has carried out compared with the three years previously with the same number of deceased donors. The Mater Hospital conducted the first combined heart and lung transplant last year.  All of this demonstrates that while donors are essential, transplant expertise can deliver phenomenally different results from the same amount of deceased organ donors."
"However, there is an urgent need to address our kidney transplant infrastructure for living and deceased donation which cannot keep up with the demand. Beaumont Hospital is unable to do this alone, it is proving too much to ask of its size of an acute hospital. We urgently need a secondkidney transplanting hospital if we are serious about tackling this problem or goal."
"It has taken only 12 years to double Ireland's dialysis patient numbers from 1000 to 2000. This growth would have happened much faster than that, except were it not for the good levels of kidney transplantation at Beaumont Hospital." 
"At the end of 2015, there were 2,015 people in Ireland receiving dialysis treatment and 2,314 people with a kidney transplant , totalling 4,329 people in Ireland with End Stage Kidney Disease or 930 per million of population (PMP) patients with failed kidneys. This is well below the EU average of 1,100 PMP with failed kidneys but as our population is one of the youngest in Europe, this is understandable. However, as the Irish population ages, we can anticipate that we will get closer to the EU average and will require more dialysis facilities, if kidney transplantation cannot keep up with the demand, and in its current format it cannot."
"There are 460 people on the kidney transplant waiting list which only represents 23% of the dialysis patients. The length of time it takes to be listed for a kidney transplant varies greatly across the country. While not all dialysis patients are transplantable it is reasonable to predict that 35% are transplantable. In Ireland your time awaiting a kidney transplant is counted from the day you are placed on the waiting list, not like in many countries which count from the day you start dialysis. If all testing for the waiting list were completed swiftly that would take the Irish waiting list for kidney transplants up to 700 people.
"On last year's growth numbers, there are 125 more people on dialysis despite 153 kidney transplants in the same period. For every extra 100 dialysis patients the HSE has an extra €5 million to find.  I predict that an additional cost of €50 million per year to the exchequer will be required for dialysis treatment in less than 10 years' time unless kidney transplantation is transformed. A patient with a kidney transplant costs five times less than a dialysis patient and can expect to double if not treble their life expectancy."
22 more organ transplant operations took place in 2015 than in the previous year. In 2015 there were a total of 266 organ transplants (including heart, lung, liver and kidney).
Thanks to the generosity of 81 deceased donors and their families, 233 organ transplant operations were made possible last year and 232 lives were dramatically altered. Living kidney donation led to an additional 33 kidney transplants taking place in Ireland and 8 Irish patients underwent living donor kidney transplants in the UK.
There are approximately 550 people in Ireland awaiting lifesaving heart, lung, liver, kidney and pancreas transplants. Thanks to the gift of organ donation well over 3000 people in Ireland are enjoying extended life.
St. Vincent's Hospital conducted 61 liver transplants in 2015. The Mater Hospital conducted a record 36 lung transplants as well as 16 heart transplants in 2015 and Beaumont Hospital carried out 153 kidney transplants including 33 from living donors.
The focus of Organ Donor Awareness Week is to raise awareness about the ongoing and ever increasing demand for organ transplantation which relies on the public for organ donation. Its key message is that families need to talk and keep the reminders of their willingness to donate visible by carrying the organ donor card, downloading the Smartphone App and permitting Code 115 to be included on their driver's license. 
 Organ Donor Awareness Week also serves as a fundraising exercise for the Irish Kidney Association as 74% of its funds are generated from the public. Throughout the Week (2nd – 9thApril, 2016), the Association's volunteers will be out on the streets, and in shopping centres throughout the country, selling 'forget-me-not-flower' emblems, brooches, pens and shopping trolley discs. All proceeds will go towards the Irish Kidney Association's aid for patients on dialysis and those patients fortunate enough to have received a kidney transplant. The Irish Kidney Association's charitable activities include the provision of a 13 double bedroom free accommodation facility for patients and their families in the grounds of Beaumont Hospital and holiday centres located in Tramore and Kerry, together with patient advocacy, advice, financial aid and rehabilitative, health promotion through sport and the provision of kidney patient information and education. The IKA has introduced another fundraising technique. You can text "kidney" to 50300 and €2 will be donated from your mobile phone account to the IKA. 
The Irish Kidney Association is the national organisation charged with the promotion and distribution of the organ donor card in Ireland, on behalf of Organ Donation Transplant Ireland.
Free information fact files, which accompany organ donor cards, are obtainable from the Irish Kidney Association and are available nationwide from pharmacies, GP surgeries and Citizen Information Offices etc.
Organ Donor Cards can also be obtained by phoning the Irish Kidney Association  LoCall 1890 543639 or Freetext the word DONOR to 50050. Visit website www.ika.ie                                                               It is now possible to store an organ donor card, the 'ecard' on Smart mobile phones.   Simply search for 'Donor ECard' at the IPhone Store or Android Market Place.
Tags: