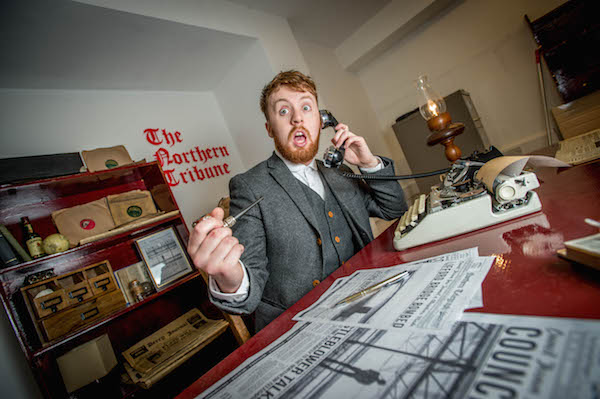 The 'escape room' global phenomenon is set to grip the North West with the opening of a new live game challenge at The Old Courthouse in Lifford.
'The Heist' is a new live game experience which imprisons groups of up to six people in a 'Crystal Maze'-styled puzzle fest.
Players are forced to think their way out of the room by solving a series of carefully devised puzzles and problems in a game styled on the escape room craze which is taking the world by storm.
Lifford's Old Courthouse is one of the first locations in Ireland to offer the escape room experience. The Donegal venue's latest brain-teasing challenge centres on a daring newsroom heist theme.
Teams are tasked by a secretive millionaire to retrieve 'extremely sensitive information' from a newspaper magnate's office before it's delivered to his editors. Contestants are given 60 minutes to break into the office vault and ensure the information never goes to print. They are also given the ominous warning: 'do not get caught'.
The role-play experience is billed as a tremendous team building adventure and is expected to be a big hit with a diverse range of groups in the North West.
"From teams of employees and groups of pupils to family units and circles of friends 'The Heist' is an experience which everyone will enjoy," says the game's developer Patrick McHugh, from the Old Courthouse in Lifford.
"Our latest game is a high intensity heist scenario which places players in the roles of thieves in an against-the-clock newspaper office raid. Much planning has gone into making
'The Heist' a fantastic live game experience for everyone from 14 years and upwards," he adds.
The escape room phenomenon is relatively new to Ireland and the UK but has been taking the world by storm in recent years after originating in Japan.
Mr McHugh says: "The Old Courthouse has the only escape room experience in the North West and was one of the first in Ireland. Our 'Jailbreak' game has been imprisoning players since June 2015 and has been a huge success.
"'Jailbreak' evokes a unique feeling of authenticity as it takes place in the genuine dungeon cells beneath the courthouse, giving our death row 'prisoners' 60 minutes to escape or else face the gallows.
"Several hundred groups have taken part so far and although some have not made it out alive – 'Jailbreak' has enjoyed fantastic reviews," he quips.
Mr McHugh's team plans to change the game themes every six months while also introducing some seasonally themed 'pop-up' escape rooms to ensure new user experiences.
"The themes will be changed and fresh puzzles devised but the fun fundamentals will remain the same. Our escape rooms are all about finding keys to open boxes and doors, and working out combinations to get into safes and locks. Players work from scratch when they enter and get an hour to think their way out of the room by solving one problem after another," he says.
The puzzles involve players thinking quite a bit outside the box while they remain imprisoned inside the box.
"In our escape rooms there's hardly any math involved – we found during our extensive research that nothing can kill momentum in a room more than flummoxing someone with tricky square roots or equations. Our games focus more on encouraging players to think outside the box and work out testing riddles – it's more about thinking laterally than thinking literally," he explains.
'The Heist' escape room challenge will be on tour at Letterkenny Shopping Centre on Saturday, April 2. Shoppers will be given an opportunity to get a flavour of the experience by working out on-the-spot puzzles for prizes.
For information on The Old Courthouse room escape experiences log on to www.liffordoldcourthouse.com/heist or www.liffordoldcourthouse.com/jailbreak
'The Heist' and 'Jailbreak' escape room challenges are open Monday to Saturday for teams of 2-6 people with an entry fee of €12 per person. For teams of six the entry fee is €60.
Tags: