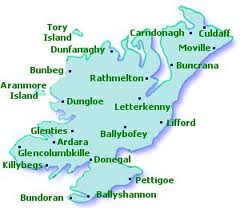 A large chunk of Donegal appears to have been gifted to the North due to a geographical blunder on the official Census 2016 website.
The Central Statistics Office (CSO) has apologised after the Inishowen Peninsula in Co Donegal was cut off the map and apparently annexed by the Six Counties.
The Irish Examiner reports that the mistake was on an infographic entitled 'The Journey of a Census Form'
The CSO said the mistake was "inadvertent" while the faulty infographic was rectified within several hours of the statistics body having been notified.
"The Central Statistics Office acknowledge the inadvertent error on the graphic which resulted in the omission of the Inishowen Peninsula and apologise for any offence or inconvenience caused," said a spokesperson.
The graphic was provided to the CSO by a leading Dublin advertising and design agency, Language.