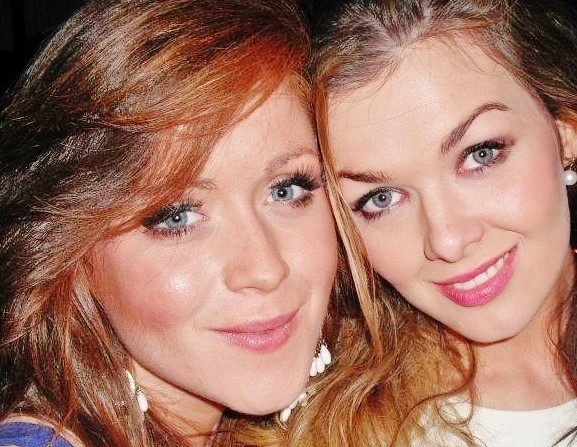 Hello Ladies, (and gents!!) I'm assuming everybody is well settled back into their normal daily routine after the Easter break.
Although we all like to get a bit of structure and routine back in our lives it's only natural that we look forward to the next little break, and the good news is it's only 3 weeks until the next long weekend!! (I'm not counting or nothing!!) I've actually got a full week's holidays in May, so it's fab!
This week I caught up one of the hottest women on Irish TV at the minute and good friend of mine Caitlín Nic Aoidh.
Caitlín and I know each other from our secondary school days back in Pobalscoil Cloch Cheann Fhaola and we also lived together while at college in Maynooth.
As many of you may know, Caitlín presents the weather on TG4, she along with fellow  presenter Fiona Ní Fhlaithearta, were brought in by TG4 as the new faces of Irish weather, and they've been causing quite the stir since!
Caitlín has been nominated for a Peter Mark VIP Award in the section of  Most Stylish Newcomer alongside 2FM's Louise Mc Sharry and Conor Mc Gregor's better half Dee Devlin.
You can vote for Caitlín to win via this link http://www.vipstyleawards.ie/showFavourites.aspx?id=2   GO ON!!!!
The VIP nominee is also off to the IFTA Awards this weekend to mix it up with some of Ireland's most well-known faces.
It's an extremely exciting and busy time for her but I did manage to grab 5minutes of her time to ask her some questions.
Caitlin, first of all comhghairdeas mór on the VIP nomination for the most stylish newcomer! You must be delighted to be nominated?
Thanks a million. I'm thrilled as I didn't expect a nomination at all. I feel so honoured to be nominated amongst these women.
The award ceremony is on the 6th May in the Marker Hotel Dublin isn't that right? Have you picked your outfit yet?
No, not yet!  I really need to start searching soon though. I have a picture of something I would like to wear, in my head, finding it might be the problem.
I'm sure it will be gorgeous, we'll look forward to the pictures!
Tell us a little about your style how would you describe it?
I like simple, comfortable outfits with a little twist. I do like to wear colours that suit my skin tone and hair colour.  I love Olivia Palermo's style I think she looks effortless and beautiful no matter what she wears.
Would you say your style has changed since becoming a weather presenter?
Not very much to be honest, for television we need to wear structured outfits as baggy clothing on television just does not work. I just like to wear something I'm comfortable in.
Where do you like to shop? And what sort of looks or trends do you like at the minute?
Zara, Topshop, TK Maxx, and River Island would be some of my favourite high streets to shop in. Donegal has some beautiful clothing boutiques such as Blush boutique, verve, Tokyo and Mc Elhinneys for special occasions. I love to pick up some unusual pieces in those shops. I love this trend of a very simple outfit with the most understated earrings. Less is more sometimes!
A question we all want to know is, do you pick your own outfits for presenting or is there someone there to do that for you? And do you get to keep the outfits?!
Well when I first began on the weather I went shopping with a stylist and she helped me to pick out some outfits. After that I began choosing my own clothes as I had a better idea of what works and what suits me. It's all trial and error. Sometimes, an outfit could look beautiful in reality and not look so good on TV.  And yes, we keep the outfits as I rotate my clothes and mix and match them.
So you're the hottest weatherwoman on TV at the minute! But you trained as a secondary school teacher, tell us how you went from teaching to TV? They're two very different career choices?!
Yes they're completely different. I always knew I would become a teacher one day. While I was in the middle of my HDip I did an interview with TG4 to become a weatherwoman. I was very lucky to be chosen and even luckier that they let me finish my HDip before I started training.
Have you any other projects on at the minute or what is next for Caitlin Nic Aoidh?
No other projects at present. I'm happy the way things are going at the minute.
Finally Caitlín, what advice would you give to anyone trying to break into a career in media?
I would highly recommend making a show reel. It doesn't even need to be a professional one, you just need to show your personality in the video. This is essential if you're looking for a job in media. You can then send your show reel to production companies.
Thanks a million Caitlín, best of luck with the VIP awards, we'll all get voting for you!
Thank you very much.
Guys once again you can vote for Caitlín to win VIP's Most Stylish Newcomer via the following link
http://www.vipstyleawards.ie/showFavourites.aspx?id=2  please get behind and show support for our fellow Donegal lady and cailín álainn Caitlín Nic Aoidh.
Hope you all have a lovely weekend guys,
Until next week,
Mairéad
XX
Tags: