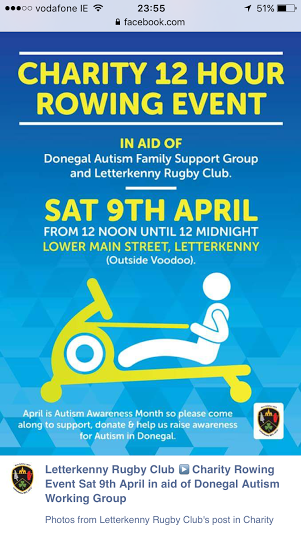 As part of Autism awareness month, Letterkenny Rugby Club members are holding a Charity 12 Hour Row Event from 12 noon today until midnight.
The event is taking place at Lower Main St., Letterkenny, outside Voodoo with proceeds going to the Donegal Autism Working Group and the club.
The Autism Family Support Group was set up 9 years ago by a small group of parents who came together to provide support, encouragement and information for those whose lives are affected by ASD by sharing information and experiences.
They all work on a voluntary basis and they have over 120 members.
Parents often feel isolated when a child is diagnosed with Autism and this group offers an understanding environment and support both through social media and through monthly meetings where parents get together and discuss their difficulties and successes.