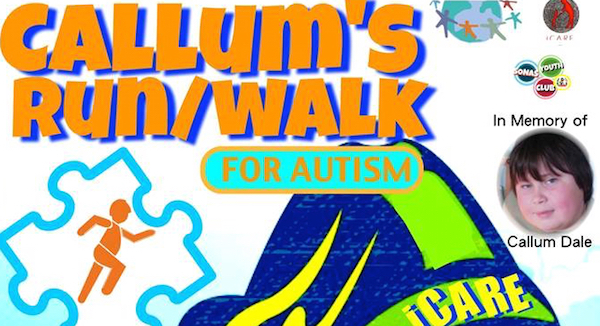 THERE was a wonderful turn-out today for the inaugural Callum's Run/Walk for Autism 5k in Buncrana today.

The race began and ended at the iCARE centre in Ballymacarry with more than 300 participants, helping to raise money for the charity.
The walk and run was in memory of local boy Callum Dale who passed away in tragic circumstances in the town in 2013.
Place Bib Name Sex AG Club Time
1 28 Pius Mc Intyre m SM 16:59
2 477 Martin Gallagher m SM Foyle Valley A.C. 17:03
3 467 Matthew Mc Laughlin m SM Foyle Valley A.C. 17:05
4 498 Cathal Nilson m SM North Pole CC 19:42
5 384 Adrian Lynch m SM 20:06
6 484 Peter Sweeney m M50 20:59
7 481 Adrian Callaghan m SM Letterkenny A.C. 21:35
8 372 Declan Tucker m SM 21:50
9 307 Adam Whoriskey m JM Inishowen A.C. 22:16
10 466 Emma O ' Donnell w SW 22:18
11 29 Simon Collins m SM 22:25
12 463 Darragh Mc Laughlin m JM Inishowen A.C. 22:32
13 420 Andrew Curran m SM 22:33
14 436 Helen Mc Daid w SW 22:54
15 479 Danielle Grant w SW Inishowen A.C. 23:03
16 386 Ryan Downey m JM 23:11
17 188 Ryan Doherty m JM 23:18
18 142 N.N. 142 23:20
19 409 Jonathan Adair m SM 23:26
20 115 Joseph Mc Grenra m JM 23:30
21 357 Ruth Doherty w SW 23:45
22 495 Catherine Doherty w SW Inish Fitness 23:48
23 464 Paul Woods m M50 Rothwell Leeds 23:50
24 411 Donal Hanley m SM 24:46
25 489 Kevin Cooley m SM 24:49
26 480 Seana Jackson w SW Inishowen A.C. 25:09
27 382 Sonya Mc Grory w SW 25:25
28 368 Christine Porter w SW 25:45
29 490 Seamus Baldrick m SM Inish Fitness 26:02
30 471 Shaun Henderson m SM 26:35
31 385 Veronica Long w SW 26:44
32 437 Nicole Mc Nicole w SW 26:51
33 418 Gerard Duffy m SM 26:51
34 438 Niamh Mc Daid w SW 26:58
35 439 Laura Mc Laughlin w SW 26:58
36 405 Adam Mc Callion m JM 27:01
37 485 Michael Healy m SM 27:06
38 416 Seán Kelly m SM 27:12
39 473 Aisling Henderson w SW 27:18
40 472 Karen Henderson w SW 27:18
41 487 Joanne Doherty w SW 27:21
42 440 Shaun Mc Daid m SM 27:28
43 283 Aoife Corry w JW 27:30
44 284 Finnuala Mc Laughlin w JW 27:33
45 267 Denis Kelly m SM 27:36
46 387 Cian Downey m JM 27:54
47 1 Luke Clifford m JM 27:56
48 144 N.N. 144 28:13
49 40 Ryan Fitzpatrick m JM Cockhill 28:15
50 4 Theresa Mc Crudden w SW 28:15
51 35 Molly Dunlpo w JW Inishowen A.C. 28:18
52 276 Siean Mc Colgan w SW 28:18
53 143 Sean Whire m SM 28:43
54 47 Marie White w SW 28:44
55 483 Breege Mc Daid w W50 29:09
56 232 John. Mulhern m SM 29:16
57 3 Joe Nelis m SM 29:17
58 465 Brendan Logue m SM 29:37
59 314 Irina Mhic Dhonaill w SW Inishowen A.C. 29:42
60 311 Elizabeth Mc Daid w SW 29:42
61 313 Ronan Doherty m SM Inishowen A.C. 29:42
62 312 Evelyn Mc Ginley w SW Inishowen A.C. 29:42
63 34 Fiona Fitzpatrick w SW 29:43
64 363 N.N. Carlos m JM 30:11
65 388 Teresa Downey w SW 30:29
66 364 Trina Muckian w SW 30:33
67 319 Kathleen Doherty w W50 30:37
68 355 Patricia Mclaughlin w SW 30:37
69 48 Josie Gallagher m SM 30:41
70 306 Christine Sweeney w JW 30:45
71 304 Jayne Grant w SW 30:50
72 305 Lisa Grant w SW 30:50
73 425 Karl Mc Glen m SM 30:53
74 428 Roisin Henderson w SW 30:54
75 373 Rachael Gillespie w JW 31:29
76 33 Siobhan Fitzpatrick w JW 31:38
77 270 N.N. 270 31:53
78 51 Sean Mc Colgan m SM 31:53
79 43 Conor Parke m JM 31:56
80 46 Gregory Parke m SM 31:57
81 25 Melissa Callaghan w SW 32:24
82 26 Lucy Jackson w JW 32:24
83 468 Aine Doherty w SW 32:26
84 456 N.N. 456 32:58
85 18 N.N. 18 33:04
86 17 James Wallace m SM 33:04
87 462 Ava Mc Laughlin w SW 33:46
88 84 Maria Mc Daid w SW 33:53
89 461 David Porter m SM 34:00
90 16 Rachel Mc Callion w JW 34:38
91 15 Kelly Fullerton w JW 34:39
92 334 Janette Mc Laughlin w SW 34:43
93 271 Mart Concannon w SW 34:46
94 263 Ruairi Concannon m JM 34:46
95 309 Erin Whoriskey w JW Inishowen A.C. 35:11
96 308 Joanne Whoriskey w SW Inishowen A.C. 35:11
97 149 Lucy Herron w JW 35:38
98 148 Una Doherty Roe w SW 37:49
99 406 Ciara Mc Gann w SW 38:01
100 457 N.N. 457 38:08
101 30 Orla Mc Laughlin w SW Fighting Fit 38:18
102 395 Daithí Mc Brearty m JM 39:08
103 346 Rachael Keany w SW 39:11
104 394 Colin Mc Brearty m SM 39:14
105 434 Emma Sheehy w JW 39:29
106 433 Leo Sheehy m SM 39:33
107 350 N.N. 350 41:09
108 352 N.N. 352 41:10
109 112 Sharon Campbell w SW 41:26
110 114 Bridie Mc Dermott w SW 41:26
111 356 Maureeen Mclaughlin w W50 41:26
112 2 Eamonn Doherty m M50 41:27
113 476 Josephine Doherty w SW 41:31
114 399 Cormac Kerrigan m SM 41:48
115 397 Ronan Kerrigan m SM 41:52
116 432 Aisling Sheehy w SW 43:23
117 392 Leanne Mc Brearty w SW 43:24
118 83 Chloe Donaghey w SW 43:25
119 82 Mikey Donaghey m SM 43:26
120 496 Winifred Mc Laughlin w W50 43:27
121 448 Anne Doherty w SW 43:28
122 348 Kathleen Mclaughlin w SW 43:28
123 451 Danielle Dawson w JW 43:32
124 391 Leanne Mc Daid w JW 44:10
125 453 Kyle Dawson m JM 44:12
126 389 Angela Mc Daid w SW 44:18
127 277 Jude Doyle m JM 45:07
128 323 Lachlan Gill m SM 45:13
129 359 Caron Gallivan w SW 45:17
130 360 Kelly Ann Gallivan w SW 45:18
131 371 Majella Mc Glinchey w SW 45:18
132 358 Cathy Kelly w W50 45:19
133 351 Helen Cox w SW 45:20
134 486 Bridgeen Callaghan w SW 45:35
135 354 Elizebeth White w SW 45:35
136 353 Paddy Cox m SM 45:35
137 361 Rosemary Callaghan w SW 45:52
138 362 N.N. 362 45:52
139 36 Kieran Broshun m JM 46:04
140 39 N.N. 39 46:04
141 37 Catrina Brosnan w SW 46:33
142 38 Jamie Brosnun m JM 46:33
143 280 Callum Griffin m JM 46:35
144 279 Sarah Wbster w SW 46:35
145 336 Niamh Clerkin w JW 46:36
146 335 Odhrán Mullan m JM 46:36
147 57 Adam Mc Laughlin m SM 46:44
148 53 Kyle Mc Laughlin m JM 46:44
149 54 Stacey Mc Laughlin w W50 46:44
150 321 Marie Lavelle w SW 46:51
151 23 Geraldine Jackson w SW 46:51
152 377 Matthew Downey Fitzpatrick m JM 46:55
153 379 Stephan Fitzpatrick m SM 46:55
154 56 Gary Duffy m SM 46:56
155 381 Emma Murphy w SW 47:07
156 285 Darragh Corry m JM 47:12
157 380 Kevin O' Loughlin m SM 47:18
158 378 Shaun Fitzpatrick m SM 47:18
159 282 Donal Corry m SM 47:29
160 281 Niamh Corry w JW 47:30
161 452 Pauline Mcdaid w SW 47:33
162 390 Amy Mc Daid w JW 47:34
163 459 Maeve Loughrey w SW 47:49
164 488 Lauren Cooley w JW 48:23
165 375 Janey Mc Laughlin w SW 48:28
166 278 Marie Clare Doyle w SW 48:41
167 494 Anna O' Donnell w SW 48:44
168 493 Elaine Fallon w SW 48:44
169 273 Tina Mc Laughlin w W50 48:50
170 87 Gillian Grant w SW 48:50
171 184 Darragh Fullerton m JM 49:14
172 396 Cahir Kerrigan m SM 49:18
173 435 Sarah Sheehy w JW 49:20
174 345 Stella Keany w SW 49:21
175 393 Darragh Mc Brearty m JM 49:23
176 325 Dianne Rahim w SW 49:29
177 329 Liam Mcdaid m SM 50:09
178 328 Millie Locke w SW 50:09
179 370 Clodagh Mc Colgan w SW 50:21
180 497 Conor Mc Guire m SM 50:21
181 369 Daithí Mc Colgan m SM 50:21
182 22 Marie Mc Callion w SW 50:23
183 318 Caitriona Mc Laughlin w SW 50:25
184 330 Jennifer Bradley w SW 50:26
185 320 Shaun Friel m SM 50:27
186 500 Ciara Kearney w SW 50:29
187 374 Margaret Mc Kinney w SW 50:29
188 24 Mary Mc Laughlin w SW 50:29
189 365 Pam Boyce w SW 50:31
190 367 Lisa Boyce w SW 50:32
191 366 Andrew Boyce m SM 50:33
192 499 Dessie Kearneyb m SM 50:34
193 120 Alisha Mc Elhinney w JW 50:48
194 290 Denise Burke w SW Sonas 51:01
195 478 Jude Morrow m JM 51:03
196 337 Anne Nelson w SW 51:46
197 339 Jade Robinson w JW 51:47
198 413 Amanda Nelson w SW 51:47
199 338 Kieran Robinson m JM 51:48
200 256 N.N. 256 51:51
201 257 Yvonne Duncan w SW 51:52
202 255 Ross Duncan m JM 51:52
203 189 Jennifer Hegarty w SW 52:13
204 187 P.j. Doherty m JM 52:13
205 412 Gabrielle Mc Laughlin w W50 52:33
206 460 Claire Nelson w W50 52:33
207 423 Eve Quigley w SW 52:42
208 186 John Fullerton m JM 52:44
209 185 N.N. 185 52:44
210 183 Sofia Fullerton w JW 52:44
211 182 Almudena Gestera w SW 52:52
212 324 Yasmin Rahim w SW 52:58
213 326 Gavin Doherty m SM 52:58
214 492 Aileen Henderson w SW 53:01
215 262 Cathy Doherty w SW 53:02
216 90 Mary Gill w JW 53:02
217 89 Peter Mc Ginty m JM 53:03
218 261 Laurence Doherty m SM 53:03
219 332 Niamh Gallagher w SW 53:07
220 333 Noel Doherty m SM 53:07
221 190 Louise Doherty w SW 53:07
222 31 Cathy Doherty w SW 53:12
223 116 Bridie Grant w SW Sonas 53:12
224 32 Stephan Doherty m JM 53:12
225 322 Pauline Mc Closkey w SW 53:12
226 446 Arlene Gill w SW 53:14
227 445 Caomhe Gill w SW 53:14
228 455 Lauren Gill w JW 53:15
229 340 Tergan Mc Laughlin w JW 53:18
230 343 Martin Mclaughlin m SM 53:19
231 342 Pilar Goice w SW 53:32
232 341 Laura Gonzalez Sainz w SW 53:32
233 147 Anne Marie Donaghey w W50 Zumba Buncrana 53:37
234 119 Megan Coyle w JW 53:38
235 27 Noreen Turner w W50 53:38
236 146 Rachel Donaghey w SW Zumba Buncrana 53:40
237 454 Niamh Bradley w JW 53:42
238 349 N.N. 349 53:54
239 6 Dylan Mc Larke m JM 54:04
240 111 Sorcha Mc Laughlin w SW 54:05
241 303 Margaret Mc Carron w SW 54:13
242 422 Gemma Marston w SW 54:13
243 113 Caoimhe Grant w JW 54:24
244 469 Sinead Baraer w SW Sonas 54:24
245 414 Siobhan King w W50 54:42
246 415 Winifred Kelly w SW 54:43
247 344 Aaron Keany m SM 54:53
248 310 Carol Irwin w SW 54:54
249 347 Susan Keany w SW 54:55
250 181 Margaret Gallagher w W50 54:58
251 470 Mairead Mc Dermott w SW 55:00
252 417 John Doherty m SM 55:34
253 19 Sheila Mc Colgan w SW 55:35
254 315 Zeo Mc Daid w SW 55:53
255 20 Sharon Henderson w SW 56:00
256 21 Seamus Henderson m SM 56:01
257 444 Orla Treacy w SW Sonas 56:40
258 449 Agnes Doherty w JW 56:42
259 450 Lauren O' Leary w SW 56:44
260 10 Lorcan Moody m JM 56:54
261 408 Fionnuala Marston w SW 56:54
262 402 Monica Mc Gee w SW 57:08
263 12 Reisu Moody w JW 57:08
264 7 Rosemary Crossan w W50 57:09
265 11 Fionn Moody m JM 57:09
266 9 Margaret Gallagher w SW 57:09
267 260 Jenny Fortune w SW 57:09
268 8 Nicholas Crossan m M50 57:39
269 14 Tegan Mc Gee w JW 57:45
270 491 Lisa Henderson w SW 57:45
271 13 Genevieve Mc Gee w SW 57:45
272 274 Bridie Deehan w W50 58:00
273 44 Matthew Parke m JM 58:27
274 42 Ronan Parke m JM 58:36
275 45 Linda Parke w SW 58:36
276 317 Emer Mc Laughlin w SW 58:45
277 316 Orla Mc Daid w SW 58:46
278 301 Neil Mc Laughlin m JM 58:49
279 302 Noel Mc Laughlin m M50 58:50
280 85 Sharon Donaghey w SW 58:50
281 5 Anne Conroy w W50 58:53
282 86 Marie Mc Daid w SW 58:53
283 88 Brigid Mc Ginley w SW 58:53
284 272 Doreen Carter w SW 58:53
285 41 Margaret White w W50 59:15
286 288 Grace Mc Fadden w JW 60:23
287 289 Georgina Mc Fadden w SW 60:28
288 49 Monica Mc Closkey w W50 60:31
289 404 Siobhan Byrne w SW 60:32
290 403 Mhiai Killeny w SW 60:32
291 50 Liam Mc Closkey m M50 60:32
292 259 Colin Mc Geady m SM 60:32
293 118 Rosaleen Mc Laughlin w SW 60:36
294 424 Philomena Mc Carron w SW 60:37
295 117 Caoimhe Mc Laughlin w JW 60:37
296 410 Eamonn Porter m SM 60:42
297 401 Julie Mc Daid w SW 60:45
298 458 N.N. 458 60:46
299 150 Pat Gillen m SM 61:02
300 287 Patricia Fallanagh w W50 62:33
301 286 Anne Gallanagh w SW 62:36
302 475 Jennifer Doherty w SW 64:31
303 141 Gerry Mc Gonagle m M50 66:28
304 327 Cliodhna Gallagher w SW 66:30
305 52 Don Mc Guinness m SM 66:33
306 442 Deirdre Dale w SW 66:44
307 443 Peter Dab m SM 66:46
308 211 Liam Mc Laughlin m SM 67:02
309 212 Seamus Diver m SM 67:03
310 258 John Duncan m SM 68:37
311 482 Patrick Mc Daid m M50 68:39
312 265 Darragh Kelly m JM 69:41
313 268 Cliona Kelly w JW iCare 69:41
314 269 Anna Marie Kelly w JW 69:42
315 266 Anna Kelly w SW 69:43
316 431 Conor Deeney m SM Sonas 70:51
317 275 Claire Whire w SW 71:49
318 145 Bronagh Whire w SW 71:49
319 231 Marianne Fullerton w SW 73:45
Tags: