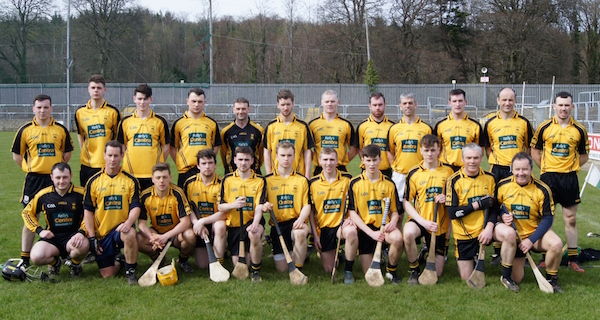 Ulster Senior Hurling Táin League Division 2
Mac Cumhaills  2-7
St. Eunan's           0-12
Mac Cumhails overcame local rivals in somewhat controversial circumstances in Mac Cumhaill Park on Sunday afternoon.
An early Colm Breathnach free and well worked point from Conor O'Donnell on 9 minutes for the visitors were cancelled by early scores from Gerard Gilmore and Lee Henderson.
The home team opened a three point gap midway through the half when a mix up in the Letterkenny defence allowed a long range Henderson shot to go straight to the net.
Breathnach and Colm Flood exchanged further points with Gilmore and Henderson, before a strong final five minutes of the first half saw MacCumhaills pull five points ahead with two fine scores from the ever dangerous Gilmore. A late Sean McVeigh free for St. Eunan's left four points between the teams at half time, 1-6 to 0-5.
The visitors started the second half well and cut the gap to one with a Breathnach free and two long range points from McVeigh.
MacCumhaills stopped this comeback in its tracks when a high ball into the square from Aaron McAuley in the 43rd minute ended in the visitors' net.
McVeigh and Sean Curran then swapped points.
To St. Eunan's credit they continued to battle away to reduce the gap, with Conor O'Donnell and Steven Doherty dominating possession around the middle.
They reeled off four points without reply in the last ten minutes from Eugene Organ, Breathnach and two McVeigh frees to level affairs as most observers thought.
However, on the final whistle, the official score had MacCumhaills one point ahead, leading to some heated discussion and confusion at the end.
St. Eunan's: Jamesie Connors, Eunan O'Donnell, Conor McVeigh, Caoimhin Lennon, Gearoid Leahy, Adie Gaffey, Conor O'Donnell (0-1), Colm Flood (0-1), Steven Doherty, Aaron O'Connell, Eugene Organ (0-1), Cormac Hartnett, Sean McVeigh (0-6, 4 frees), Colm Breathnach (0-4, 3 frees), Sean Halvey. Subs: Brian McIntyre, Darragh McCarthy, Conor O'Grady, Conor Parke, Conor Kelly, Eoin Scanlon, Oisin Redican, Sean McBride, Paddy Flood.
MacCumhaills: David White, Kyle Tourish, Justin McGhee, Anthony Patton, Conor Griffin, Gavin Browne, Bernard McMenamin, Lee Henderson (1-2, 1-1 frees), Conor Gallagher, Sean Curran (0-1), Gerard Cuningham, Jamie De Ward, Aaron McAuley (1-0), Andrew Barnes, Gerard Gilmore (0-4).
Referee: Aidan Ferguson (Fermanagh).