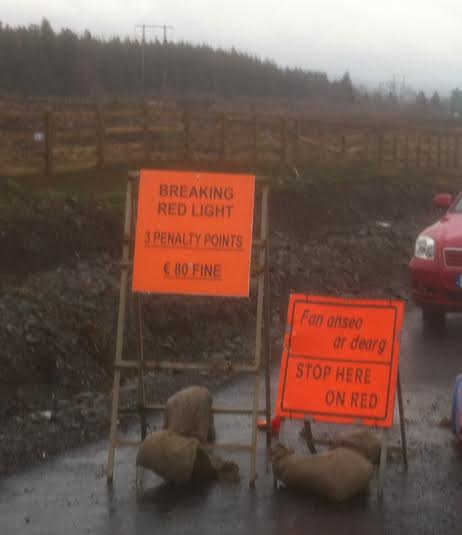 MOTORISTS are facing fines for jumping red lights at notorious road works on The Gap outside Ballybofey.
New re-alignment works – badly needed at an accident black spot – have been ongoing since last year.
They are expected to be completed by the summer.
But there have been a number of major delays in recent weeks, most of them caused by motorists jumping red lights.
Now specialist cameras have been installed to capture light-breaking motorists on film.
Motorists face fines of €80 and three penalty points if convicted.
Road workers are also concerned at the speed at which some drivers are going through the temporary road works.
There is a 30km/hr speed limit and gardaí have operated a number of speed checks over the past 72 hours.
New digital signs have also been erected reading: "Kill your speed, not our workers".
A Donegal County Council spokesman told Donegal Daily that this initiative was taken by the contractor on the site.
"The purpose of the signage is to stop often dangerous and always disruptive breaking of lights, a serious problem at this site. 90% of traffic jams are due to the public not obeying the traffic management in place," said a spokesperson.
Tags: