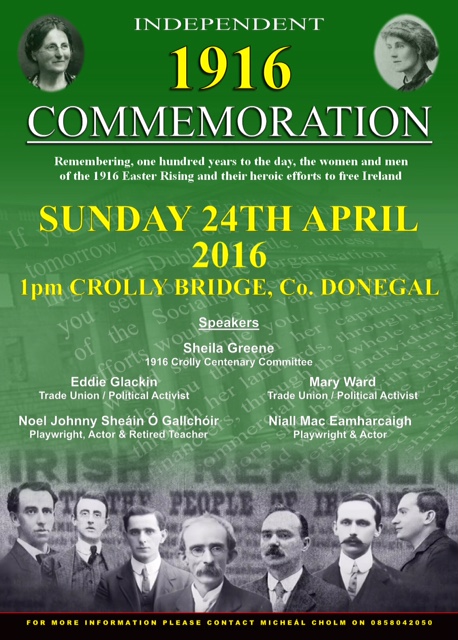 POLITICS: The Crolly 1916 commemoration committee are hosting an event commemorating the women and men of 1916 this Sunday!
The eight-tonne monument, kindly supplied for free by Peter O'Donnell, Annagry Quarries will be officially unveiled by Biddy Doherty.
Biddy, 100, was born during The Rising, and organisers think it is fitting that she will unveil the fitting tribute to those died for Irish Independence.
The event will have no elected politicians as speakers – as organisers hope this will allow people from all political shades to come and remember the 1916 rebellion.
The committee believe that 1916 belongs to the people of Ireland and that no particular party or individual has the monopoly on 1916.
There will be local bands local speakers, Neol Johnny Sheain Ó Gallchóir, Shile Greene, Mary Ward, Eddie Glackin and Nial Mac Eamharcaigh at the unveiling of a stone monument remembering those who gave their lives for Irish Independence.
Tags: