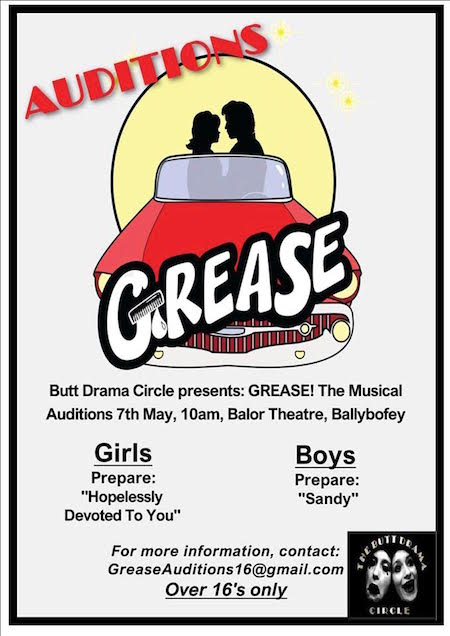 ASPIRING and experienced actors and singers aged sixteen years and over are invited to attend auditions for the hit musical 'Grease' in Ballybofey.
The Butt Drama Circle will host the auditions in the Balor Theatre on Saturday May 7, from 10am and will consist of three parts – Singing, dancing and acting.
Auditionees will, as a group, take part in a dance workshop led by choreographer, Zara Gillespie, and then do a reading of a scene or two from the script with director Caroline Bell.
Finally, all girls are asked to prepare for the song 'Hopelessly Devoted To You', and for boys to prepare 'Sandy'. Both songs are from the show and can be found for rehearsal online.
While there is an age limit of 16 and over, it should be noted that there are a variety of parts for adults in the show, so those of a certain vintage are more than welcome to audition.
The show will run from Tuesday, August 9, at the Balor Theatre, Ballybofey, for a number of dates which will be confirmed shortly.
For further information, email GreaseAuditions16@gmail.com
Tags: