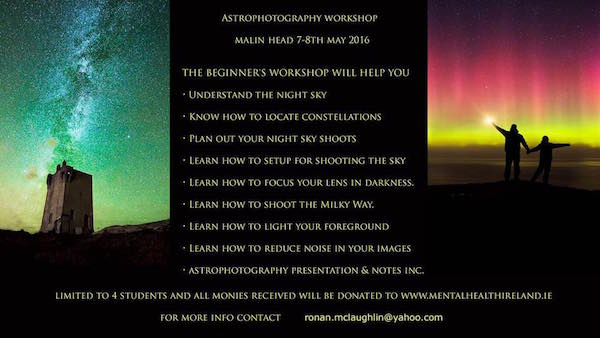 HE'S one of Donegal Daily's favourite photographers.
Ronan McLaughlin's passion for the birdlife and flora of Malin Head is unstoppable.
And next month Ronan is hosting a unique photography workshop at Ireland's most northerly point and raising money for charity.
"I'm very pleased to announce this special event at Malin Head on May 7," said Rónan.
"The 7th May is the last night of the spring in which total darkness still exists. Between the 8th May and the 8th August, astronomical twilight exists all night and by the 6th June you are as close to the land of the midnight sun as you can get in Ireland.
"This event, very much subject to weather – traditionally May is the driest month of the year at Malin Head – is restricted to four students and all monies raised will be donated to mentalhealthireland.ie.
"Whilst I can't promise the aurora, stranger things have happened!"
So if you are interested in taking part and for further details please drop Ronan a line at ronan.mclaughlin@yahoo.com.
Please feel free to share with family and friends and those who maybe interested in taking part.
Tags: