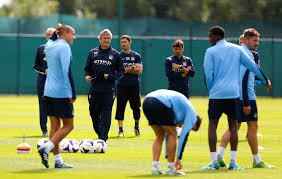 FOOTBALL: A Manchester City Development Coach is coming to Donegal next month, in which he will host a series of coaching workshops.
Manchester City Development Coach Paul McGladdery will be visiting the Development Centre at Aura Leisure centre on Friday 6th May, to host and deliver coaching sessions to the participants in attendance.
Paul, who was born in Newry, County Down, now resides and works in the north-west of England coaching in the talent identification of young players for Manchester City.
Paul will be the guest of Maiden City Soccer, which is headed by former Nottingham Forest player Paul Kee.
Maiden City Soccer is one of the most successful academies in the country, and has a stellar reputation for consistently producing top-class players.
Under the tutelage of Kee, and other Maiden City coaches such as John 'Bugsy' Cunningham and Stephen Parkhouse, players such as Darren Gibson, Eunan O'Kane, and Shane Ferguson have all come through the academy set-up and have forged careers in the Premier League.
In his coaching workshops, the Manchester City development coach will be presenting and delivering the U.E.F.A. backed 'Matrix Coaching System' which is the main core of his work at Man City.
City use this matrix system as a talent identification tool as it shows the thinking players and the players that have a basic understanding of movement skills.
The system in question also brings out the leaders and highlights the need for communication and eye contact.
Manchester City use it from the age of 5 years upwards in their coaching programmes.
Paul has also worked at Blackburn Rovers and is an Elite Development Coach for the Scottish F.A. delivering technical based sessions for Scottish players who play with professional clubs in the north-west of England.
For details of the centre and activities that take place please visit our facebook page maiden city soccer.
Tags: