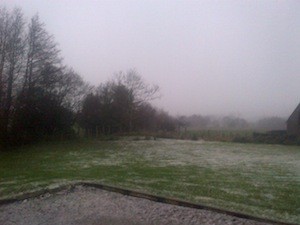 TODAY will be another cold day with sunny spells and passing heavy showers of rain and hail, Met Eireann has warned.
And the bad news is it could be the second week of May before normal temperatures return to Donegal.
Hail and rain showers will hit the county this morning and continue into the afternoon with highest temperatures of only 7C in moderate northerly winds.
It will be frosty tonight as temperatures drop to -1C – but it will feel more like -5C in the wind.
And then there will be sleet, hail and rain – and yes SNOW – by dawn tomorrow, Thursday.
It will be cold and windy on Friday, with the stiff northwesterly winds persisting. Some sunny spells, but showers will soon become widespread. Some will be heavy and thundery, with some hail at times and there may well be some sleet or snow on mountains.
Winds will ease on but there will be more hail showers and sunny spells in between.
Sunday will be just as cold – 7C – but with fewer showers. Horrible!
Next week isn't looking much better, with some forecasters saying it will be the second week of May before temperatures of 15C arrive.
Tags: