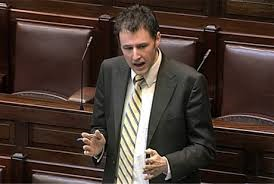 POLITICS: Fianna Fáil TD for Donegal Charlie McConalogue says rural Ireland is being pushed off the agenda once again following the announcement that the roll out of the National Broadband plan has been pushed out to 2022. 
The Department of Communications, Energy and Natural Resources confirmed this week that the procurement contract for the plan will not be awarded until 2017.
Deputy McConalogue told Donegal Daily, "This delay is the latest blow for homes and businesses across Co. Donegal who are still waiting for a secure high-speed broadband connection.
"Under Fine Gael and Labour we saw the deadline for the National Broadband Plan pushed further and further down the road – the 2011 programme for Government promised to deliver fibre to 90% of homes and businesses by 2015.
"That target didn't even come close to being met and the outgoing Government then committed to providing 100% delivery of high speed broadband by 2020 through the NBP.  Now this is being delayed by at least two years.
"New figures released to Fianna Fáil reveal that there are 52,004 homes and businesses across Donegal that are dependent on the National Broadband Programme.
"The fact that they will have to wait another 6 years for a high speed service is an absolute disgrace and will only further exacerbate the two tier recovery witnessed across the country.
"While people living in towns, cities and urban areas have access to fibre and high speed broadband services, large parts of Donegal have been left with only basic packages.  This has a major impact on businesses in the county and is stifling growth and expansion opportunities.
"High speed broadband access across the whole of the country must be a priority for the next Government.
"Instead of publishing plans and then pushing out the targets, the next Government must commit to rolling out a high speed service to every home and business in a reasonable timeframe".
Tags: