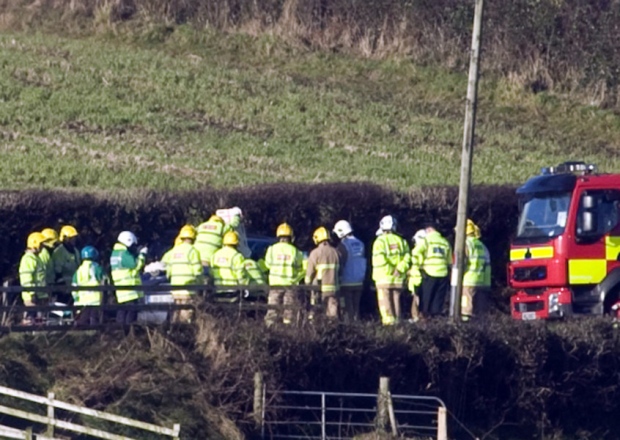 BY JOHN CASSIDY: A Co Tyrone man was two-and-a-half times the legal drink drive limit when he killed a popular Donegal GAA fan in a head-on collision.
Omagh Crown Court heard that Paul Nicholl, 50, lost control of his Suzuki car after hitting a kerb and careering into a car carrying Patsy McCroary, his wife and two children over two years ago.
Nicholl, of Carnkenny Road, Newtownstewart, had pleaded guilty to causing the death of 62-year-old Mr McCroary by dangerous driving with excess alcohol and causing grievous bodily injury to his wife and children.
An avid GAA fan, Mr McCroary was known affectionately as 'Donegal Patsy' because of his passion for his native team, travelling the length and breadth of Ireland to support the team.
He had been living in Castlederg but was originally from Upper Art, Castlefin.
Just days before the crash, he attended the Dr McKenna Cup game between Donegal and Tyrone in Letterkenny and was described as "Donegal's number one supporter".
Simon Reid, prosecuting, told the court that on the morning of January 8, 2014, Patsy McCroary was a front seat passenger in a blue Toyota Avensis car being driven by his son Padraig.
His wife Geraldine and their daughter Samantha were rear seat passengers.
He said they were travelling at 40mph towards Strabane on the Mellmount Road between Sion Mills and Victoria Bridge when the collision happened.
"As their car approached a left-hand bend, Padraig McCroary saw a vehicle coming towards them. It had crossed into their lane," said the prosecutor.
"He realised that there was nothing he could do at that point. He was knocked out by the collision and the next thing he realised was people coming to assist him."
Judge Paul Ramsey QC heard that a female witness was driving away from Strabane and noticed Nicholl's vehicle coming out from a side street.
"She noticed that, as the defendant's vehicle approached a right-hand bend, it strayed to the left, striking a kerb and going onto a grass verge.
"She said that he tried to correct his steering but strayed into the opposite lane, veering across the road and into the oncoming traffic, colliding with the McCroary car."
Emergency services were sent to the scene and Nicholl was found to be still sitting in the vehicle.
"As he was being tended to by the fire service, a police officer smelt intoxicating liquor coming from his breath."
The officer also noticed that there was a 12-pack of beer in the car and one of them had spilled as a result of the accident.
At hospital, the court heard, a blood sample was taken and Nicholl's reading was given as 204 milligrammes of alcohol to 100 millilitres of blood.
"The legal limit is 80 milligrammes," said Mr Reid, "so he was two-and-a-half times the legal limit".
The defendant was later interviewed and said that he had stopped off at a bar that morning to have a couple of pints of beer and then left to go to Newtownstewart, stopping at a shop along the way and buying a 12-pack of beer and some sausage rolls, "but had no recollection after that".
Nicholl was later pressed at interview about his alcohol consumption and said that he had drank three cans of beer the night before and had taken a diazepam tablet that morning.
The judge was told that Patsy McCroary was taken to the accident and emergency department at Altnagelvin Hospital in Derry for treatment.
"Sadly, despite the efforts to save his life, he didn't recover from his injuries."
Mr Reid said driver Padraig McCroary sustained a fracture to the sternum, seven broken ribs and three bone fractures to his foot.
His mum Geraldine sustained multiple spine fractures, a broken pelvis, rib fractures, a fracture to her lower left leg "and had to be treated by the trauma team" at Altnagelvin.
Her daughter Samantha was "put into an induced coma and had to be put on a life support machine" after sustaining a fracture to her skull, fractures to her eye socket and nose along with a contusion to her lung.
The prosecution lawyer said Nicholl had no previous convictions for road traffic matters but had a criminal record for assaults and criminal damage.
The judge was told that the maximum sentence for causing death by dangerous driving while under the influence of alcohol was 14 years in custody after a contest.
Describing Nicholl's culpability as high, Mr Reid said he believed the defendant's offending could be categorised in the intermediate range of the sentencing guidelines, with a starting point of seven years, with a sentencing range of between six and 12 years.
But he added that because Nicholl had "pleaded guilty at the earliest opportunity he was entitled to a significant discount" on his sentence.
Barrister Ivor McAteer, defending, said Nicholl had a long history of dealing with his "alcohol demons" and was "deeply remorseful" for causing the death of Patsy McCroary and seriously injuring his wife and two children.
"He does not row back from his culpability and there is no trying to deflect or diluting the pain and hurt felt by the family of Mr McCroary.
"It is a heartfelt approach by him and I was specifically requested to say that."
Judge Ramsey QC said he wanted to reflect on legal submissions by both the prosecution and defence.
Remanding Nicholl back into custody, the judge said he would sentence him next week.
At hearing.
Tags: