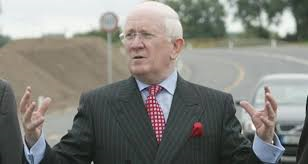 POLITICS: Deputy Pat the Cope Gallagher has welcomed Minister Simon Coveney's decision to refer a Statutory Instrument which enforces a penalty points system on fishermen, to the Attorney General for examination to determine its legality and legitimacy.
The decision to refer the S.I. was as a result of my tabling a Dáil motion to rescind the signing into law of the S.I. by Minister Coveney; a number of other TD's also supported the rescinded motion which was laid before the Dáil this week.
Speaking in the Dáil this week, Deputy Pat the Cope Gallagher said, "I find it incredible that the Minister signed a new S.I. in March, which was widely condemned by the fishing industry and failed to address the very significant findings of the High Court.
"The 2016 S.I. ignored the findings of two successful High Court challenges relating to the absence of a suitable appeals process and the issue of penalty points being applied irrespective of whether an offence had been found to have been committed."
As a result of this unfair system, Gallagher tabled a Motion to Dáil Eireann supported by his Fianna Fail colleagues requesting that the latest Statutory Instrument be rescinded immediately.
Gallagher continued, "I am confident this S.I. will be rescinded with the support of other parties and non party Deputies.
"It is not fair that this S.I. would permit authorities to administer points to fishermen in the absence of a conviction through the courts.
"It is incredible that if the court subsequently decided that a fisherman was not guilty, the penalty points would still be attached to the fisherman's record stated Pat the Cope.
"I welcome the fact that the Attorney General will now examine the matter independent of the Department of the Marine.
"We must ensure that a fair fishing points system is implemented in compliance with EU regulations, one which treats everyone fairly and equally before the law.
"This needs to be reflected on by the outgoing Minister and the newly appointed Marine Minister. I would strongly urge the new Minister Michael Creed TD, to examine the system that is used in the UK with a view to rolling it out in Ireland."
Tags: