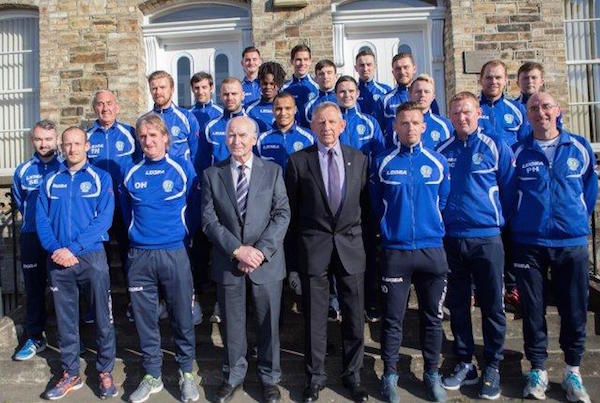 LEAGUE OF IRELAND AND COUNTY COUNCIL GRANT HARPS WARM RECEPTIONS
A chastening weekend for Donegal soccer indeed, added to by last night's heavy defeat for Finn Harps at Richmond Park.
Friday night had brought the reality of life in the League of Ireland Premier Division into the harshest of focus for Ollie Horgan's men. And last night merely compounded the misery of that 7-0 walloping by champions Dundalk.
I have to say I wasn't sharing the opinions of Ollie and some of his team that it was good to get a game under the belt so soon after that shattering defeat.
Having been forced to endure a three-day turnaround from the derby draw in Derry, a part-time team was also going to be up against it when that other Horgan, Daryl, and his team-mates rolled – or steamrolled – into town.
And to face another tricky match in Dublin four days later was surely asking a bit too much given the confidence levels that must have sunk into the drains around Finn Park.
Stephen Kenny – who has watched Harps in a couple of matches in Ballybofey this season – has a team that will, without any shadow of a doubt, claim another league title this season even if the Citys of Cork and Derry will still be fancying their chances. But even he must have been surprised at the nature of the Harps' collapse.
After Friday night's fixture, the Dundalk boss gave credit to Harps for the season they've had to date but these two latest defeats with a scoring aggregate of none for and eleven against has really put it up to them (not to mention having devastating implications for their goal difference).
But what better way to regain some measure of composure than with a change of competition and an F.A.I. Cup tie against a non-league side? If only that non-league side wasn't Crumlin United who looked so hugely impressive against Letterkenny Rovers at the Aviva on Saturday and have a striker who can cause ninety minutes of torment for a defence that won't be high on any measure of self belief.
But Horgan and his side-kick, Gavin Dykes, are just the men to turn that recent ill-fortune around starting with that Cup game in Ballybofey on Saturday night.
And the supporters? As Martin Orr pointed out on his Facebook page, there was truly something heart warming about that body of home fans who stayed behind after the Dundalk trouncing to applaud, first their own weary troops on their way off the pitch, and then the visiting players who were quick to respond in kind.
Sandwiched in between those defeats against Dundalk and St. Patrick's Athletic was, ironically, that civic reception granted to Harps by the County Council in Lifford on Monday evening. Mayor Ciaran Brogan acknowledged the club's contribution to the community, not just in sporting terms but in relation to other aspects including road safety and school programmes.
Founding member, Patsy McGowan, and former centre-half, Jim Sheridan, were among the Harps contingent at the reception and there was a great image in the 'Donegal Daily' this week of that trio of veteran followers of the club, Fr. Dinny McGettigan, Seamus McKelvey and Billy Vance.
You'll see them at the Cup game on Saturday – lending their undying backing even to a team that has shipped eleven goals in their last two games. They're what's known in the trade as true supporters.
QUICK QUESTION…..
Name the player involved in this weekend's FAI Cup Final who scored his first senior goal at Finn Park? [Answer at the bottom of the column].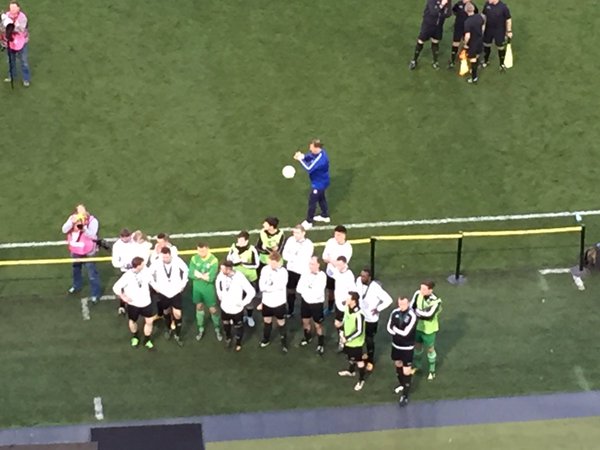 ROVERS FALL AT FINAL HURDLE BUT FANS KEEP THE FAITH
Some years back, herself and myself were staying with friends on Dublin's North Circular Road and decided on a whim – and a decent day – to walk to the city centre with one half of us – guilty, your honour – insisting he knew the way.
One wrong turn, however, and we ended up in Crumlin.
Sadly, Letterkenny Rovers got nowhere Crumlin last Saturday though they did have the man to guide them given Eamon McConigley's previous and proven success in the Intermediate Cup.
But up against their razor sharp opponents, this was to be a bridge too far for the Donegal team. Within the opening thirty seconds, Crumlin United had got a strike on target – a taste of what was to follow for the rest of the half and, indeed, the rest of the game.
Two down after seventeen minutes, both goals courtesy of the mercurial striker, Gregory Moorhouse, the one hopeful sign for Rovers was that they didn't concede anymore up until half-time.  And as those of occupying the lower tier of the West Stand, reflected on the opening forty-five minutes, we envisaged McConigley's address to his players at the interval and hoped it could alter the pattern of the game. And the scoreboard.
Not to be. The scoreboard did change but only in favour of the Intermediate Cup holders – one of their other stars of the afternoon, Alan McCreal, grabbing the third goal to put paid to the hopes of even the most optimistic Rovers supporter.
Two more would follow before the close of the game, including Moorhouse's completion of a hat-trick in the final few minutes but, really, we knew it was all over from those early stages even if Rovers did conjure up a few chances, the best of which fell to Christy Connaghan who couldn't get above his header to direct it to the net.
For those who made the journey and those Letterkennyites living in the capital and elsewhere, it was not what they'd come to see.
But there were no recriminations from the few hundred Rovers fans who stood to applaud the team – the efforts of getting to a national final noted and given due regard.
The day after the final, central defender, Shane Bradley, who toiled tirelessly with Paul Boyle in an effort to stem the Crumlin attack, turned forty – what an inspiration he has been to the game at local and national level. Belated best wishes, 'Rita'.
There was a measure of revenge for Rovers on Saturday – the under-11's beating their Crumlin counterparts in the half-time game at the Aviva. The future's right there.
Meanwhile, for the seniors, players, officials and stalwarts, there will always be April 17th, 2016, and Leckview Park and that exhilarating semi-final replay win over Ringmahon Rangers which won't be vacating memories any time soon.
A day and a campaign to remember to be sure and as we boarded the buses for the journey home from Dublin, the atmosphere was one of relatively good cheer and the belief that there is indeed always next year.
And that F.A.I. cup match in Athlone this weekend to bring the buzz back into the dressing-room.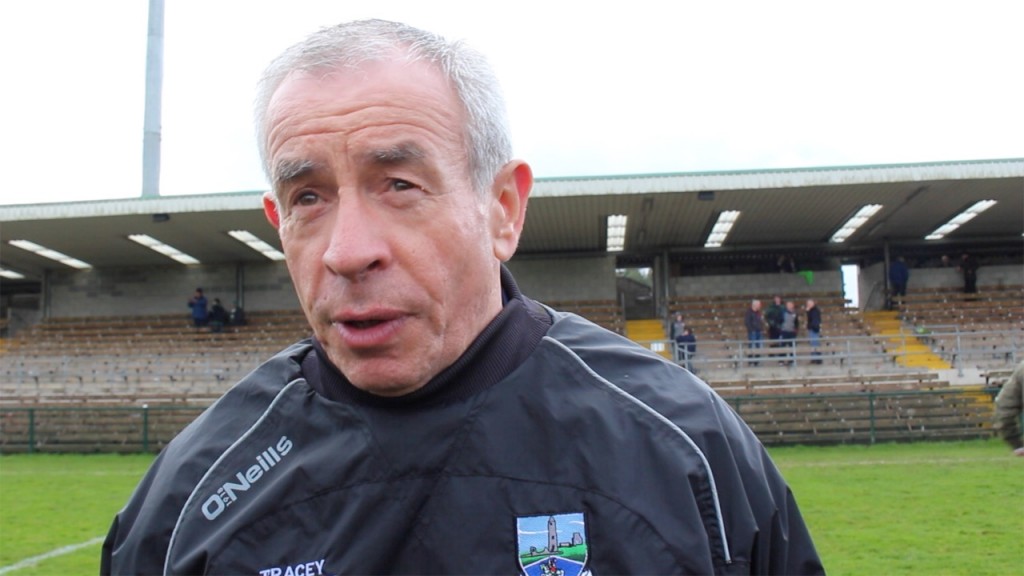 LAST LEGS?
Pete McGrath has been talking legs. Specifically Donegal legs and how the age of some of them might affect their Ulster Championship chances with Fermanagh on June 12th.
Asked if the age barrier might mitigate against Donegal, the Fermanagh chief told the Belfast Telegraph: "Well, guys in their 30's love to hear people say that: that their legs are going.
"Because they say to themselves: 'I'll show you whose legs are going."
On the wrong side of thirty or not, those Donegal limbs will be heading to MacCumhaill Park on Sunday three weeks for that game against a Fermanagh team who made hard work of disposing of Antrim in the Ulster Championship preliminary opener.
I caught some of the game on the old flat screen and wasn't overly impressed with McGrath's men who insisted afterwards that his charges had a lot to work on before that game in Ballybofey.
That they do. And I don't think they'll be able to rely on ageing legs in their opponents' camp to get them through it.
YET ANOTHER TRIUMP FOR THE MAGEES
Can't in all honesty say I've ever watched a badminton match 'live' and were it not for the achievements of the Magee family from Raphoe, I probably wouldn't even have tuned into one on television.
But I'm going to have to start some day to make it along to watch at least one of their matches. The success of Olympian Chloe Magee has been the story of Irish badminton in recent years but not far behind are her siblings, Sam and Joshua, who claimed gold at the Slovenian International tournament in Medvode last weekend.
The men's doubles title went to the Donegal pairing who beat their Danish opponents, Mathias Bay-Smidt and Frederik Sogaard Mortensen (no, they mean nothing to me either but that is, as I say, due to complete ignorance of the sport) 21-9; 20-22; and 21-18. Well done, those men.
But just how does one family produce so much talent on the badminton court?
CHRISTY SNR COMPLETES THE BACK NINE
Where attendance at the Irish Open is concerned, I boast a 100% record. Never been at any of them and won't be at the K Club from tomorrow either.
But I imagine those who will be there will honour the legend that was Christy O'Connor Senior who was laid to rest yesterday following his funeral mass in Dublin.
I have a vague recollection of meeting the great man at some stage but where I can't recall (definitely not at the Irish Open).
Until Peter Campbell revealed in Monday's 'Democrat/People's Press', I hadn't realised he – that's Christy, not Peter – had been the professional at Bundoran Golf Club from 1951 to 1957. And, no, I didn't meet him then either.
Plenty of anecdotes about O'Connor this week – no less a one than that included in his obituary in the London 'Times' which recalled the day he was was part of a fourball in Donegal and his golfing partner insisted that Christy could hit the green on a par three hole, which measured 235 yards, with any club in his bag. And from driver to putter that's precisely what he did.
…AND A NOT SO QUICK ANSWER
Answer to the quiz query above? Connor Wickham, current striker with Crystal Palace and indeed scorer of the winner in the semi-final against Watford, who, at the age of seventeen, netted from the penalty spot at Finn Park to grab his first senior goal in the colours of Ipswich Town in a friendly which Harps won 2-1. And will line out at Wembley against Manchester United this Saturday assuming the latter team can get there without their coach being attacked or someone leaving suspect packages lying around.
That game in Ballybofey, on July 7th, 2009, also featured Palace central defender and Irish international, Damian Delaney along with fellow international Jon Walters.
Sean Houston, in his first stint with Harps, scored for the home side as did winger, Marc Brolly. Ipswich were managed by the one and truly only Roy Keane at the time while James Gallagher was in charge of Harps who also featured Packie Mailey, Mickey Funston and Ciaran Gallagher from the current squad.
And here's a couple of links with last weekend's Intermediate Cup Final from that friendly encounter.
In between the posts for the Tractor Boys was Shane Supple who, of course, featured for Crumlin United against Letterkenny Rovers last Saturday (and, no doubt, will do so again when Harps come up against the Dubliners in the F.A.I. Cup this weekend).
And on the Harps team back then – Christy Connaghan who lined out with Rovers at the Aviva Stadium at the weekend.
Which brings me neatly back to last Saturday evening's final at the Aviva. My thanks to the Connaghan family (and connections) for putting up with my company for the duration of the game (and for that coffee, Sonia!). Defeat it may have ended up as but the craic there and back was mighty.
Tags: