I had to get a Star Wars Pun in somehow this week! I don't have any space age recipes but this one is out of this world.
Isn't it fantastic to see glorious Donegal getting so much attention in the news over the last few weeks , especially Malin Head.
It really is such a wonderful place (sure we all knew that ) and the local economy is getting such a boost from all the visitors and will continue to do so for many years to come .
There really are some fantastic food champions there too , Chef Kieran Duey of Nancy's Bar representing Ireland at the international seafood chowder championships, Dominic & Andrea of Cafe Banba, bringing real coffee & home baking to Malin Head and so many more across the Inishowen peninsula, really worth the visit for sure . Well done to everyone involved .
Anyway back to the cooking. This week's recipe is for falafel. Have you heard of them? I'm sure you've spotted them on the supermarket shelves or even on holiday you may have seen street food vendors selling them. How many of you have tried them? Well here's your chance.
Falafel are a middle eastern dish made with chickpeas , potato & spices , served in pitta bread, as a snack , part of a buffet or with salads dressed in a tahini dressing.
They are usually fried in sunflour oil until crispy , for this recipe however I'm using the mix to stuff peppers which will make a wonderful vegan & gluten free starter or main course . You can buy falafel in most supermarkets but I find them easy to make and if you cook them in a little coconut oil they are tasty.
This recipe doesn't involve frying so it's much healthier .
I allow half a pepper for a starter portion or a whole pepper as a main course , I still cut them in half though . You can soak and cook dried chickpeas but I use the cooked tinned variety and make sure they are well drained.
By the time you read this we will have opened Sonder and I'd like to thank everyone for their kind words & patience over the last few months, I really appreciate your support and look forward to cooking for you all soon .
May The Force Be with You !
Spicy Falafel stuffed peppers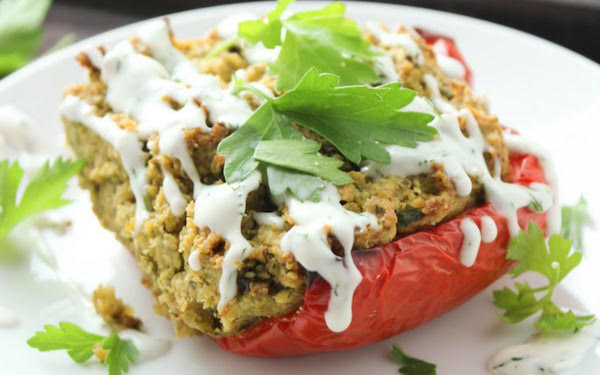 For the Falafel mix (4 portions )
450g/16oz of cooked chickpeas
3 large cloves of garlic , finely chopped
50g of coriander , chopped .
1 small onion, finely chopped
2 medium potatoes peeled , cooked & mashed .( allow them to cool or use left over mashed potatoes )
Seasoning
1 red chilli deseeded & chopped
1 tsp of cumin powder .
Method
Place the chickpeas in a food processor with the garlic and coriander and blend until roughly chopped. Remove from the blender & mix with the potato ,onion, chilli & cumin , refrigerate until needed .
For the peppers
You will need
Red , green or yellow peppers cut in half lengthways , keeping the stalks on but removing the seeds .
Method.
Place your peppers onto a roasting tray to which you have lined with silicon paper or tinfoil .
Fill your falafel mix into each half .
Don't push the mix in too firmly as it has to heat fully as the peppers are cooking and if it's too dense it will be cold in the middle .
Bake at 170c for 25 minutes or until the mix is heated through the centre .
When they are cooked through you may sprinkle them with mozzarella cheese and bake again until the cheeses melts however they won't be vegan friendly !
Serve with a well dressed tossed salad and vegan mayonnaise .
Cut your peppers in half keeping the stalks on but removing the seeds .
Tags: