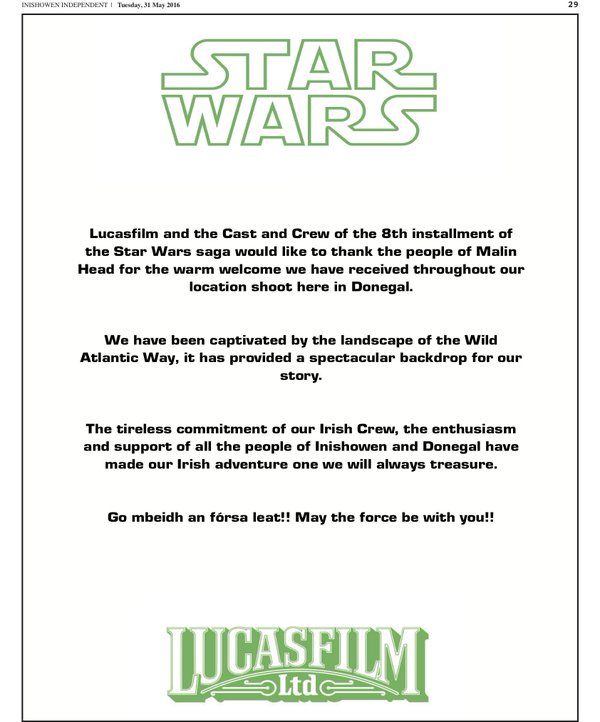 FEATURES: The cast and crew of Stars Wars have sent a personal message to the people of Donegal – in which they thanked them for such a warm and amazing welcome during their visit to the county.
Stars Wars, which is the biggest movie franchise in Hollywood history, spent around three weeks filming in Malin Head.
The jaw-dropping beauty of Malin Head was deemed the perfect fit by the production team for the latest installment of the Stars Wars saga.
Members of the production team and cast said they were 'captivated' by the landscape of The Wild Atlantic Way.
Their visit brought a huge buzz to Donegal, as fans of the blockbuster flocked to Malin Head, to see if they could catch a glimpse of any stars, and get a sneak preview of any action in the forthcoming film.
The visit is expected to give a significant boost to the tourism industry in Donegal.
In their statement Star Wars wrote, "Lucasfilm and the cast and crew of the 8th instalment of the Stars Wars saga would like to thank the people of Malin Head for the warm welcome we have received throughout our location shoot here in Donegal.
"We have been captivated by the landscape of The Wild Atlantic Way, it has proved a spectacular backdrop for our story.
"The tireless commitment of our Irish crew, the enthuasiam and support of all the people of Inishowen and Donegal have made our Irish adventure one we will always treasure.
Go mbeidh an fórsa leat! May the force be with you!!"
Tags: