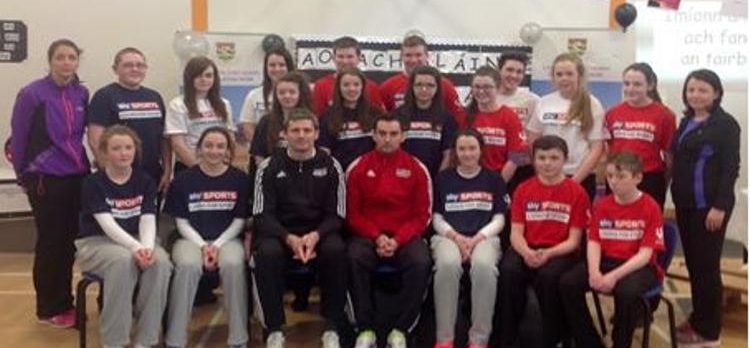 Gairmscoil Chú Uladh wins Sky Sports for Living Irish Project of the Year 2016 On Friday last the 'Sky Sports For Living Committee' of Gairmscoil Chú Uladh were awarded Irish Project of the Year by Sky Sports For Living Mentor and Donegal Gaa player Christy Toye.
An coiste Sky Sports ag fáil bronnta le boinn ón mheantóir Sky Sports Christy Christy spoke at the schools prize giving event about the benefits of the Sky Sports program to schools. In particular Christy stressed the importance of the six keys to success in helping young people develop valuable life skills that will help them in and outside of school, now and into the future.
1. Mental toughness
2. Hunger to achieve
3. People skills
4. Sports and life knowledge
5. Breaking barriers
6. Planning for success
Gairmscoil Chú Uladh situated in the Gaeltacht Láir has a population of 205 pupils. This was the rural schools first time to participate in the Sky Sports For Living As part of the schools project the Sky Sports committee organised a Health and Wellness Fair/Aonach Aclaíochta agus Folláine at which various health professionals spoke and had stands. The Fair was then followed by a Rás 5k which was a culmination of months of training by all pupils during Physical Education class.
An Coiste Sky Sports G.C.U. ag an Aonach Sláinte agus Folláine 2015 lena meantóirí Christy Toye agus Karl Lacey Health and Wellness is a very important part of school life at Gairmscoil Chú Uladh as the Healthy Schools committee were awarded both Active and Healthy School Flags in October 2015.
Bronnadh de na mBratacha sláintiúla agus Gníomhacha leis an tÁire Stáit Joe Mc,The Sky Sports Committee 2015/2016 have continued the good work from last year's committee by recently organising a very successful colour run aimed at getting the whole school community fit and active. Daltaí agus baill foirne ina dhiaidh an rás ildaite 2016
'Is Fearr an Sláinte ná na Táinte'
Tags: