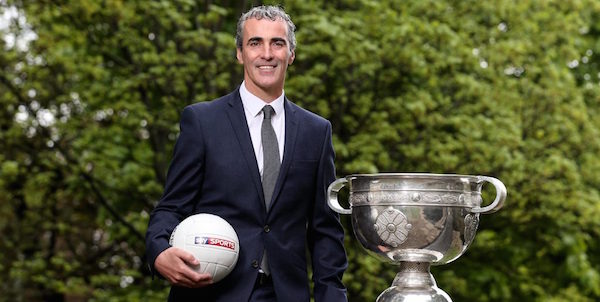 FORMER Donegal manager Jim McGuinness says he would 'never say never' to returning to county management – but admits he's more likely to coach his own boys at Naomh Conaill.
He is currently employed as a coach at Celtic and has just earned his UEFA B licence, but at the Sky Sports Championship coverage launch, he spoke as if he was more interested in winning Sam Maguire than the Champions League.
When asked by SportsJOE.ie would he consider managing a team other than Donegal, McGuinness suggested a return to his native county was his most likely route back to the GAA.
"I think 'never' is a long time. Obviously I love my own county and if I was to manage anyone it probably would be Donegal," he said.
"I think there is probably a higher possibility of managing my young fellas, at underage, than a county team. In the short term anyway. But I would never say never."
McGuinness will return to the Sky Sports studio this weekend as the All-Ireland champions get their first outing of the summer in the unusual surroundings of Kilkenny's Nowlan Park as Dublin take on Laois.
"It fills a void for me, you're still part of a Championship Sunday. You're there early and you're preparing to study both teams, with a view to what is going to unfold," said the Glenties man.
"You talk about it afterwards, so you're part of the process. So it fills a void. If I was just at home, if I was just Donegal manager one day and then watching games at home the next, it could be a wee bit of a lonely place."
Tags: