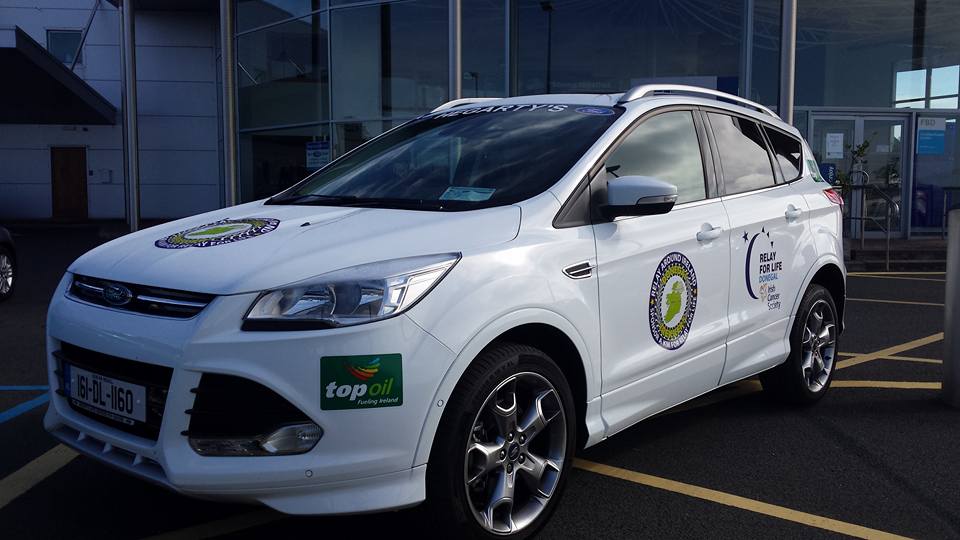 FEATURES: The Donegal Roaders are set to embark on an exhausting non-stop tour of Ireland on Saturday, to help raise money for Relay for Life!
Hegarty's Ford in Letterkenny along with the well travelled Donegal Roaders came up with a unique fund raising idea for this years Relay For Life.
Hegartys have branded a new Ford Kuga in the Relay For Life logo's – and Les O Donnell and Denis Ferry will leave Letterkenny on Friday evening and drive around Ireland – some 1300 kilometres of it .
Some of the routes the guys will embark on are Donegal, Sligo, Galway, Cork, Wexford, Dublin, Belfast and Letterkenny.
The duo who usually go nowhere without the third member of the team, Paul Doherty, are going as a double act this time as Paul has work commitments this weekend so Paul said "the two lads will become king of the selfie overnight!".
Paul also gave Denis and Les a camera for the trip and is said to be more worried about it than Andrew Hegarty is of the Kuga!
Hegarty's are selling the kilometres to raise money and Top Oil Letterkenny are supplying the fuel for the trip and CBM signs done all the graphics so this ensures that all the money collected goes to the charity as there is no expenses.
The boys will be making regular updates via social media so you can see their progress.
The Kuga will be back in Letterkenny after the no stop (except for change of driver) tour of Ireland on Saturday before the start of Relay For Life.
So get out there and sponsor some kilometres and raise money for Relay For Life!
Tags: