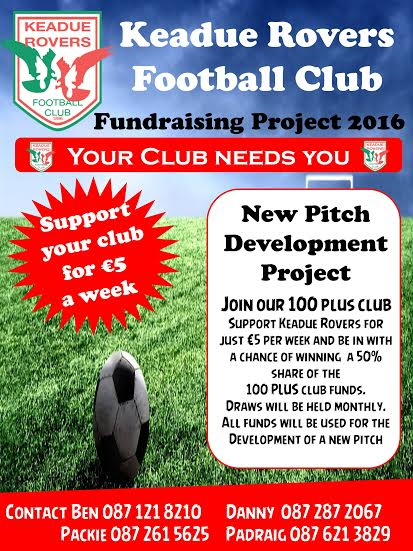 FOOTBALL: One of Donegal's most fabled football clubs have announced exciting details on their proposed new Development Project.
Keadue Rovers FC, the first club of Ireland and Celtic goalkeeping legend Packie Bonner, have consistently produced excellent players.
Denis Bonner had a great career at Galway United and Sligo Rovers, while players such as Martin Ferry, Lee Boyle and Mark Forker went across the water to play for Ayr United, Aston Villa and Hearts respectively.
The club's U16 side under the tutelage of Pat Ward won a domestic treble and enjoyed an incredible season.
The new facility, together with their existing pitch, will enable the club to cater for all our existing teams at underage and senior levels and will also help them increase the number of young people participating in our club activities.
Club chairman Brendan Boyle told Donegal Daily, "We identified the need to develop a top class playing pitch and have been working hard to bring this idea to fruition.
"We successfully secured a grant of €100,000 from the Sports Captial Programme through the Dept of Transport, Tourism and Sport.
"However, while this is a great boost to the Club's efforts, we will still fall short of being able to fully finance the project.
"The committee have decided to start a fundraising campaign and the first step is to start a 100+ club.
"We enclosed an information leaflet together with sign-up documents and would be very grateful if you would support this new initative.
"We hope to have our first draw in July and would be obliged if you would return the forms to any of the committee members listed on the flyer."
Tags: