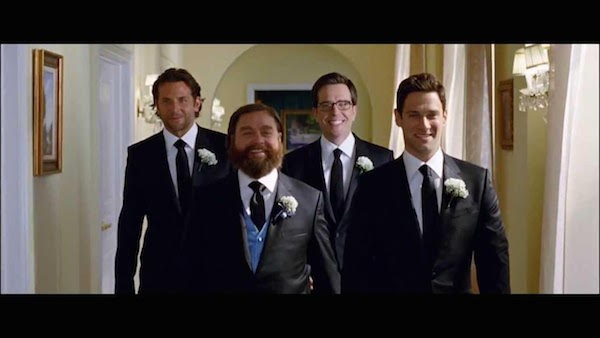 It's a huge honour to be asked to be the best man but with the job comes responsibility. It's not just about the stag party. It's about holding the show together and making sure the day runs smoothly.
This is not the time to start your own Wolfpack.
1. Organising the stag party can be a huge hassle. Stay enthused and keep to a budget. Do your best to co-ordinate dates – you don't want it clashing with the All-Ireland. Have a couple of options. Not everything that happens in Vegas, Bundoran or Barcelona stays there. It's your job to ensure the stag goes off without a hitch. Make sure no-one gets kicked off a plane or arrested for ungentlemanly behaviour. Keep it classy.
2. You may not be best friends with the bride-to-be but she is The One your mate has chosen to marry – don't slag her off – EVER.
3. The bride-to-be will have a large input into the style and colour of suits for the wedding party. Whether it's a morning suit, a kilt or a cumberbund – (Google it) just accept it. That Conor McGregor-country squire look is soo over.
4. Help organise the groomsmen. Make sure they keep appointments for suit fittings and don't turn up late or hung over for rehearsals.
5. On the wedding day arrive prepared with the rings. A pre-nuptial drink with the groom and ushers adds to the buzz of the morning. Keep it brief. No bride wants to be hit with beer fumes on her wedding day. Be there for moral support and to calm those pre-wedding jitters. This is not the time to ask the groom "if he's sure about this" or "you don't have to do this if you don't want to".
6. The speech. Make it light-hearted and not too long. Don't mention exes. Don't talk about the "one that got away" or offer any stories that will make the happy couple feel uncomfortable. Don't faint.
7. Be sociable with the guests. Make time for the mothers of the bride and groom. Pace yourself with alcohol. It's a long day. Dance with the maid-of-honour and the bridesmaids.
8. Check in with the groom to see if he needs anything. Enjoy the day.
Tags: