DONEGAL ENJOY FRUITS OF THEIR LABOURS WHILE PETE VIEWS IT ON THE GRAPEVINE:
Good value in Fermanagh and Down at the fruit and vegetable stalls these past few days
Grapes going particularly cheap – though only because they're a tad bit sour.
Not the most polished performance by Donegal but enough there to suggest they won't be the lemons in this year's Ulster Championship and could even sprout a surprise or too before the summer's out.
The real turnip of the day came in Pete McGrath's post match comments – accusing his team's opponents of "gamesmanship" and insisting some home players had gone down feigning injury to stop the clock and break up play.
And the Fermanagh boss wasn't the only one to get in a pickle about it – Down footballer, John Clarke, joining in the debate on what he called rampant cynicism within the modern game. And singling out the green and gold for special mention.
"To be honest about it, teams like Donegal have taken it to a new level and that's disappointing," he declared.
There is, indeed, a level of cynicism in the game just as, it must be pointed out, there is in almost every field game throughout the globe. Donegal are no worse or no better than any other side at it –  check footage of matches involving, say Down and Fermanagh, and, believe it or not, you'll find instances of it. Referees have a role to play in helping to stamp it out as indeed do all match officials (and that includes umpires who somehow missed a fairly blatant punch to Eamon McGee's stomach from Fermanagh's Niall Cassidy last Sunday if you'll allow me to get cynical about it).
McGee's younger brother, Neil, did deserve his red card, there can be no doubt, but Cassidy, too, should have been walking the red line.
And Donegal's performance? Encouraging to say the least, particularly after that hugely disappointing collapse in the National League.
For good chunks of Sunday's game they were in complete charge and when Odhran MacNiallais crashed the ball to the net to put Rory Gallagher's men four points clear after thirteen minutes it looked like being Donegal's day even at that early stage.
To their credit, McGrath's team plugged away in that opening half and went close to a goal of their own only for goalkeeping newcomer, Mark Anthony McGinley, to pull off an outstanding save from Ruairi Corrigan.
The potential game changer arrived just as the dressing room doors were being unlocked for half-time when McGee made his way in their general direction as Sean Quigley lined up to take the penalty following the punch and subsequent dismissal. True, there was a delay as he prepared to take the kick with Donegal players surrounding Maurice Deegan to argue the toss. But that's a sight not just confined to Donegal matches.
Once again, McGinley was equal to a shot driven to his right to leave Donegal still holding the advantage. A man down they may have been but for long spells of the second thirty-five they looked like the team with the fifteen and once MacNiallais palmed home his second goal after the move of the match, there was only going to be one outcome.
Donegal now getting ready for what promises to be an intriguing Ulster semi-final against Monaghan on Saturday week at Breffni Park – who on earth picked respective throw-in times of 4.p.m. and 7.p.m. for the Minor and Senior semi-finals? – and McGrath and his charges tuning in the sat navs for Wexford on the same day and nibbling on a bunch of sour grapes on the way.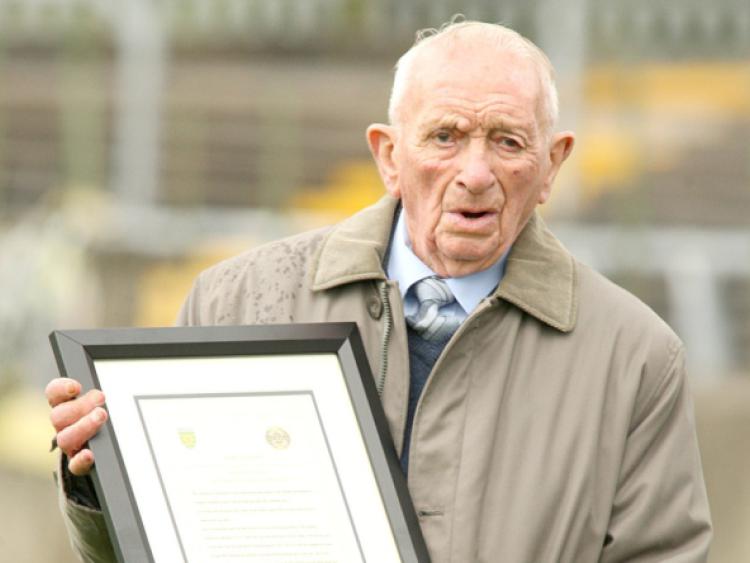 THE MAN FOR ALL SEASONS:
There we were thinking there was nobody older than Christy Toye at MacCumhaill Park on Sunday when we spot Jack Hannigan on the sidelines.
And looking fresh on it at the ripe young age of two years over the hundred.
Honoured by the Ulster GAA Writers Association last November for Lifetime Services to the G.A.A., the Twin Towns veteran has seen more matches at his beloved home ground that the rest of us have had hot, cold or lukewarm dinners.
Not just a lifelong and devoted member of his local club for Jack is one of those rare people that can lay claim to actually knowing the legend that was Sean MacCumhaill.
CLOSE TO A PRESIDENTIAL PERFORMANCE:
Letterkenny on Saturday, Paris on Monday. There'll be quite a few who could fit into those respective zones on those respective days over the weekend (Gerry Meehan, Eric White, Dessie Kelly and James Barclay for a start perhaps) but probably nobody more distinguished than the President of this fine nation, Michael D. Higgins.
There he was at the An Grianan Theatre unveiling a plaque in recognition of Letterkenny's achievement in claiming the title of Ireland's tidiest town last year and two days later in the Stade de France acknowledging something even tidier – Wes Hoohalan's wonder strike against the Swedes.
Don't believe Killybegs have ever won the national title but one of their sons provided the neatest of crosses for Hoolahan's sweetly struck volley that put Ireland a goal to the good.
Cue wild celebrations among both the travelling hordes and those of us who stayed at home or wherever we were.
An opening victory in sight but Ireland couldn't clean up on chances created and while Killybegs had celebrated Seamus Coleman's delivery for the opening goal, Milford would also see a close link involved in putting the ball in the net – only this time Ciaran Clark (his father Michael actually lined out with Milford United in his day) was guiding the ball in for Sweden's equalizer.
Ireland had had the upper hand in the first half exchanges and had four solid opportunities to open the scoring and, perhaps, even close the game as a contest.
But we always knew somehow that Zlatan Ibrahimovic – who boasts no Donegal connections whatsoever – would have a foot in the equalizer and so it proved.
Onwards and downwards, however, to the southern city of Bordeaux for another crucial Group E fixture – the Belgians, stung by their 2-0 defeat to Italy, gearing up to get their campaign on track and all the more dangerous for it.
But that impressive performance on Monday evening will surely inspire confidence and hope that the boys in Green can take a serious step to the knock-out stages.
"If we win, we can have a glass of wine," R.T.E.'s man with the goblet, Eamon Dunphy, proclaimed before kick-off last Monday.
On Saturday there'll be no better place to down one should we – and we can – overcome Belgium.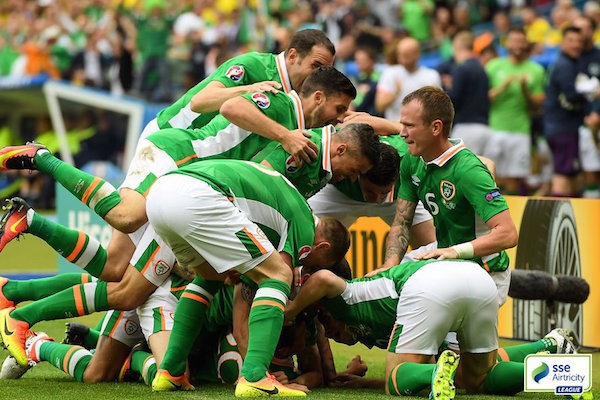 KILLYBEGS SAVOURS THE MOMENTS:
Whatever way he managed it, Seamus Coleman would, on Sunday afternoon, have temporarily taken his eye off one ball and concentrated on another – namely that Ulster Championship quarter-final tie between Donegal and Fermanagh.
Not just a highly significant game for his home county but also for fellow Killybegs man, Hugh McFadden, making his debut at senior level in the Championship.
In doing so, he became the first Killybegs player to feature in the green and gold for around twenty years. Had Coleman not some fish to fry in France, he would have been in MacCumhaill Park sharing in that moment of pride when his good friend trotted out for the match against Fermanagh.
As Paul Rowan noted in last weekend's 'Sunday Times', McFadden once, like Coleman, lined out with his home soccer club of St. Catherine's and, also like the Irish international, moved to Sligo Rovers.
"It didn't work out for him and all credit to him. He went back to play Gaelic, got his head down, worked very hard to get where he is," Coleman told the paper.
"It's great for the town. It's been a long time since the town had someone."
But now they have and despite a few shaky moments and a yellow card. McFadden equipped himself well and will surely be in line for a start against Monaghan in the semi-final.
Watched as he surely would have been by his fellow townie from somewhere in Paris before himself settling down on Monday evening to see Seamie supply the cross for Hoolahan's piece of perfection.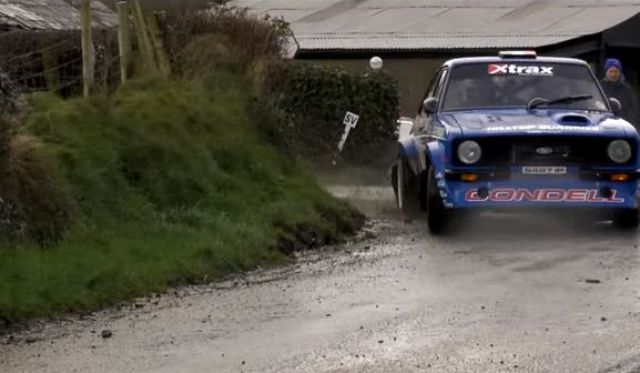 SOME PLUM RECOLLECTIONS:
Here's a message from the President of the Donegal Motor Club in relation to the Donegal Rally: 'This year's format follows a similar pattern to that of last year. While we have used most of the traditional Donegal Stages, we have found a few new Stages which will provide an extra challenge…."
Not quite this year's Rally he's talking about. And not quite this year's President providing the information.
For I have before me a copy of the official programme for the Donegal Rally of 1975 when the then Motor Club President, Michael Stafford, was in the – though not literally –  driving seat.
And an informative and entertaining programme it was with a spectacular picture of Brian Nelson – who would go on to enjoy wins in Donegal in 1976 and 1979 – on the front cover, his BMW in full flight on the Knockalla Stage the previous year. The image was taken by motorsport photographer, Elser Crawford, who summed it up thus: "He was so high in the air you could have walked underneath the car."
Not that that's advisable under any circumstances, or under any car, and President Stafford, in his foreword for the programme, was offering strict advice to spectators, reminding them that the rally cars were being driven to the limit on Special Stages and drivers did not expect to have to contend with spectator traffic. Advice that obviously stands solid to this day – and to this coming weekend.
A glance through the starting line-up for 1975 – only 41 years ago to save you motoring through your mathematical brain  – showed an impressive international presence including Finnish ace, Ari Vatanen (making his tarmac rally debut in Donegal in a Group One Ascona) and German ace, Achim Warmbold (he went on win in '75) who had given up rallying the previous year after the tragic death of his wife in a car accident.
The Irish contingent at the time included Cathal Curley, Billy Coleman, Dessie McCartney, and Bertie Fisher. Interesting also to run the eye down the list of local participants who included the great Derek McMahon from Milford; Robert Ward from nearby Kerrykeel; P.J. Wilhare, Cranford; the late and great Eamon Harvey Letterkenny; the equally so James McDaid (R.I.P.). Dungloe's Vincent Bonner, himself a winner of his home county event; and a host of others including the pairing of another man gone to the great circuit in the sky, Jim Kennedy (invariably accompanied in his Hillman Imp that year by Willie McMenamin).
There, too, singer/songwriter/pianist, Phil Coulter who was to receive a mention (favourable or not!) in the inimitable, Alan 'Plum' Tyndall's unique take on the Donegal Rally in his 'Plum Line' contribution to that year's programme.
"…everybody signed a petition forgiving Phil Coulter for inventing the Bay City Rollers and, as a result, they were treated to an impromptu concert from this very talented songwriter!."
One of my favourite sporting and certainly motoring correspondents 'Plum' wrote of "trickling quietly (as I always do, Garda) into Rathmullan"; listening to Status Quo's "Sweet Caroline' "played at 33 with a pint of Harp thrown over it!"; and some "serious bother stopping a beer gusher from spilling on to the ground" at the Rathmullan House Hotel.
And he went on: "Sunday morning in Letterkenny is normally a peaceful occasion and, as the inhabitants made their way in brilliant sunshine towards their devotional duties, the J.C.B.'s moved into the Ballyraine to clear up the butts. The silence was only broken by the odd cry of 'last orders' but fortunately this was not a serious request, just the chief barman's idea of a sick joke!.
"It was in this vein that Joe Pat O'Kane made his way to Chapel to pray that the fourteen or so cars in front of him would drop out on the Sunday run. Unfortunately the Divine Spirit completely overtook him and, when he came round, the rally had already been around Knockalla twice."
They don't write rally reviews that like that anymore though Rupert Saunders of 'Motoring News' made a pretty decent stab at it in the same 1975 programme when he highlighted how his fellow Englishmen were so lulled into the Irish way of life that they simply forgot to drive fast.
"In England we get drunk after the rally, not before, so next time you see see Derek McMahon offer Nigel Rockey a drink (what do you mean you've never seen Derek offer anybody a drink?) watch for the evil gleam in his eyes. It's all part of the plot," Saunders insisted.
Meanwhile, safe driving to all competitors and followers this weekend. And, as Michael Stafford advised all those years back, if you're spectating, please don't take any chances.
MEDAL HAUL FOR DONEGAL JUVENILES:
To Belfast on Saturday for the Ulster Juvenile Track and Field Championships at the Mary Peters Track where young Donegal athletes took home a glut of medals and personal bests.
Between the contingent of Finn Valley, Letterkenny and Lifford/Strabane participants, there was an impressive haul of gold, silver and bronze and some encouraging performances outside the medal positions.
As I always say, credit to our juveniles for their dedication to the sport but, equally significantly, to the coaches who continue to give their services voluntarily and without whom none of this would be achievable.
EURO SNIPPETS…..
By now you'll all have your chosen (chosen not by you but by the quirk of a draw) teams for the Euros in those sweepstakes that have become standard for all big soccer tournaments these days.
Anyway, you'll be pleased to hear I drew Ireland but what about my fellow Letterkenny man, Jimmy Kennedy? The manager of the Brewery Bar on the town's Market Square drew the Republic in his own pub's draw and Northern Ireland in the one in Harry Blake's further up the street………………..Great gesture by the Republic fans during the match against when Sweden when, in the 24th minute, they sang "Stand Up for the Ulstermen' in memory of Northern Ireland supporter, Darren Rodgers from Ballymena, who lost his life in a tragic accident in Nice shortly after the opening match against Poland………..On a highlights programme that featured the Ireland/Sweden game, one of the I.T.V. presenters, as is traditional on these occasions, remarked that there might be a bit of drinking done by those wearing green. Which seemed a wholly ironic comment given the amount that has been obviously consumed by her fellow compatriots in Marseilles and elsewhere…….
BOKS JUNCTION:
It's gone close to been forgotten in all of the buzz around France 2016 but there was the little matter of the Irish rugby team putting South Africa in their place, in their place if you follow the drift.
Outstanding performance by Joe Schmidt's men who were reduced to fourteen following the dismissal of C.J. Stander in the 23rd minute but still went on to claim an historic victory over the Springboks in their own back bush.
Some men – or one at any rate – even refused to go in for the meal at a wedding reception in the west of the county until the match was over. Though to be fair to him the starters hadn't even been served when he did finally take his place at the table.
And, no, it wasn't the groom.
SCOREBOARD OPERATIONS:
What exactly is it about scoreboards in Ballybofey?
For a couple of years now, the one at Finn Park has been notoriously off beam so much so that they have given up on the timing mechanism completely and now just feature the score update. Or rather would do if it was working properly. When Harps opened the scoring against Sligo in their last home game, it took a few embarrassing minutes for the scoreboard to actually register the goal as it went through the numbers and continued to malfunction for the rest of the game.
Across the way, MacCumhaill Park has a better class of a scoreboard but, as proved last Sunday, is still prone to digital mishap.
In stepped scoreboard operator, Raymond Doherty, however, to prove that at the end of the day, there's nothing quite like the human touch to fill in the goals and points efficiently and accurately. And not a blimp in sight.
Not too often you can say you put up more scores than Michael Murphy…
Tags: