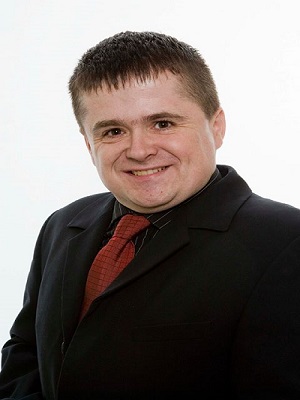 Frank Larkin is a disability awareness and equality activist from Letterkenny. In case you didn't know, Frank is a massive Finn Harps fan.
This is Frank's Donegal:
What is your favourite place in Donegal and why?

Finn Park. It's self explanatory!
If you could change one thing about Donegal what would it be?

I would ensure we had accessible public transport county-wide.
Who is the one person in Donegal that you look up to and why?

There are many people however from my own generation for what he has achieved and the challenges he has taken on and having heard him speak at events organised by disability organisations I'm involved with I'd say Jason Black.

Daniel O'Donnell or Packie Bonner?

Both are wonderful ambassadors for Donegal, but being the football supporter that I am it has to be Packie.

What was Donegal's saddest moment?
There have been too many road deaths.

What is your favourite Donegal-made product?

Finn Harps!
Who is Donegal's greatest ambassador around the world and why?

Our diaspora and our people living here who can travel anywhere and be welcomed with open arms.

Who is Donegal's most successful businessperson in your opinion?
Hard to single out any one on particular. Any one who managed to get through the last few years deserves enormous respect & credit for enduring.

Who is your favourite Donegal sportsperson of all time?

Tempted to say BJ Banda. No explanation needed.

Donegal's golden eagles or basking sharks?

Golden eagles
What is your favourite Donegal saying or expression?

Up the Harps.
Will Donegal win the All Ireland this year?
Unfortunately I'd say no.

What is your favourite Donegal food?

Too many choices to pick just one!


Is there anything that really annoys you about Donegal or its people?

Lack of accessible public transport. (Don't get me started)

If you had a million euro to spend on improving something in Donegal, what would it be?

Disability access.

Where's the most unusual place you've logged on to Donegal Daily?

Nowhere unusual but I'd normally check it no matter where I might be.

What is the biggest challenge in Donegal for people with disabilities?

The challenges vary significantly for everyone but transport seriously is a massive problem. If the government would ratify the U.N. convention on the rights of people with disabilities immediately, there would be a significantly better chance that things might improve.
Is there anyone in particular from Donegal who has inspired you to campaign for awareness?

To be honest my will to campaign has come as a result of the frustrations I experience relating to having a disability in Donegal/Ireland.

How can the people of Donegal join in and help on your journey to achieving your goal of disability awareness and equality?

I think that people/businesses need to actively seek disability awareness training to ensure that as many people in the general public are equipped with the knowledge of for example how people with disabilities are physically not able to access their rights on a daily basis.
If you would like to read about Frank's current work you can find his page by clicking here.
Tags: