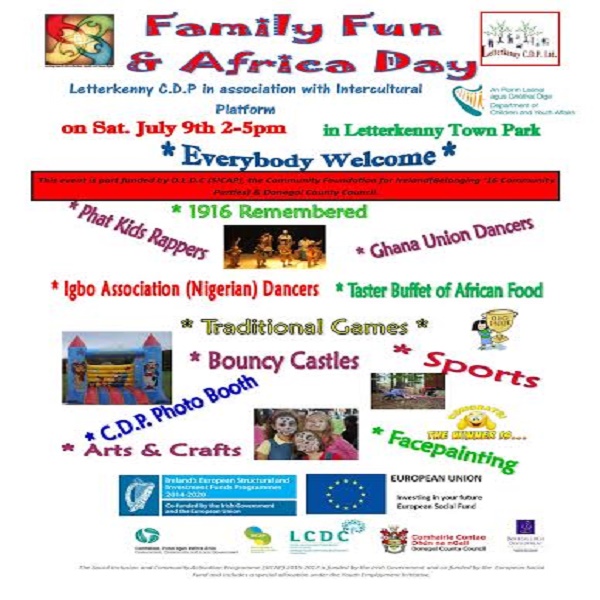 Letterkenny C.D.P. invite you to come celebrate a free family day out in the park this Saturday, July 9th from 2pm – 5pm.
Festivities take place in Letterkenny town park, everyone is welcome to share and enjoy the music, performers, creative activities and sport. There's a wonderful, colourful buffer on offer, too!
Letterkenny C.D.P. and the Donegal Intercultural Platform are rolling out an exciting afternoon of interactive games, drama, dancers, a photo booth, performers and a glamorous nail bar with pots of glittery colours to choose form and a C.D.P. photo booth.
There will be traditional games from Ireland and Africa along with the trills and spills of sack races, penalty shoot outs, races, prizes, bouncy castles and a choice of arts and crafts.
Countess Markeivicz will be out and about meeting the people with snippets of news from Dublin and Sligo of the rebellion. In honour of the 1916 Rising, a reading of the Proclamation will be read by representatives from Letterkenny's new and older communities.
"Letterkenny CDP have been organising the Family Fun Day for more than five years and we are delighted to be working with the Intercultural Platform and Donegal County Council again this year and look forward to the African Cultura and 1916 Commemoration input on the day," said Lourda Nee, Project Officer, DLDC.
There's a unique opportunity to taste delicious sample dishes from Africa – a mixture of Ghanian, Nigerian, Cameroonian and Conogolese dishes – created by Caroline Kepnang.
DJ Stanly will spin the best of world music. Members of the Igbo Association and the Ghanian Union will come together to perform traditional dances.
Entertainment for everyone on this exciting and energetic summer event, come along on Saturday for a great afternoon with family and friends old and new. The best part is this event is free!
For further information contact: Lourda Nee on 074 9127056/ 087 2960601 or Paul Kernan DIP: 096 879988
This event is funded by the DLDC (SICAP), Community Foundation of Ireland, and Donegal County Council.
Tags: