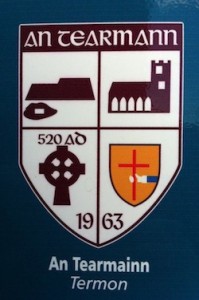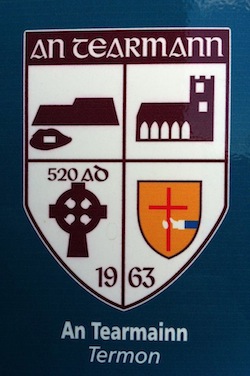 Wedding congratulations
Best wish to senior player Austin Marron on his marriage to Mary this weekend in Galway, we wish them a lifetime to happiness together.
Ladies
The seniors travelled to Moville on Sunday morning for the first leg of the championship, where despite some great performances from the relatively young team, a home advantage and an early lead for Moville proved too difficult to catch.
The juniors were at home on Sunday for the first leg of their championship where, again, despite a good start, Fanad left the victors. They are due to play the second leg of the championship this Saturday away to Fanad, details to be confirmed.
The minors kick off their championship today at home against Cloughaneely at 7 O'clock. All support greatly appreciated.
U14Girls: Our 'A' team played Naomh Conaill at home on Monday evening in the division 1 'A' semi-final. The Termon girls played some fantastic football from start to finish as they chipped over point after point, an average of 1 point every 3 minutes, throughout the game and bagged themselves a couple of goals for good measure too. The girls will defend their U14 A title next Friday the 22nd in what is most of the girls' 5th appearance in an 'A' final since 2014. Venue, opponents and details have yet to be confirmed so keep an eye out on facebook etc. Training continues as usual this Friday and next Tuesday at 5:30pm
Comhbhrón
Déanann muid comhbhrón le teaghlach Sheamuis Mhic Géidigh, ar bhás thobann Shéamuis an tseachtain seo chuaigh thart. Crónófar go mór a ghlór ar an radió, agus an Ghaeilge bhinn shaibhir a bhí ag Séamus. Is boichte go mór é an saol agus é imithe romhainn ar shlí na fírinne. Guíonn muid suaimhneas síoraí ar a anam uasal.
Club members stood in silence near the Burn Road as Séamus' remains passed en route to his home last Wednesday evening. Seamus often did live broadcasts from the Burn Road. Led by Club Chairman Daniel O'Donnell, up 20 club members assembled including fellow sports journalists Oisin Kelly of Highland Radio and Pauric Hilferty from Ocean FM.
Club news
Termon GAA Minor Board in association with Kelly's CENTRA Mountain Top Letterkenny – what an end to the U12 boys season! In very difficult conditions last Wednesday night the boys won the NRB Div 1 title when they defeated Sean Mc Cumhaills. Their 2 point victory was fully deserved and their battling qualities were required to hold out playing into the conditions in a second half that had 5 and a half minutes of injury time added. A really brave performance.
On Saturday then it was off to Mc Cumhaill Park for County Finals day. Our B team were first up and despite a hat-trick from Oran Mc Menamin, Aodh Rua Ballyshannon won with the minimum to spare. In The A game our boys won comfortably to secure Termon a 3 rd U12 A County Final place in 4 years. The B team played off with Dungloe for 3rd place and to their credit both teams played some excellent football with a late Oisin Mc Groarty goal getting the Termon boys over the line for the win, well done boys.
The A Final was a close affair with Mc Cumhaills providing the opposition and the absence of Oisin Kelly on All Ireland athletics duty, (Congrats Oisin on your All Ireland 600m U13 Silver medal, a fantastic achievement) and the loss of Caolan Reid and Patrick Fegan to injury in a tough first half proved the difference.
Showing their true qualities both Caolan and Patrick came on late on in the second half to help with the comeback which following a Cian Mc Menamin penalty got us to within a goal of the hosts who held out for the win, Congrats to the Mc Cumhaills boys on their victory. For our boys the disappointment was huge but these boys have been superb over the past 10 weeks or so and play a fantastic style of football which has won them many admirers around North Donegal, well done to the boys and to Paddy Hugh and Eddie on all they have achieved to date.
Our u16s had a busy few days as well with a comfortable victory over neighbours Glenswilly on Friday last followed up by a heavy defeat in Downings on Monday last. That's 2 wins from 3 so the boys can still make Division 1 if they win their remaining games. Next up it's a trip to Buncrana this Friday with a 7.30 throw in time. Good luck boys.
Everyone involved in our Minor Board would like to wish Enda Mc Cormick and the entire Donegal Minor team the very best of luck in this Sundays Ulster Final. A large crowd of our club members as well as family members will be there to cheer Enda and his team mates on in what should be a fantastic final against Derry. Enda's recent injury could not have come at a worse time but hopefully he will be able to make a contribution at some stage in Clones on Sunday, good luck Enda
This Saturday our U8s will travel to Glenswilly for a series of games, details will be sent to parents in the next day or two. Likewise details of a planned game for our U10s this Saturday in Glenswilly will be known soon and again parents will be informed as soon as we know.
Ulster Final
We wish Michael Boyle and the senior team, as well as Enda McCormick with the minor team, all the best at Clones on Sunday at the Ulster finals.
Lotto
This week's lotto draw takes place in McClafferty's with a jackpot of €1,850.
Bingo
Bingo continues every Friday night at 9pm at An Craoibhín, thanks to all for your continued support.
Tags: