194 people have been killed and 1,563 detained in a night of violence across Turkey sparked when elements in the military staged an attempted coup, a senior Turkish official has said.
"The coup attempt has been foiled", said acting army chief General Umit Dundar, adding that 47 civilians were among the dead.
Some 104 coup plotters were killed in the attempt to bring down the Turkish government, he said.
1,154 people were wounded, he said before warning that anyone who betrays the country will not go unpunished.
1,563 members of the Turkish armed forces were arrested across the country after the coup attempt blamed by the government on supporters of US-based cleric Fethullah Gulen, the state-run Anatolia news agency reported.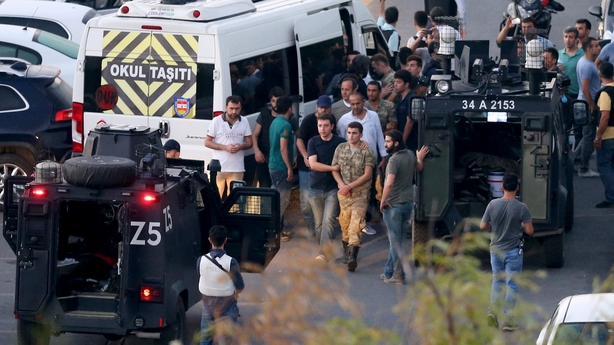 A Turkish official added that 29 colonels and five generals had been removed from their posts.
Turkey's parliament, which was targeted by coup plotters and received extensive damage, held an extraordinary session, broadcast live on television.
Mr Gulen, a former ally of Mr Erdogan, denied being behind the attempted coup and condemned it "in the strongest terms".
"As someone who suffered under multiple military coups during the past five decades, it is especially insulting to be accused of having any link to such an attempt. I categorically deny such accusations," Mr Gulen said in a brief statement just before midnight Friday.
"I condemn, in the strongest terms, the attempted military coup in Turkey," read the two-paragraph statement.
Mr Erdogan has accused the reclusive Islamic preacher, who lives in a tiny town in the Pocono Mountains of the US state of Pennsylvania, of being behind the coup.
The two fell out in recent years as Mr Erdogan became suspicious of Mr Gulen's movement, Hizmet, and its powerful presence in Turkish society, including the media, police and judiciary.
The preacher moved to the United States in 1999, before he was charged with treason in his native country.
Tags: