FROM CHOKER TO CROKER – HOW DONEGAL HEADS LOST OUT TO THE HARTES:
The one that got away. The one that never really took off. The one that had promised so much but, ultimately, in green and gold eyes at any rate, delivered so little.
The one that left a field full of questions both for Donegal and the sport as a whole….
Question one – how can you combat that "style" of sideways to sideways hand-passing that had us all, in that opening half and for much of the second, sitting on the edge of our sleep. Well, not quite all. Former 'Donegal Democrat' sports journalist, Keith Duggan described last Sunday's Ulster Final as a match of "breathtaking football." And to be fair, I did gasp myself at times.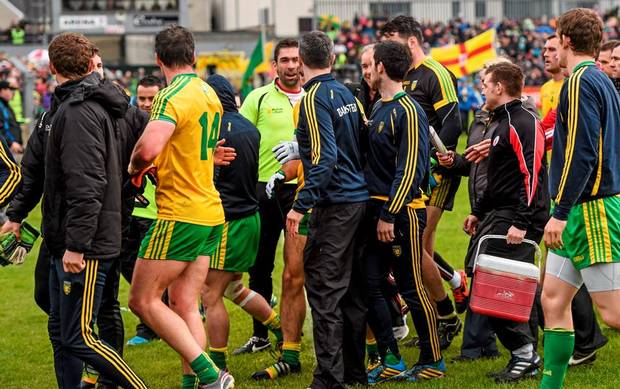 It was a game that never really – didn't at all, in fact – live up to the occasion. And yet, for all that, Donegal were within touching distance of another Ulster title. Until, that ever inspirational, Sean Cavanagh, and his equally so team-mate, Peter Harte – described by Pat Spillane as the "best player in this year's Championship" – came up with the decisive moments.
This was a match where there were more misses than a Convent School roll call with both teams squandering chances they might normally have put away with their eyes shut tight, Tyrone edging this particular competition on attempts landing outside the uprights. Why Donegal did not drop more balls into the territory that can hurt (and with a forward such as Michael Murphy that can cause that hurt) is open to no debate – for this was that rarest of games, seventy or so minutes when Rory Gallagher's men failed to conjure up even one goal attempt.
And yet if there was a beauty in this game, it was the quality of some of the scores that did find their mark – the likes of Odhran MacNiallais, Ryan McHugh, Harte and Cavanagh proving their worth in this respect.
Harte's astonishing effort that squeezed Tyrone in front in stoppage time had class penned all over it and the one that followed from substitute, Kieran McGeary, given that had he missed Donegal were still in with a shout, was another score of note.
But still those questions hang in the air. The negatives of Gaelic football outweighed the positives in what should have been an advertisement for the game.
I only discovered this week that there's a village called Clabby in the County of Tyrone. And somehow the name matched Sunday's Final. Clabby. Perfect description for an imperfect occasion.
And the great debate that has dominated not just Ulster football – look at that much more clabby encounter in Connacht when Roscommon and Galway played out a game that left football back in the dressing-rooms and the dark ages – can now be joined by another. Or rather there should be no debate about it – for surely it's time to give the red card to the black card and do away with it once and for all.
The punishments handed out to Mattie Donnelly and Cathal McShane – one for a hefty shoulder charge and the other for back-chat – was hardly fitting in the context of an Ulster Final or any game for that matter. On this occasion, Tyrone's bench was able to counter the losses but still it must be time to allow the yellow and red cards to do the business in the punishment stakes.
There's still a Championship to be won for Donegal, of course. And having pulled Cork out of the qualifiers draw bottle they know, at least, they have a realistic chance of advancing. But when you have the quality of players such as the two McHughs, Paddy McBrearty, MacNiallais and Murphy in your ranks, you must surely adapt the system to allow them the space to create and cause havoc deep in opposition territory.
And not just – even if your opponents sometimes dictate it – rely on long range shooting to attempt to save the day.
MINORS BRING SOME SUNSHINE:
It's the Donegal Minors who should be earning top billing this week after their hard fought – far from the first time that particular cliché has been used in connection with Ulster Football – win over Derry to claim the Provincial title.
They, too, will be travelling to Croke Park on July 29th to face a Cork team but with one significant difference – they'll be going there as Ulster champions after that two point success in Clones in the curtain-raiser to the main event of the afternoon (some of us could have done with that curtain remaining down at least for that dreary opening thirty-five).
On a day rich in sunshine, Donegal hit Boyleing point with J.D. and Nathan scoring the crucial goals which, as the experts will invariably remind us, always win matches.
Shaun Paul Barrett's team had to survive a nervy finish to the game when Derry grabbed a late goal to put those couple of points between the sides but survive they did and while, the game could never be ranked in the classic mould, it was a memorable one for all involved, players and management, not to mention the reasonably sized attendance from Donegal who had arrived early to cheer the Minors home to victory.
They'll no doubt do the same on Saturday week next when attentions turn to H.Q. and that double header against the Rebels.
HARPS MISS THE CHANCE TO PUT BRAY OUT OF SIGHT:
European football intrudes into Finn Harps season this weekend. It's been a long time since that happened but, of course, it's not Ollie Horgan's men who will be venturing into the Europa League but their scheduled opponents, Cork City.
Last Saturday evening's defeat at the Carlisle Grounds may have put a blocker on any hopes that the Donegal side might have been entertaining of making a surprise first return to the Euro stage since they faced Everton in a U.E.F.A. Cup tie back in 1978. And that first loss since picking up ten points in their previous four matches provides added significance to the club's next outing – a Finn Park meeting with Wexford Youths on Friday night week.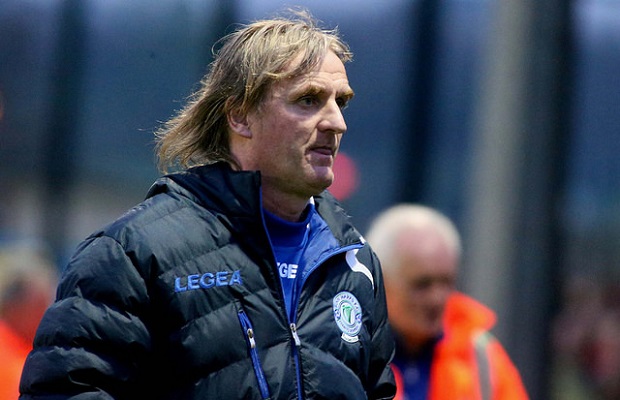 Harps could have returned from Bray with at least a share of the spoils having missed a number of chances after conceding in the opening half. But by all accounts they were outplayed in the first forty-five though coming more into it as the game progressed.
Victory would have taken them thirteen clear of Wanderers – as it was the gap between the sides closed to seven. Not quite jitters territory yet but they can't afford to lose too many, if any, to those sides in competition with them to stay up at the end of the season.
Packie Mailey returned to welcome action at the weekend but before a ball was even kicked, Harps were bemoaning the absence of another key performer.
I happened to be over at the Finn Valley Centre on Thursday night last where Harps were training but didn't see the incident that puts Tony McNamee out of action for a reputed number of weeks – a knee injury picked up during the session adding to the club's recent injury woes.
The Ramelton man has been a big performer for Harps this campaign but joins Ciaran Coll and Garth Harkin on the treatment table. Coll did manage a few jogs around the pitch last Thursday as he continues his battle back from injury and hopefully it won't be too long before we see him occupying that left full-back slot again.
Meanwhile, the undamaged members of the squad will also be resting up as Harps face yet another weekend on the sidelines.
While it might not be ideal as the fixture list is concerned, it's nevertheless encouraging to see the progression of clubs such as Cork City in Europe with all three League of Ireland clubs involved, Dundalk and St. Patrick's Athletic included, going into second leg fixtures on the back of respective 1-1 draws last week. Good luck to them all though I dare say there may be just one of them advancing into the next money-spinning round.
JIM MAKES THE CUT AT ROYAL TROON:
It's an Open secret that Jim McGuinness is a fan of the small ball game. And no secret at all that he's still at Gael at heart even if another code currently dominates his working days.
But, as highlighted in the 'Daily' earlier this week, did he really forego the television coverage of the Ulster Final for a place on the fairways and green side at Royal Troon for the British Open?
It looked like it particularly as he was following Sergio Garcia and Patrick Reed during their rounds – the Glenties guru was snapped in the background as the Spaniard was striding forward for his next shot – as they had teed off in direct competition to the Donegal/Tyrone clash.
Given that his working base is now in Glasgow he might hardly have been expected to be in Clones for Sunday's big match but I'm sure a few pubs around St George's Square or somewhere along the Clyde would have welcomed his presence on the day.
But he was able to clarify his position – literally – in his weekly column in yesterday's 'Irish Times'. And he did see the game – thanks to SKY television.
"I ended up watching the Ulster Final at Royal Troon which was not something I ever imagined would happen. It was accidental," declared the former Donegal manager who revealed that he had some work to do on the Sunday morning and knew he wasn't going to make it to the Monaghan venue.
"As it happened, Paul McGinley has been working at the golf for Sky all week, and I met him in Glasgow on Saturday evening and he invited me out to see the final day." But if his body was at Royal Troon, his heart and mind were, apparently, very much elsewhere. "I kept looking at the clock and imagining what time the boys would leave the hotel, and when their meeting would be. When I was arriving at Troon, it was just after 12.p.m. and I could picture them pulling into St. Tiernan's Park."
SKY had set up a television in the studio to enable him to watch the live link from Clones – and so it came to pass.
And pass. And pass. And pass. And pass again. But that's another story…
AIDAN SHOWS HIS METTLE IN IRONMAN CHALLENGE:
In the Station House Hotel in Letterkenny on Sunday evening and a voice hails me over. It's Christy Callaghan who is there along with his better half, Maeve, and I guess that (a) there's some good news they have to relay and (b) it's of a sporting nature.
Not often I get two guesses spot on but there it was – the couple's son, Aidan, had completed his first Ironman Challenge in Bolton earlier in the day and not only that had finished third in his category.
This column's first and only experience of an Ironman Triathlon – non-participant, I should add, just in cause you believe this physique hides a multitude – was in Lanzarote a couple of years back. A 3.86 km swim, a 112 mile bicycle ride, and your average marathon clocking in at 26.22 miles. I had to go for a lie down after watching it.
Aidan's time in the respective disciplines in Bolton were 00.51.54 in the swim; 5.30.41 in the bike run; before completing the marathon in 3.21.03. Giving him an overall finishing time of 9.53.58.
Not bad for a man undertaking his first full Ironman. And good enough, not alone to see him finish third in his age category, but to qualify for the World Championships in Hawaii next October for which he was busy all day yesterday booking flights and accommodation.
The Letterkenny man completed his first marathon in Dublin last October. "I have to say I felt a lot better after the Ironman than I did after that marathon," he laughed.
"The body wasn't ready for the marathon and I wasn't in great shape for it at the time."
But he put in a much tougher training regime for the Bolton challenge and he was pleased with his performance overall. "I was the first out of the water in my category and that helped spur me on for the rest of it," he told me.
While he may have been unfamiliar with the event itself, as least as far taking part is concerned, he is no stranger to Bolton itself, having completed a Sports Science degree there.
Watching on last Sunday was his fiancée, Catherine, and a few friends who he knows from his Bolton days.
He's enjoying a few days of well earned rest before returning to training with sights firmly set on Kona on October 8th.
No wonder there was a beaming pride in his parents' faces on Sunday evening.
Me? I'm going for another lie down.
MICK AND THE GREAT WALL:
Read a great quote from former Republic of Ireland, Manchester United, West Bromwich Albion and Finn Harps midfielder, Mick Martin, over the weekend.
Back in 1978 West Brom undertook a three-week pre-season tour in China and on one occasion the players were taken to see the Great Wall. Some of them were not overly impressed.
"I've bent balls around bigger walls than this," the Dubliner was reputed to have insisted afterwards.
But wait a bit. Go back a line or two here – ex-Finn Harps? Okay, not quite, but he did line out with the Donegal side in a pre-season game against Glasgow Celtic at the start of the 1975/76 season, a match that ended in a goal-less draw, Celtic having hammered Dundalk 6-0 in their first friendly on that short Irish tour.
Martin donned the colours of his then club, West Brom, the day after the Celtic match for another friendly in Ballybofey but Harps ran out winners against the then Second Division side who were under the management of Johnny Giles who also lined out on that occasion.
I was at that game and I can't recall Mick Martin bending any balls around the Great Wall of Harps…!
SHIRT SWAP:
There may have been a small corner of Donegal that offered some measure of salute to Tyrone or at least to one of its stars.
"I grew up wearing a Donegal shirt. And if you search our house you will still find the odd one about it," Ronan McNamee revealed in a weekend interview.
The reason? His mother, Anne Daly, hailed from Doochary and in his school going days, her young son used to wear the green and gold to his school, St Eugene's in Castlederg.
"Mammy used to tell me to ask all the other boys in Aghyaran 'how many All-Irelands have youse?' back when Donegal had one and Tyrone had none," the defender recalled.
Still, I doubt there were any Tyrone flags flying around Doochary over the weekend.
Tags: