Lifestyle and Fashion with Mairéad: For all of you who have already been on holidays this year you'll understand just how valuable a packing checklist is, I love a good checklist and this one really helped on with my recent holiday to America. 
There's nothing worse than landing halfway across the world on a much-needed holiday and realising you've left your favourite dress or shoes  at home.
Last-minute packing always leaves you missing at least one essential, so it pays to plan ahead, so whether your heading off for a family holiday, a girls getaway , a romantic break  or even a mad student holiday, we've all you need.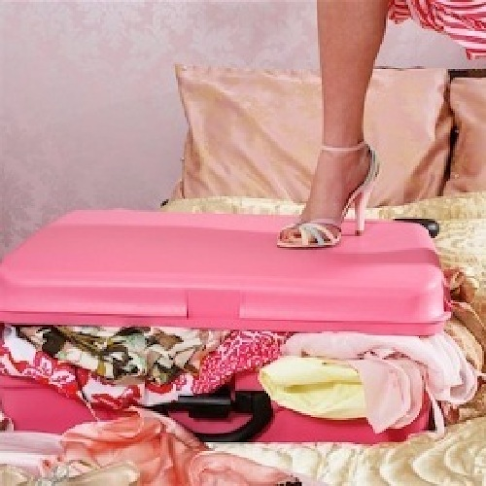 CLOTHES:
Always take less than you think you need, you almost definitely won't wear all of it and less clothes = more space for holiday shopping!
– Dresses – mini or maxi, and everything inbetween
– Jumpsuits/ playsuits – just remember how difficult they are to remove…
– Shorts – they don't have to be denim!
– Skirts – again, long or short
– T-shirts/ vests/ shirts/ tops  – white is best to show off a tan
– Jeans and a light jacket – it does get balmy in the evenings!
– Sleepwear
SHOES:
One pair of each will be enough. Except for flip flops. You'll be very much in need of these so much you'll need some back up pairs!.
– Sandals – one pair for show, one for actually walking
– Flip flops – and a spare pair for when the toe inevitably breaks
– Trainers/ flats – depending on how active your going to be.
– Heels – don't overdo the heels, one or two pairs will be enough.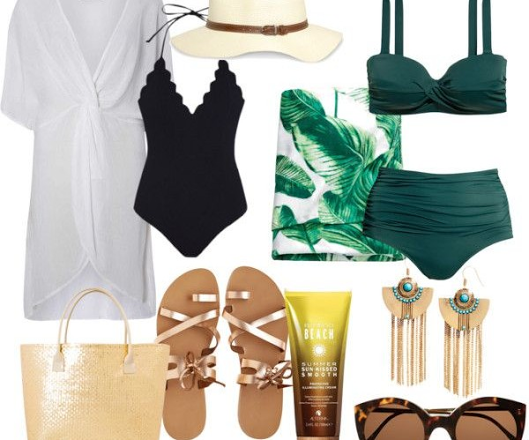 SWIMWEAR:
– Bikinis and swimming costumes – nobody likes a damp bikini but 3-4 which you can roatate is plenty!
– Beach towel – separate from your washing towel
– Swim bag – this should be roomy
– Sarong/ kaftan – to cover up at the beach bar
UNDERWEAR:
– Bras
– Pants
– Nude/white strapless underwear – whatever you need with the outfits you've packed
– Socks-again just one of two pairs unless your planning a very active holiday, you'll be in flipflops most of the time but it's always good to be prepared.
– Bandeau bras – handy under crochet or sheer tops
ACCESSORIES:
– Sunglasses
– Sun hat – do spend the time to find one you like, and don't say you don't need one then get sunstroke (like we did)
– Scarf/Bandana – we're thinking for wrapping around your hair
– Jewellery – you will almost definitely not wear all of what you pack, so keep things simple and choose pieces that you can mix and match
– Watch
– Glasses/ contact lenses – what good is sightseeing if you can't see?!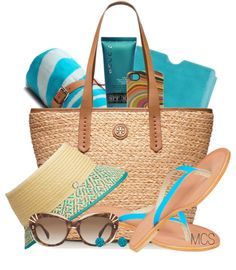 BAGS:
Check how many bags you can carry on the flight and weigh them – don't take the risk!
– Beach bag – make it really big
– Tote – bottles of water, hats and sun cream are all now essentials to carry around
– Day bag – this should probably be different to your day-to-day handbag, leather in the heat isn't the most comfortable
– Night bag/ clutch
TOILETRIES:
Most toiletries you can but once you get there which makes it easier so I brole this section into things to bring ang things to buy when your there.To bring:
– Suncream- of course you'll be able to buy this but it good to have this from the onset!
– After sun – don't underestimate the power of this!
– Moisturiser
– Razors
– Shaving cream
– Tweezers
– Toothbrush
– Serum/ hair products – just your usuals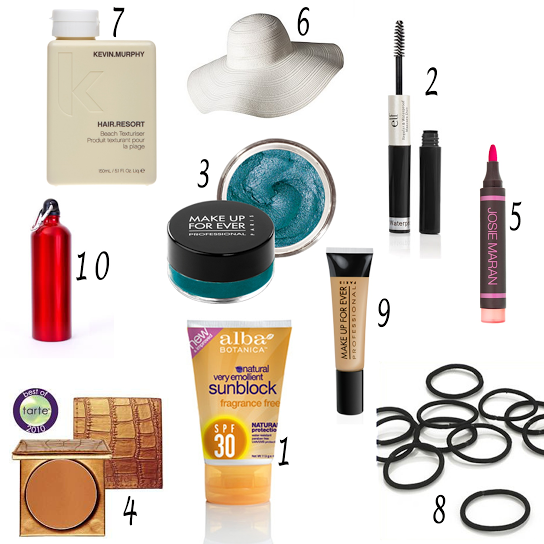 – Dry shampoo
– Hair grips/ hair bands
– Cleanser, toner, face moisturizer – lighter versions work better in high temperatures
– Face and body scrub – although the sand on the beach might be enough
– Face wipes, wet wipes – for wiping away mascara and sticky ice cream
– Sanitary towels/ tampons
– Nail clippers/ nail file
– Brush, comb
– Lip balm
– Travel mirror
– Medication/ vitamins –if needed: make a list beforehand and make sure you pick up prescriptions if you're about to run out
– Towel – for washing, a separate one for beach!
To Buy:
-toothpaste
– Insect repellent – beat the bites before they're even there
– Small first aid kit and plasters – blisters, bites and burns, you should be prepared
-Shower gel
– Deoderant
– Shampoo
– Conditioner
MAKE UP
Chances are you won't be wearing much on holildays but Take light, creamy formulas, and bear in mind that heat can turn make-up a little funny
– Foundation
– Concealer
– Highlighter
– Bronzer – ditch this if you need space, you'll be getting a natural glow!
– Powder
– Blusher
– Eyeliner
– Mascara
– Lipstick – balmy textures might feel more comfortable on holiday
– Nail varnish – for top ups
– Nail varnish remover
– Cotton wool
– Eyeshadow – cream formulas will glide on easily
– Perfume – remember heat heightens the strength of the fragrance
ELECTRONICS
Keep all valuables in your hand luggage, but do check what's allowed on a flight
– Get the appropriate adapter plug for the country to which your flying- this is essential !!!
– Phone and charger – check your roaming charges before you fly!
– Tablet or kindle and charger – if you think you'll use it maybe download films, books and TV shoes for the plane
– Adaptors
– MP3 player and chargers- if not already on your phone!
– International phone/ SIM – if you have one!
– Camera and charger – again if you don't plan on using your phone for this
– Hair straightners
– Hair dryer- depending on where your staying you may or may not need this.

HOLIDAY ESSENTIALS
– Passport – make sure this is IN DATE!
– Travel insurance – print out your documents and keep them safe
–  Money !!!!
– VISA – if you need one
– Jabs – book these in advance before you go
– Hotel booking/airport transfer  details
– Local map
– Flight tickets
– Credit/ Bedit/Currency card – check if your bank charges for withdrawing money abroad
– EHIC card
HAND LUGGAGE
– Notebook and pen
– Magazines and books
– Phone/purse/valuables
– Money in both currencies
So there you have it all you need and more, if you follow this checklist your sure not to reach your holiday destination forgetting one single item! And remember there is only one thing worse than packing to go on holidays….that's packing to come back home!!!
Enjoy!
Mairéad
XX
Tags: