CROKER COUNTDOWN: Former Donegal manager Brian McEniff firmly believes Rory Gallagher's men can upset the odds once again and topple the Dublin juggernaut.
The man who inspired Donegal to their first ever All-Ireland win in 1992, against Dublin, feels the current crop have enough guile, guts, and experience to stifle the potent Dublin attack.
McEniff feels Michael Murphy has to be utilized on the edge of the square, pointing to the fact that Dublin's full-back line without Rory O'Carroll is suspect.
He feels the presence of Murphy and McBrearty could cause Jim Gavin's side all sorts of headaches and pave a way for Donegal to secure another against the odds victory.
In an interview with RTE Sport, McEniff said, "I'm not a betting man but we're 5-2 and that's the way we like to win.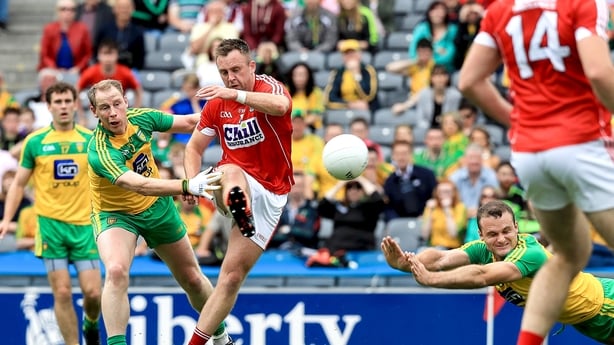 "We're in good shape physically and had four good matches in the Ulster championship, and a reasonably good workout against Cork.
"It wasn't the same competitive game that we had in the province but still quite a good game so we have five good games under our belts compared to what Dublin have had.
"We like playing in Croker, have no fear of the Dubs, and when you factor that all together, I don't see anything that would keep me awake all night or be scared of.
"But they are a good side, have a good bench and are physically strong.
"But we're a relatively strong team and in terms of experience, man for man we're as experienced as they are."
McEniff believes that Michael Murphy's presence on the edge of the Dublin square will occupy two players – and potentially provide room for in-form Patrick McBrearty to work his magic again.
But McEniff noted: "It would appear to me that Michael is carrying an injury throughout the season, the way he's playing.
"But siting him at full-forward, it's going to take two players to mind him.
"McBrearty, one-on-one with any of those Dublin backs, is a pain in the hand.
"We can play from the back and run from deep too, we have men with a lot of pace, the two McHughs and Marty Reilly.
"And then we have Odhrán Mac Niallais and his capacity to kick points from distance, while Karl Lacey and Martin McElhinney generally pitch in with a point.
"I'd like to see us get a goal but we have Christy Toye and Colm McFadden to come off the bench and Leo McCloone could start. They're three All-Ireland winners.
"There's no reason not be confident and the closer it gets to the wire, the better the chance we have."
Tags: