Adventurer Nikki Bradley, is reaching for new heights despite the crushing disappointment of finding out a Guinness World Record she thought she had broken, had actually been done ONE SECOND faster than her!
Nikki Bradley believed she broke a Guinness World Record on June 25th, however, American elite runner Anna Beck-Lee did the same record ONE SECOND faster in March 2016.
Due to a delay in processing records, Guinness had not updated their website at the time of Nikki's attempt therefore making it impossible for her to know that a new time had been set.
Nikki thought she was attempting to beat a time of 49 minutes when in fact the new time set by Anna was 44 minutes 20 seconds.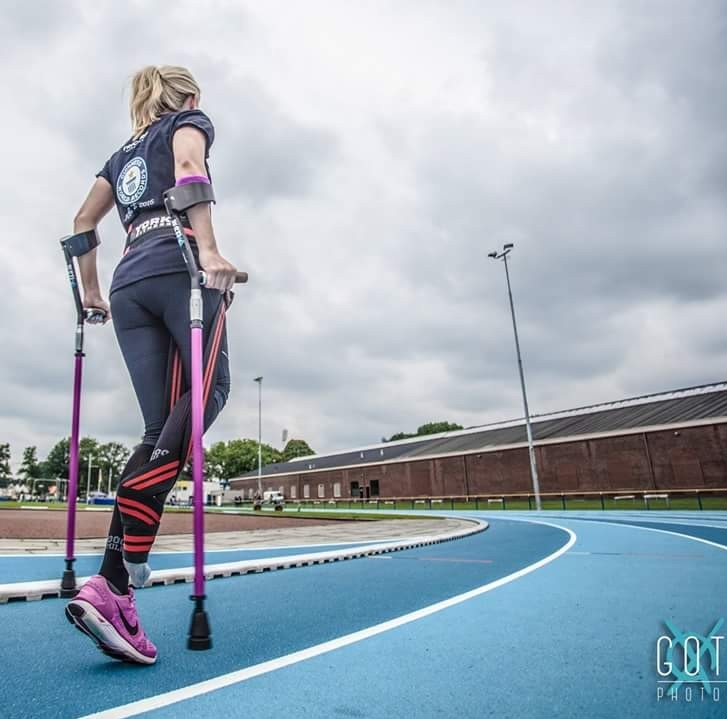 Nikki did the 5k in 44 minutes 21 seconds.
Despite enormous disappointment Nikki was determined to 'make every second count' and move forward with a new challenge. As part of her ongoing awareness campaign Fighting Fit For Ewing's, Nikki regularly participates in physical challenges to highlight the importance of exercise for rehabilitation.
Her August Challenge consisted of teaming up with internationally acclaimed climber, Iain Miller of http://www.uniqueascent.ie/to take on a sea stack in the wilds of County Donegal.
Nikki told Donegal Daily, "Iain has played an important role in my previous challenges and he was the ideal companion on the day.
"Using an inflatable boat to get out to the stack meant we were limited to carrying basics with us. A water proof rucksack, a pair of crutches and a single oar were the only items taken.
"The climb was carefully planned by Iain as this challenge contained a high level of risk for a crutch user. The chance of slipping on wet rock or losing balance on the narrow grass verge on the summit was a real concern so we took no chances.
"Once we disembarked from the boat they made their way to the top with surprising speed. When they reached the summit it became a balancing act. I have an 11cm leg length discrepancy caused by multiple surgeries and usually stand on my left leg with just the toe of her right foot keeping her balanced.
"This can be difficult on land let alone on the top of a narrow sea stack."
Nikki was determined to 'get back on the horse' as quickly as possible after her set back with Guinness as she felt there was a poignant message to be found in her disappointment with her record.
Nikki added, "The past week has taught me to 'make every second count'. I am still disappointed with what happened with my record but I learned a long time ago that life can throw a curve ball at any moment. Finding a way to bounce back is the key to staying on top.
"I could have easily spent the week feeling sorry for myself but I see that as a waste of my time. It won't help anyone, least of all myself so why bother. Ploughing my energy into new and exciting things provides more satisfaction so I chose to do that instead"
Tags: