This week Chef Martin Anderson shows us the funkiest sambwich you'll ever eat!
That's not a spellcheck error, it's an old chef's joke… the hang sambwich, (ham sandwich) for those of you that don't get it! This simple sandwich is the staple of many a picnic, school lunch, breakfast, christening, birthday party or even wake!
Traditionally served on doorstep white bread, lashings of butter, crusts on and always served warm or ice cold straight from the fridge, no happy medium with these, not my style at all!
I remember as a young Chef being invited to a birthday party, everyone was asked to bring an item of food to help cover the cost and take the pressure off the birthday girls Mammy. As anyone that knows me knows I'm not shy , I do talk a lot and sometimes tact is not my strong point, so I was delighted to be invited to this posh event .
It was a barn dance really, turntable in the corner, bales of hay, disco lights… you know what I'm talking about, I was home from Paris for a week and it was an opportunity for me to meet old school pals and impress the girls with my fancy French accent!
Raised in a home where egg and onion sandwiches were the norm, I made a loaf of buttery, creamy egg & onion sambos.
Arriving at the party I quickly dispatched my loaves of sandwiches to the kitchen and made my way to the barn to check out the PT's… Potential Targets that is!
As the night progressed, the keg of beer emptied, the 80s music blasted out of the single speaker and soon it was time for the grub, the birthday girls mammy arrived with a tray of sambos, she very kindly offered us the tray and began to explain the selection to us, cucumber, cream cheese & pineapple, coronation chicken, roast beef and mustard, prawn… not an egg & onion or ham sambo in sight, I was about to reach for a sandwich when she swiftly pulled the tray away from myself and a good friend and proceeded to say," hold on you wouldn't be used to this I'll get you something you people would eat", she returned with a full tray of egg & onion & ham sandwiches, it was then I realised that even the humble sandwich could be upper or lower class.

We never did get to seen the tray of posh sandwiches, they were hidden away for the more refined guests. I never forgot this and I always said that no matter who I was serving I would treat them as equals, I don't care what colour, creed, gender, orientation or religion you are, all are welcome in Sonder.
I feel there is an elitism in certain areas of the restaurant & coffee shop industry where owners welcome a certain style of client and turn their noses up at others.
Sonder was designed so that everyone is welcome, we have full baby changing facilities with a dare I say the word disabled WC large enough to facilitate our guests in comfort, our 2 rooms are on the level and enough space between our tables for anyone that has need of extra space need not feel that they are causing a fuss.
Familys join us on a regular basis and are welcome. If you have a carer and want somewhere relax together then Sonder is the place, no fuss, no looks, no judging & no problems, we would be delighted to have you as part of our story.
So on to the recipe, The Funkiest Sandwich you'll ever eat, this is a good one so take a screenshot or save the link.
It is of course a dessert or snack sandwich and contains no bread but it does have ice-cream and bacon… yes, bacon.
Try and get a flavoured ice-cream not just plain vanilla, something nutty or one of those expensive American ones with fish food in it, get the hint?
I used shop baked cookies, again you know the ones I'm on about.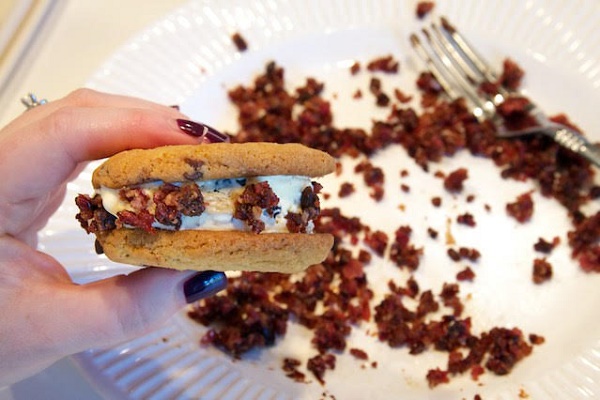 Candied Bacon Ice-Cream Sambo!
You will need;
>2 large cookies per person , pick a flavour but chocolate is always good.
>A funky flavoured ice-cream , allowing 2 small scoops per person.
>Raw streaky bacon, allowing 2 rashers per person
>Powered cinnamon
>Brown sugar
Method;
>Pre-best your oven to 200c
>Lay your rashers on a tray and sprinkle with brown sugar & then with cinnamon.
>Roast until they are really crispy and the sugar caramelises.
>Allow to cool fully and then blend in a food processor and they are like rough breadcrumbs.
>Top one of your cookies with 2 scoops of ice-cream and spread evenly.
>Place another cookie on top and return to the freezer for a couple of minutes to allow the Icecream to set.
>Place your candied bacon on a tray and spread out evenly.
>Take your icecream sandwich from the freezer and toll the exposed Icecream in the bacon , remember to fill in any gaps with more bacon.
>You may eat them straight away or place in the freezer and eat within a day as the sugar in the bacon will begin to melt in the freeze.
Now that's a funky sandwich!
I use Snapchat a lot posting daily updates of Sonder and just for fun showing my followers what a Chefs life is about as well as some madness! Add me @cheftothestars to see.
I follow several food snappers & live cookery shows on Snapchat and saw this amazing sandwich being made over the weekend, funky but tasty, I'm going to put it in the secret menu of Sonder soon.
Tags: