It's back to school time and for students a laptop is now as important as a pencil or a pen, but with so many different models and specifications on the market it can be difficult to know which laptop best suits your specific requirements.
Adverts and offers from retailers are packed with jargon than can make it impossible to know exactly if the laptop on offer is actually going to do what you need it to do.
Our friends at Alphatronics have put together a list of key considerations to help you make the right choice when choosing your new laptop.
Storage
The size of the hard drive is going to be very important. Photos, videos, music, movies and games all require storage so try to get as much capacity as you can. Solid State Drives (SSD) are significantly quicker than a traditional hard drive but are much more expensive. For student use we would recommend a minimum hard drive size of 1TB.
Memory
When we talk about memory we refer to it as RAM (Random Access Memory). Put simply this is the memory the laptop uses to store running programs and their data. Therefore the more RAM you have to more programs you can run at the same time without affecting the speed or performance of your laptop. Most laptops will come now with a minimum of 4GB of RAM and this will be adequate for most users. For music, photo or video editing 8GB or even 16GB of RAM would be recommended.
Processor
The CPU (Central Processing Unit) is the brains of your laptop and the most important component in a laptop. If you want a fast laptop that starts programs immediately and doesn't keep you waiting then you want the strongest processor available. This will also mean the most expensive laptop as these more powerful processors are found in high spec laptops. The good news is most users don't need a top end processor for daily laptop use. Here's a quick guide to current processors on the market.
Intel Core i3 / i5 or AMD A series: If you're looking for a standard laptop with the best combination of price and performance get a Core i5. The Core i3 processor is a small step down. AMD A series CPUs are less common, but promise similar performance.
Intel Core i7: High-end performance for your laptop, perfect performance for gaming, graphics, photo and video editing. Models with numbers that end in HQ or K have four cores, allowing for even more productivity.
AMD E Series or Intel Pentium/Celeron: These processors are found on low-cost laptops. They provides just enough performance to enable basic tasks such as video viewing, document editing and Web surfing.
Intel Atom: This processor is also found on low cost laptops. It offers basic performance but more battery life than Celeron/Pentium.
Screen Size
Laptop screen sizes vary from around 11 to 17 inches. A large screen is ideal for gaming, watching movies, photo and video editing, and viewing documents. The down side of a large screen is however the increase of weight and portability of the laptop and the impact on battery life. The most common size is currently 15.6" but you also need to think about resolution. Here's the quick guide to different resolutions.
HD: 1366 x 768 resolution is standard on mainstream laptops. Good for Web-surfing, e-mail and basic computing tasks.

HD+: 1600 x 900 resolution is great for casual gaming and watching DVD movies.

Full HD: 1920 x 1080 resolution allows you to watch Blu-ray movies and play video games without losing any level of detail.

Software
Laptop manufacturers are paid to install software from third parties, this pre-installed software can include anything from free trials of anti-malware applications to web browser toolbars that serve no useful purpose. For a student laptop Microsoft Office is a must have piece of software including Word, Excel and PowerPoint. We would also recommend a good Anti-Virus software, many laptops will come with a trial version but purchasing a full version product is essential when downloading music and movies.
Makes and Models
While we can't recommend a specific manufacturer over another one it's fair to say the mainstream brands like Dell, HP, Lenovo and Sony offer laptops for most types of users and budgets. Pay attention to the warranty being offered with your new laptop and what it covers.
Some manufacturers will allow for upgrades to the RAM and Hard Drive without affecting your warranty but others won't. Also if something does go wrong some laptop manufacturers will cover the cost of shipping the laptop for repair and with others the shipping costs are the responsibility of the end user. Check the warranty details carefully to avoid nasty surprises later on if something goes wrong.
With so many laptop options available it's always best to start by thinking what you actually want to use the laptop for. There is no point paying for features you will never need or use.
Alphatronic can provide helpful service and advice on choosing the right laptop for you, just drop into us at 38 Port Road Letterkenny or give us a call on 074 91 13445 for a chat about your requirements.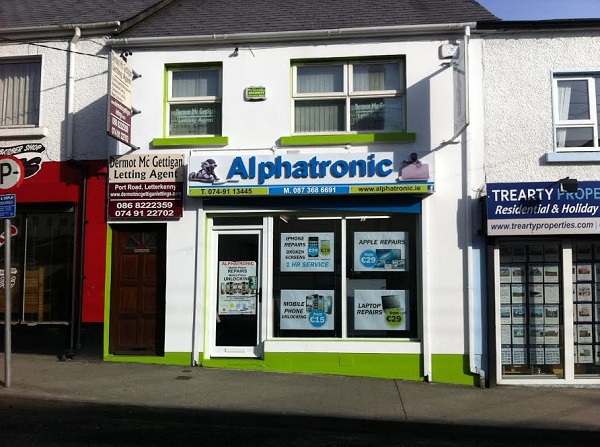 Tags: