A report published by the Health Information and Quality Authority reveals that allegations of abuse have not been investigated properly at one of Donegal's centres for people with intellectual disabilities.
On one occasion, a resident was not believed by a member of staff when they reported an allegation of abuse.
Staff also had insufficient fire training, despite being advised to take part in training following the last inspection of the premises. Moreover fourteen staff members had not completed an update course on caring for vulnerable adults.
When members of staff would try to raise concerns regarding abuse with the person in charge, they were ignored and made to feel like "trouble makers".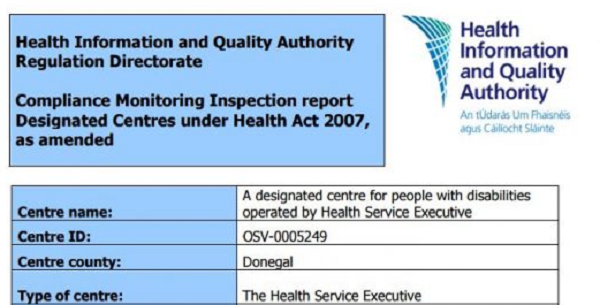 "Inspectors identified one instance where a resident alleged that they had been struck by a member of staff. When asked by other staff to 'act out' the alleged assault, staff concluded from the resident's response that the alleged assault was unfounded and did not report the allegation of abuse."
"In another example, a resident was inappropriately questioned by staff following an allegation of abuse and the person in charge failed to investigate the allegation in accordance with the centre's safeguarding policy and procedures."
"Non compliances were also identified in relation to the delivery of healthcare, risk management, the management of residents' health and social care needs, residents' rights, dignity and consultation; and staffing."
"The provider was asked to take immediate action in response to the serious safeguarding and risk issues identified on inspection. Following the inspection, the provider responded to the Authority in writing, giving assurances that they had commissioned a team of
external managers in quality improvement and risk management to review the service and to report back to the Authority on their findings and the actions taken to ensure that residents are safe."
Eleven reports were issued this morning by the Health Information and Quality Authority. This follows Pat The Cope Gallagher's briefing from the HSE on Ard na Greine Court care and residential facility in Stranorlar.
Tags: