Sinn Féin Finance Spokesperson Deputy Pearse Doherty has sought an immediate response from Health Minister Simon Harris following the publication this week of a damning HIQA report into disability services at Ard Gréine Court in Stranorlar.

Deputy Doherty's comments come following the release of the report's findings by Inspectors from the Health Information and Quality Authority which revealed a number of very serious incidences of regulatory non-compliance and inappropriate care practices at the facility which provides residential care for adults with mild to severe Intellectual Disabilities.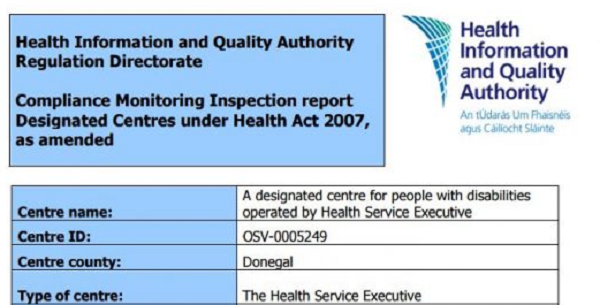 Deputy Doherty has said that he is now seeing an immediate response from the Minister in relation to the findings, and he is also seeking a Dáil debate on the matter once the Dáil resumes next month.
Deputy Doherty said:
"I am sure that I am not alone when I speak of my complete and utter disgust as well as my grave concerns for patients in the wake of the publication this week of HIQA's report into the latest inspection findings of services at Ard Gréine Court in Stranorlar."
"The report makes for very harrowing reading, particularly with regards to the many significant risks which were identified by inspectors which practices at the centre pose to the welfare and safety of residents and indeed its staff."
"HIQA inspectors found that serious failings in terms of centre governance and management, deficits and gaps in staff training, as well a number of incidences of major non-compliance with respect to national protocols and guidelines, had a serious impact on the quality of care being provided to residents at the facility."
"Inspectors also found that evidence of allegations or indications of abuse hadn't been managed to ensure resident safety, nor were certain incidences investigated in line with national safeguarding procedures."
"One of the most disturbing aspects of this report was the apparent over reliance on chemical restraints at the centre to manage residents in response to aggressive behaviour, while inspectors also noted an absence of appropriate behavioural management assessment and training deficits in this area."
"The report also highlights that the care needs of residents were not being met in a timely manner, and they noted the detrimental impact which this is having on their quality of life – something which is total unacceptable considering the vulnerability of the service users involved."
"In light of these very serious findings by HIQA inspectors, I am immediately calling on the Minister for Health to response to the report and its findings into services at Ard Gréine Court which are clearly putting the lives of patients and staff in jeopardy."
"Furthermore, I along with my colleagues in Sinn Féin will also be calling for a Topical Issue Debate in the Dáil when sittings resume to specifically examine and discuss these findings, and we will be seeking answers from the Minister with regards to what action he now plans to take to address and remedy the many major and acute problems which exist at Ard Gréine Court."
Tags: