With Celtic already sitting on top of the Scottish league, more than 200 Celtic fans sat on top of Donegal's highest mountain today as part of the inaugural Huddle Up Errigal Festival.
The charity event has been organised by a group of Celtic supporters in Gweedore to raise funds for the Donegal Hospice, the autism unit in Bunbeg school and the Celtic FC foundation.
Lisbon Lion John Fallon, Celtic great Charlie Gallagher, whose family are from Gweedore, and Celtic FC ambassador Jay Beattie were there to see the climbers off at the foot of the mountain.
The weather gods shone down on the Bhoys and Ghirls on the day and, although slightly wet under foot, everyone finished the climb safe and sound.
"I've been living here all my life and I've never climbed Errigal. But I did it today," said one local Celtic fan, a story that was repeated by many climbers on the day.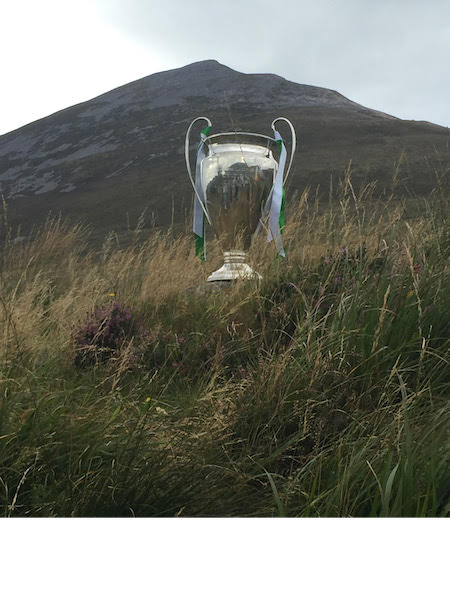 Supporters came from all over Ireland, with a busload also making the trip from Glasgow for the weekend's festivities.
"The ties between here and Glasgow and here and Celtic have always been there and they're as strong now as ever," said club legend Charlie Gallagher. "The connections are everywhere and we love coming over to see the Celtic family."
John Fallon, a member of the Celtic squad who were the first team from these islands to win the European Cup in 1967, also enjoyed the day.
"Look around. Green and white everywhere. What a day. The midgees were eating us earlier but we're fine now," joked Fallon.
The European Cup was also at the foot of the mountain for supporters to hold, with many lifting it above their heads in 1967 Billy McNeill style.
"It's been a brilliant weekend so far," said organiser John Joe McGinley. "We've had a great turnout for the first year and it makes us even more determined to make this an annual event.
"The support from locals has been unbelievable and it's great to see people travelling to Donegal too to support our three charities, and to have fun while doing it."
With a game against new Scottish team The Rangers coming up next weekend, the Celtic fans who did the club's famous Huddle on Errigal have really started the week on a high.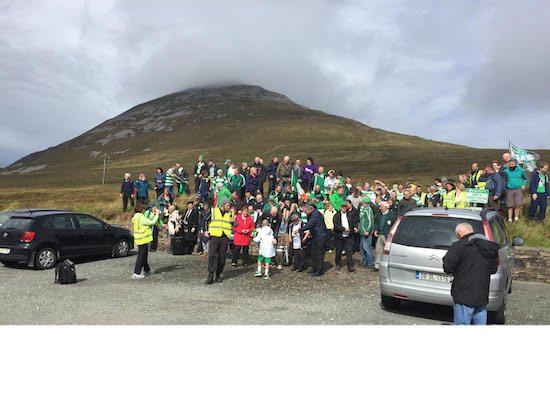 Tags: