IT'S WALSHY ON WEDNESDAY: Could we really have foreseen this at the start of the season? Even a season that was going to see the part-timers of Finn Harps pitted against a glut of full-time teams in the top division?
Eight defeats in a row and not a goal to offer even a morsel of consolation. And relegation – two months ago a distant nightmare – dojng its best to sneer in our faces.
I didn't make it to Monday night's match but from all reports, this was an improved showing from Harps and one that would have merited a point as they gave title chasing Cork City a tougher game than Shamrock Rovers have managed in recent Cup and League outings against the Leesiders.
And certainly a display well advanced from the one that saw Harps contrive to lose to bottom side, Longford Town on a frustrating Friday night in Ballybofey.
A few thoughts on that one. Had Harps managed to get Kevin McHugh onto the pitch – he was waiting for three minutes to go on – to take the penalty awarded when Dave Scully was challenged inside the box, the home side might have been at least securing a point – not to mention a goal – for their efforts in those closing stages.
As it happened up stepped Ruairi Keating – yet to score since his return to Finn Park – to deliver the tamest of spot-kicks that was comfortably parried away.
Harps made three changes during the game but none of them involved Mr Ever Ready Battery, Mickey Funston, or Mr Creativity, Tony McNamee, both of them confined to bench duties for the duration. I just couldn't – and I wasn't the only one – understand the decision not to bring them on, just as I couldn't comprehend why Harps played with one man up front. In a home game. Against the bottom side in the division. And with goals never more necessary. What was the reasoning in that?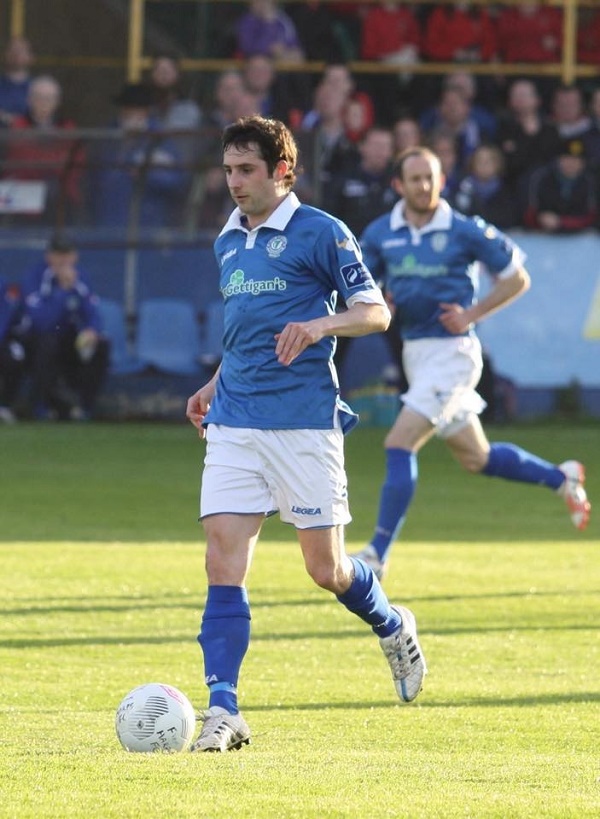 And another thing. Do the players really require two voices barking instructions at them from the technical area? Surely manager Horgan should be the sole provider of directions to the men on the pitch – mixed messages can result in confusion and confusion can lead to you going eight games and around 800 minutes without scoring.
Incidentally, I spotted former Harps boss – and assistant boss – Peter Hutton heading up the Main Street of Horgan's home town of Letterkenny the other day though I wouldn't be reading too much into that. Or should we?
But in the midst of this dismal run of defeats, credit to Harps for that performance against Cork City that saw them deprived by a controversial penalty though, perhaps, equal to the one that saw the home side awarded their spot-kick against Longford.
On the same night, Harps were putting it up to John Caulfield's men, Wexford Youths, four points behind Horgan's men, were losing by the only goal at Bohemians, another minor positive from the evening.
St. Patrick's Athletic arrive in Ballybofey this coming Friday fresh on the back of their impressive 4-1 win in Limerick in the E.A. Sports Cup Final.
Liam Buckley's team haven't exactly set the league alight so far this season – and indeed I was fancying Harps to get a result this weekend given the Dubliner's inconsistent displays but that display at the Market's Field might prove the catalyst for a surge to the finishing line.
However, if Harps can replicate that display on Monday night, they might finally break that sequence and come away with (a) a goal and (b) a point at least that has never ever been more required.
MOUNTCHARLES PUMPED UP BY PARALYMPIC GLORY
They weren't exactly dancing in the streets (street?) of Mountcharles last night but the local population will have taken a huge measure of pride in at least two of the medals won by Ireland at the Paralympics.
I'm not quite sure when John Dunlevy left his native village to go to England to live but he and his family have been regular visitors back to home soil.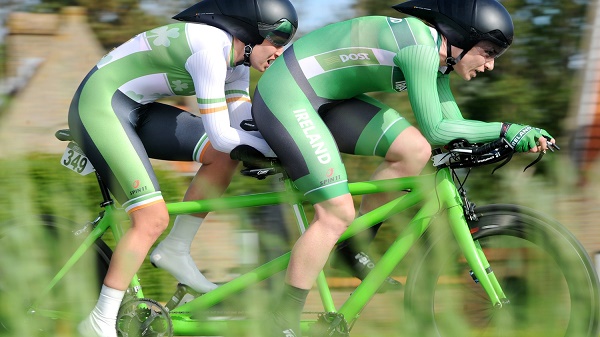 And the next one should see the mightiest of celebrations when they arrive bearing, hopefully, the two medals won by John's daughter, Katie-George Dunlevy in Rio. Gold in the B Tandem Time Trials in cycling alongside Eve McCrystal followed up by a silver for the pair in the women's B road race – a decent return from any competition but particularly so when it's the pinnacle of competitions.
I happened to be in Mountcharles yesterday evening for a G.A.A. game involving St. Naul's under-16 girls against St. Eunan's in a county quarter-final clash and some of the locals were still sharing in the glory of that double medal haul from – almost – one of their own.
Eleven medals won in total by Irish competitors at the Paralympics – four short of the total managed in London in 2012 – and two of them with Donegal colours pinned to them.
CROKER CURSES…
And so the curse continues. Cursed by conceding two own goals – even one is unheard of at any level of the game – and then by failing to nail a Dublin team there for the raking. And Saturday week's replay to come and that curse of the favourites managing to secure a draw after a below par performance and then going on to confirm their status in the replay.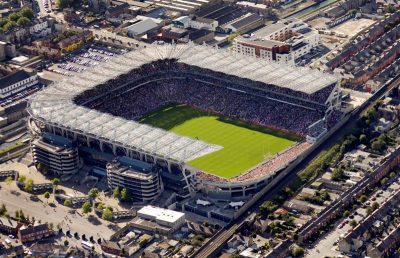 And yet, this Mayo team might still have enough in them to bring Sam across country and reintroduce him to the wilds of Connacht where he hasn't been for some time.
An intriguing match last Sunday but not one for the purists or as someone pointed out in Mountcharles last evening had it been a match involving Donegal we would have been reading and hearing a lot about puke football.
But like Diarmuid Connolly's jersey – I'm torn. Torn between hoping for a classic on Saturday week and Dublin running out winners or an untidy seventy minutes with Mayo finally burying that curse. More next week.
…AND PURSES
Failing to finish off the Dubs at the first attempt may prove costly for Mayo but the price for supporters of both teams is going to be equally significant. It seems the powers-that-be – i.e. that fine body of G.A.A. suits who presumably don't have to fork out any entrance money on these occasions – have decreed that stand tickets for Saturday week's replay will total 60 euro with terrace tickets standing at half that. True, that's down from 80 euro but it's still a mighty lay-out for your average fan.
"We don't feel that 60 euro is an exorbitant price to ask for the privilege of watching an All-Ireland final replay," insisted a G.A.A. spokesman, presumably with tonque firmly in cheek.
It is, of course, exorbitant if you're travelling from the far western regions of the country and you're bringing your family and you've already dipped deep into your pocket or purse for the "privilege" of last Sunday's game.
THE GALLAGHER YEARS
Can Donegal be where Mayo and Dublin are come the third September of 2017? Or even the first Saturday of October? That's a question for which there will be many a dispute – helped, or hindered, they'll say by the confirmation this week that Rory Gallagher has put the ballpoint to paper for another three year stint at the helm with the option of a fourth.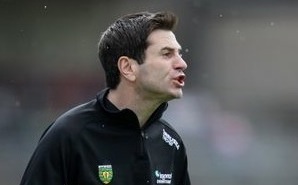 As County Board chairman, Sean Dunnion, pointed out, it does indeed provide stability as opposed to uncertainty and gives Gallagher the chance to set out his stall for the campaigns ahead.
There will be divided opinions on his re-appointment but I would heed the words of captain Michael Murphy who has welcomed the announcement.
Pointing to the Fermanagh man's insight into the under-21 set-up and his involvement over the past couple of years since Jim McGuinness stepped aside (so he could ultimately watch Celtic get a tanking from Barcelona), the Glenswilly ace said it was right for Gallagher to "drive that on for over two, three, four years. As players we would be keen for that to happen."
Time will yell.
HARPS IN EUROPA LEAGUE SHOCK
Did we ever think we'd see the day? A Europa League highlights programme on I.T.V. featuring Finn Harps. It's been a long time coming…
You may have heard it. Last Thursday night's programme where presenter, Mark Pougatch introduced the main bits from Dundalk's match in Holland and happened to mention that the League of Ireland champions last league game before European action was a win over Finn Harps. Like I say, we've waited a long time for this moment.
And not the only Donegal link on the night. Taking the pitch for Dundalk's game against AZ Alkmaar was team captain, Stephen O'Donnell whose father, P.J. hails from Dungloe. Unfortunately a second yellow card ensured that O'Donnell was leaving that very same pitch before the rest of them but what a result for the Lilywhites in the end, Ciaran Kilduff's expertly directed header from man of the match, Daryl Horgan's free-kick into the box earning Dundalk an historic for a League of Ireland club – a point in the Europa League group stages.
Shamrock Rovers did reach the same stage under Michael O'Neill but failed to garner even a point in any of their six outings – going in front at White Hart Lane before losing 3-1 proving the best of it as far as the Hoops were concerned.
And while on the Spurs, former midfield ace, Glenn Hoddle, praising the Dundalk performance during the highlights package on I.T.V., recalled being part of a Tottenham side that played at Oriel Park back in 1981 in the then U.E.F.A. Cup when the teams shared a 1-1 draw in the first leg. That Dundalk team gave a few of the bigger guns a scare or two back then and indeed only lost the second leg to Hoddle's team by a solitary goal.
And now look at them. Already with a point more than the likes of Manchester United, Inter Milan and Athletic Bilbao in the Europa League.
You may have read the post match quote from the Dutch club's manager,….but if not, it's worth repeating: "
PHILIP – THE BARCELONA OF ARTISTS!
Pure artistry. That's surely all that can be said about it.
Yeah, sure Barcelona's display against Celtic last week was something to behold but I'm talking about another outstanding exhibition – the one currently running at the An Grianan Theatre in Letterkenny and featuring the works of local man Philip Mackey who just happens to be a big Celtic fan.
I didn't make it along to the opening of Philip's debut exhibition, 'Face to Face', in his home town but did get in to see it at the weekend. Outstanding might not even do it justice.
Seventeen portraits of well-known (and some not so instantly recognisable) individuals and every one of them an absolute gem. Get along and see it if you haven't already and be face to face with greatness.
And I know what some of you are thinking – how does an art exhibition, even one being staged by a Celtic fan, find its way into a sports column?
Well, if that Celtic link isn't quite enough for you, there's a knockout portrait of Jason Quigley among the collection.
HISTORY IN THE FAKING
In fifty, a hundred, two hundred years time they'll be talking about the hat-trick scored by Hughie Kelly for Finn Harps in the 1981 Cup Final.
Huh? Did Hughie Kelly net three goals in a Cup Final? And, wait a bit, were Finn Harps actually in a Cup Final in 1981?
Ah, you see, history can play some funny tricks. The point made by Letterkenny historian, Kieran Kelly at a debate during Culture Night last Friday – a debate I didn't get to but one where apparently the subject of the arrest of Theobold Wolfe Tone reared its head again. Some say he was placed under escort in Letterkenny's Market Square following the failed rebellion of 1798 – one of these being Wolfe Tone's own son, William, who recorded the fact in a memoir published in 1827 – but as pointed out by Kieran – who is one of those who believes that the revolutionary leader was, in fact, arrested in Buncrana – he was only three years old at the time.
Still, Kieran – precisely that tender age back in 1981 I (or so he claims!) – is insisting that a hat-trick was scored by Hughie Kelly in the Cup Final of that year.
See what you get, quite apart from sport, in this column – art AND history.
Or perhaps, as the undertaker said when they laid Theobold to rest in Bodenstown, County Kildare in 1798, I'm just lowering the Tone.
AND NOW A MENTION FOR ANOTHER PHILIP
It may be a Pitt stop for Brad and Angelina but the much better news came this week in the form of the wedding of our own Philip Deignan and fellow international cyclist, Lizzie Armitstead.
A hearty congratulations to the Letterkenny man and his new bride. Though I'm deeply suspect of the cyclist who held up the wedding coach on its way to the church. Or perhaps he was merely attempting to put a spoke in the whole thing…
Tags: