IT'S WALSHY ON WEDNESDAY: It was the quarter-final that paired, in geographical terms, the two teams furthest apart but on the scoreboard saw them finish closer than any of the other ties over the weekend. I ventured along to O'Donnell Park on Sunday afternoon for the clash of Malin and Dungloe and enjoyed a highly intriguing game between two of the least fancied outfits of the last eight.
Tony Boyle's team looked to be heading in at the interval with a comfortable and well deserved lead only for the Inishowen side to hit three points without reply in the dying stages of the first half and close the gap to a goal between the sides.
Next score to be key? Not quite, as Dungloe pointed early in the second period but then Malin took over proceedings to draw level and then go in front without looking as if they were going to relinquish that lead at any stage afterwards.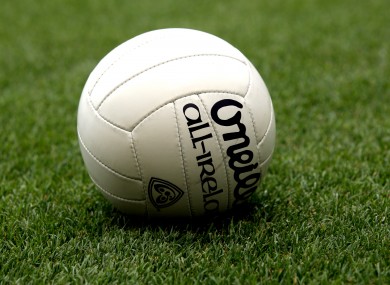 They had a few inspirational performers on the day, not least, Benny McLaughlin. The quick-fire corner forward combined zip with zap and when his lightning speed wasn't causing havoc in the Dungloe back-line, his chasing and harrying was back in the engine room. And he capped his display with five points including a '45' converted with that magical left peg.
Had it not been for performance of goalkeeper, Ciaran Sharkey, Dungloe might have found themselves further behind than the two points that separated the sides when Seamus McGonagle blew for time.
All it would have taken then was a goal for the Rosses men to snatch victory but, in truth, it never looked like coming even following the introduction of Adrian Sweeney who just didn't get the service to make a difference.
A healthy attendance added to the atmosphere and the road to Letterkenny will be treaded again this Sunday by the Malin supporters though they may find their semi-final opponents a much more daunting task than was the case last weekend.
Glenswilly took care of Sean MacCumhaills at the same venue the previous day running out nine point winners with, inevitably, Michael Murphy playing a starring role. They'll start as firm favourites at the Letterkenny ground on Sunday (2.30.p.m.) but this Malin team won't be turning up for a tanking and it has the promise of being a lot tighter than the pundits might be predicting.
The two Championship favourites – now that St Eunan's have exited the party – will contest the other semi-final at MacCumhaill Park on Sunday (6.p.m.) with Kilcar having dismantled Termon in the quarters and Naomh Conaill advancing at the expense of the black and amber.
A hard one to call but I think the reigning champions from Glenties can make it through to another final and a date with Glenswilly.
ANOTHER L.O.I. FIXTURE, ANOTHER POSTPONEMENT
The small band of us who make the pilgrimage to Finn Park were just about to set off from Letterkenny when the call came through – thanks Margaret! – that the game against St. Patrick's Athletic was off. Deemed unplayable by referee Tommy Connolly just three-quarters of an hour before the scheduled kick-off time.
Apparently he wasn't entirely happy with a section of the pitch close to the Finn end and considered that it would compromise player welfare. As if we haven't been compromised enough in our past few games at the venue.
So soon after their E.A. Sports Cup win over Limerick, it might have been a good time to meet the Dubliners but that's the nature of "summer soccer' in this country.
Fair play, it must be said, to the Harps ground staff who worked all day to try and get the surface in order but, just like the team's prowess in front of goal in the past eight matches, not to be. And now they face a trip to face a Galway United team who, while well clear of the drop zone, haven't been sparkling on all fronts as they had earlier in the season.
Nevertheless, Tommy Dunne's side will test a confidence sapped Harps who did run both Dundalk and Cork City close in recent outings and showed that all is not lost as they maintain their four-point advantage over Wexford Youths.
That goal famine must end soon and I fancy it to reach that end at Eamonn Deacy Park this Saturday evening. Winning the game is another matter entirely but the third from bottom line is that it's all still in their own hands.
Meanwhile, here's hoping for the League's sake – even if associated postponements have caused chaos in the Premier League fixture list – that Dundalk will continue on from that opening Europa League Group D draw against AZ Alkmaar with another positive result against Maccabi Tel-Avid at Tallaght Stadium this Thursday night.
And that R.T.E. or T.V. 3 will somehow contrive to bring us a highlights package of the game on the night even if live coverage is out of the question. Surely a European game involving the League of Ireland champions would draw a bigger T.V. audience than Leicester City and Porto did last night?
ANOTHER POINT TO PONDER:
That late penalty that got Dublin to within a solitary point of Cork in the women's All-Ireland Final – the final kick of the game as it happened – should, of course, have been largely insignificant except for suggesting that it was a close run contest when the reality was that the reigning champions had been dominant in the second period.
But as the cheers and the tears – sometimes one and the same as far as the victors are concerned – flowed after the full-time whistle, we had the inevitable controversy rearing its head and justifiably so.
All eyes – with the notable exception of the Hawk – reflected back to that first half incident when Dublin's Carla Rowe squeezed the ball over the bar only for an umpire to rule that it had arrowed outside the upright.
Cue anger in the blue corner and suggestions of an appeal and the possibility of a replay. And all because the Ladies Gaelic Football Association opted not to use Hawk-Eye citing the cost factor involved.
The cost to the Dublin women is another matter.
Their hopes of bringing a halt to the juggernaut that is Cork football – six All-Irelands in a row now – dashed by a technology failure, that is the failure to have any technology available to decide issues such as the one that denied the Dubs.
"We thought Hawk-Eye was being used but were told by the P.R. guy at half-time that he didn't think it was," Dublin manager Gregory McGonigle blasted in his post match interview.
Didn't think it was? Surely the "P.R. guy" would have known for sure that it was, or was not, in operation?
Not the point (sic!) of course. McGonigle argued that if it had been a hurling game or a men's football final they WOULD have had access to Hawk-Eye irrespective of the cost. And he's right. Preaching as he indicated about equality and having standards but not implementing them in the biggest game of the year for both these teams.
"The Association have to answer to Dublin, to our players and their families. They have let us all down," claimed McGonigle.
Spot on and nobody in all honestly could argue with his comments or had they proceeded along the lines of an appeal which they have decided against.
If it wasn't for one factor referred to by the Ladies Association who pointed out that Hawk-Eye is not available at stadiums outside of Croke Park and subsequently the All-Ireland competition would have been carried out on a less than level playing field.
This column has raised that point before and surely it's one built on solid grounds. How fair can it be if you score a point in, say, a round one qualifier, that is ruled out because of the absence of technology at that particular venue and you go on and lose by that score?
There are those who will argue that the Final is the big one and Croke Park should have access to the best that the technical world can offer.
But here we have a situation where because one Association declined to put its hand in its purse, the technology that was actually available wasn't deployed on the day. Not much consolation there to the
Dublin women. But you can see the argument put forward by the Ladies Association in relation to level playing fields.
The solution?
The costly one is to have Hawk-Eye installed at every inter-county venue – and deployed for every match – but we can probably rule that one out immediately.
The G.A.A. may be rolling it in cash-wise – the little matter of next Saturday's replay will add nicely to the coffers – but it will certainly not be willing to fork out to bring the game, every game, into the era of technology and fair play.
Where sport is concerned there will always be controversy and dispute, whether it's to do with the black card/yellow card scenario, boxing judges in the Olympic Games, legal or illegal doping at the top level (aka Bradley Wiggins), or when grappling in the penalty area should be awarded with a spot-kick. Technology cannot eradicate all of this and the bottom line for those of us who like a good sporting argument would we really want it to?
FR.MICK'S BIG NIGHT:
Back in the days when 'Bohemian Rhapsody" occupied the top spot in the British charts for ten weeks in a row, I was among the contingent of boarders who eagerly trotted along to the T.V. room at Holy Cross College in Falcarragh on a Thursday night –the sole perk as far as I can recall – to watch Freddie Mercury and Queen perform the classic on Top of the Pops.
Like I say, the perks for a boarder were as rare as 'A's (or, let's be honest 'B's) in this student's Leaving Certificate, either the one I sat for in Falcarragh or the one that came at the end of my five years stint in St. Eunan's College.
But Bohemian Rhapsody aside, there were some positives in my year at Holy Cross and they came in the form of two clerics who helped inspire a generation in terms of their enthusiasm for sport and specifically Gaelic football and soccer.
For the former, Fr Sean Gallagher was the leading light who brought many of us out onto muddy pitches in the teeth chattering days of a winter month where we, despite the elements, enjoyed a footballing break away from the studies and starkness of life at a boarding school.
For similar enthusiasm in terms of Association Football, read Fr Michael Sweeney. He twinned his passion for the sport with the gentlest of manners and like his G.A.A. counterpart was instrumental in helping the school to sporting success with All-Ireland titles arriving through the gates.
Fr. Mick would, of course, become known far outside those gates for his devoted involvement with the Donegal League, his beloved Fanad United, and with Finn Harps – contributing whole-heartedly to every venture and never stepping beyond the bounds of fair play.
Not surprisingly he was the recipient of the Donegal Person of the Year award handed out by the Donegal Association in Dublin. And equally not surprising he has been lauded regularly over the years for his achievements both as a man of God and as a sporting pastor.
It will be no exception this Friday night when many of those who were inspired by him on the soccer pitches of the nation – and with cups and medals to prove it – will assemble to honour him at a special occasion of tributes in the Silver Tassie Hotel just outside Letterkenny.
In typical modest fashion, Fr Mick will no doubt attempt to fend off those tributes but he is deserving of every one of them. Hope the night goes well for him though I doubt they'll be rendering 'Bohemian Rhapsody' for him!
FLICKING BACK
Up gathering dust on top of a press in the scullery it sits, inviting me to bring it down and give it another go. And every time I pass by and gaze upwards, I'm close to doing just that and rekindling those days when, as the old Yellow Pages slogan used to proclaim, you 'Let Your Fingers Do The Walking'.
Or in this case, the flicking. And passing. And scoring. Or not.
I'm talking, of course, about Subbuteo, the table soccer game that was once a must-have in many a household before technology arrived to spoil it all.
The last time I played it was with my daughter who, in her tender years, became an avid of it and would often persuade her dad to lay out that familiar cloth pitch and the teams that went with it and get flicking. Sadly, too, technology changed her from a table soccer enthusiast to someone who now much prefers screens and savers – from flick to switch in a few short years.
I got thinking of it again when an item on the back page of the 'Letterkenny Post' last week caught my eye – a story concerning a local enthusiast for the game who is attempting to organise a group to meet up and help put Subbuteo back on the table again.
Brendan Rodgers is looking for a suitable venue in Letterkenny where they can arrange a monthly meeting of minds and fingers to get the game up and netting.
Hope he manages it.
And, yes, I know what some of you are thinking. Brendan Rodgers. Subbuteo's just about the only game where Celtic might have the sniff of a chance against Manchester City tonight…..
TIPS FOR THE WEEK:
Mayo to confound all expectations concerning the inevitable fate of underdogs in All-Ireland replays and reclaim Sam after hundreds of years; Enda Kenny to grant a week's National Holiday as a result; and Sam Allardyce to start all over again at Limerick F.C.
Tags: